ICO Drops: Review of NuCypher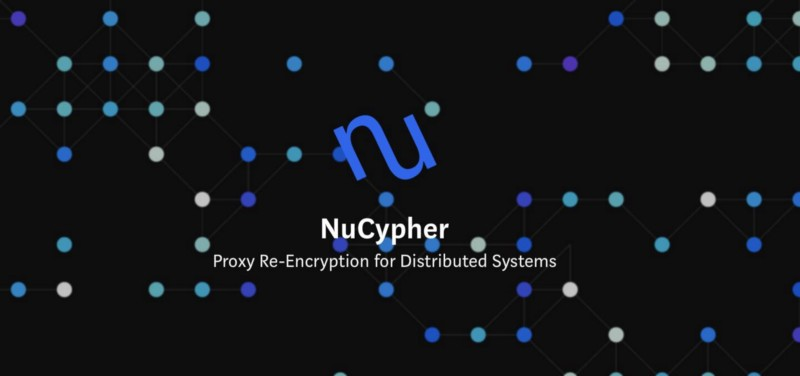 I would like to give you a review of the project NuCypher. The information is up-to-date as of 20.01.2018.
ICO Drops Page: https://icodrops.com/nucypher/
Official Website: https://nucypher.com/
The description of the product in one sentence
They are creating a service for the clients to be able to store private data in an encrypted form using the blockchain.
At the moment there is no any publicly available information on the dates and amounts to be raised. As a rough guide it's Q1.
In the interview to ICODrops the co-founder says: "There was a pre-sale for the funds amounting to 4mln at a discount of approx. 50%. The approximate cap will be 25mln.
In the Telegram there are talks, that there will be an individual cap and some time for purchase. Which is to say there won't be any gas war.
The individual cap will be made in such a way, so that a person, that bought tokens, would be able to run a node without having to buy more tokens at the exchange. MVP is in place. They assure they will run the mainnet by the start of the token sale.
Metrics
It shows me that the site exists for more than a year. It is very cool. Average projects of the recent months rarely have a site that exists for more than 60 days.
Site traffic is 400. It is quite good and means, that people are interested. No dates have been announced yet, therefore they don't follow the project closely. I believe, that normal traffic for a site of a project a week before a sale is 1 000 per day.
There are 2 680 (as per yesterday) people in the Telegram. As per today there are 3 233 people. It is a very small amount so far. You should keep an eye on the level of interest after the announcement of dates. I believe, that a good number is more that 10 000 people on the sale day. More that 20 000 people is super awesome.
There are 400 people in Slack. A small amount as well.
The communication is extremely slow-paced. Administrators respond to people.
There is an introduction post at Reddit, but there are no any comments to it.
Reddit is operational, there are 17 repositories and the first code was introduced 8 repositories ago.
Blog exists from July, but it is not very active.
90% of the whitepaper is technical details. It contains detailed description of the product, incl. encryption method and security mechanisms.
One of the main advantages of the proposed service versus existing services is decentralization, therefore there is no longer any necessity to trust the company, that provides services (compared to existing centralized services).
Let me describe the mechanism in two words as I understand it:
You, being the data owner, encrypt it using your own private key (Pr 1) and get a public key (Pu 1) (just like in all the classic blockchains). Nodes have the opportunity to re-encrypt your public key without having access to its content and they are not aware of what exactly they are encrypting.
Then you give access to public key, that was re-encrypted by your nodes (Pu 2), to data recipients (let's say, in your blog), but to decrypt it you should give the recipient a private key, but not the one you have — a different one (Pr 2). For example, a Pu 2 + Pr 2 combination will give a limited access to some part of the data, to specified folders. Of course, you can give him your private key, but it's less interesting for you as the private data owner.
There are security mechanisms against an attack 50%+, against an unlimited miners' access to the encrypted data or against miners' cheating (for example, false decryption, when a miner sends a hash, that does not contain any information).
The solution to the last-mentioned problem looks rather interesting. Miners will be sending false data to decrypt (the system knows the content and that the data is false) and a miner will be returning the hash back. The system will be checking if the node of the miner decrypted the data correctly, and if not, then the miner will be punished (I will talk about it later on, speaking about the economics of the token).
Encrypted private keys to cryptocurrency wallets will serve as additional mechanism to check the network reliability. If somebody manages to decrypt it, he will take the reward, but the system will be aware of the problem and solutions will be offered.
Token Economics
Miners' nodes — Proof of Stake. Hence follows the first area of tokens' usage — nodes. Miners' tokens will be locked on smart contracts.
Miners will use tokens to:
a — reward for certain work (decryption). Processing capacity depends on the number of tokens and not on the equipment. The more tokens you have, the more decryption you are able to perform.
b — reward for an opportunity to do work. That is even if a miner does not get hashes, he will be getting a reward anyway. In one word, if a node is connected to the network you get profit.
c — to punish for cheating and false encryption. If you screw up, the smart contract won't give you the tokens back = Bye, we will call you back.
Clients will use tokens to:
a — pay for creation of data and data ownership
b — pay to get access to data
At the end of the whitepaper there are examples of usecases.
decentralized encrypted (hereinafter referred to as DE) storage

DE chat with different access levels

DE storage of medical data (you have your medical history sheet, then you give Pu 2 to some medical center and it gets access to the medical data needed).

DE marketplace for digital information (bought a movie, got the key, downloaded the movie)

identification (if some person entered Pu 2, then we know, that it is John, because he is the only one we gave the key to. But nobody else, besides us, knows, that it is John).

etc.
Team
Leadership:
The co-founder + CEO — USA. Worked for 2 years at Morgan Stanley in the field of technologies, media, telecommunications and cloud technologies. Works at NuCypher since 2014 (!!!). I found his brief interview in media about the project dd. May 6, 2017.
There are videos on YouTube about Lending DAC (2014) — service for cryptocurrency lending. There are no any clear tracks of the project on the web. It is possible, that the project was in the start-up stage and did not go further.
There are also videos about ZeroBD project (2015–2016, the site is not available any more) — service of an encrypted database for business. So, it appears that NoCypher is a child of ZeroBD.
Thus, we may draw a conclusion that the idea exists for at least 2 years, which is good.
To sum up, he is a public person and makes a positive impression.
Co-founder + CTO — Software Engineer. He is Russian-born. After graduating from university he worked in Russia for one year and then moved to Australia, where he lived for 4.5 years. In 2014–2015 worked as Senior Engineer in LinkedIn in the US.
It seems, that he is a friend and business partner of the other co-founder, because they are both present in almost all the videos.
What I liked very much, is that he was an advisor for Bluzelle and Datum, but it is not mentioned on the NuCypher site. As well as there was not made any mention of LinkedIn.
In other words, founders are not aiming for hamsters' pseudo-hype by simply making reference to LinkedIn and Bluzelle. I respect them for that.
##Advisors
Two professors of computer science in universities, and one of them is a specialist in the field of proxy-cryptography — a technology, that is used in NuCypher.
The third advisor is a businessman from London and, as I understand it, being an advisor is some kind of business for him at this phase of his life.
The fourth advisor is the Vice President of Equinex — a company, that organizes global communication between companies, clients, employees, partners, data and cloud technologies.
All of them, except for one professor, are regular users of LinkedIn, all of them have 500+.
Unfortunately, I was not able to check the crew in LinkedIn, as all their profiles are closed for me. The company states, that it has 8 employees, and from that number both co-founders and the businessman from London are identified.
That leaves us 5 people, as is indicated on the site. But the site says, that all of them are engineers and, meanwhile, in LinkedIn only 3 out of 5 are engineers and one of these 3 people is a cryptographer. What concerns the 2 remaining people, one of them provides Travel Service and the other one is a consultant from Russia. It means, that 2 engineers got lost in the way or are not present in LinkedIn.
On their site and Reddit it is indicated they are looking for personnel, but if you use the link, it says there are no any open positions at the moment.
So my impression is positive. All the people involved are useful and appropriate, especially compared to some other projects, that take on a crowd of advisors and employees.
It's a pity I was not able to reach all the profiles in LinkedIn.
This project received investments from many funds, including the notable ones — Polychain Capital, Satoshi Fund, Kenetic Capital.
They also have numerous partnerships.
Today in the Telegram group there was an announcement about the whitelist. Provisionally, the group will serve as a whitelist. That is, you'd better join it.
Resume and thoughts:
It is probably one of the most interesting and easily understandable projects, that I've analyzed.
Everything is rather transparent. It is a blockchain, a real technology with a bunch of usecases. It is not a service kinda "We will make a decentralized shovel to dig up potatoes", but a technology with lots of possible ways to use it.
They have a transparent leadership with their own history, based in the US, and it is apparent, that competent legal experts held their hands to the project, because neither in the whitepaper, nor on the site there is no reference to anything, that SEC loves to punish for. They don't mention token sales, investments, profits, exchanges, token price increase etc. It's just a purchase of a digital rights (tokens), guys, and nothing more.
I also find it interesting, that it is possible to launch a node without ASICs and multi-cards farms.
It's kind of disappointing that there is no any publicly available information about the crew and it is impossible to reach blockchain specialists. Do they have any experience or not? Who knows. And, of course, the absence of hype. But hype is something that'll come with time. Go and have a look what happens there one week later.
As always, it is not a financial advice. Make your own research.21.01.2018 — read pinned message NuCypher's group in Telegram.
SOURCE: https://medium.com/icodrops/review-of-nucypher-20-01-2018-3cbdf84114be
Follow us
Telegram channel https://t.me/icodrops 11300 members
Twitter https://twitter.com/ICODrops 12900 followers
Calendar on your smartphone https://icodrops.com/calendar/ (4400+ followers)
Thank you for your trust! 🙏