When cryptocurrencies were introduced sometime back, the need for crypto-inclined exchanges was realized and until today we have a whole lot of cryptocurrency exchanges. Interesting, even though there are big guys in the industry monopolizing the market, new blockchain startups try to make their way into this competitive market. In this report, we are going to be looking at what are cryptocurrency exchanges and types, their current state, and what xCrypt has for the entire crypto community (traders, investors, promoter, etc).
What is a cryptocurrency exchange?
A cryptocurrency exchange or digital currency exchange is an online platform that allows users to exchange their digital currencies for other assets centered on the market value of the given assets. There are two broad categories of crypto exchange namely centralized and decentralized exchanges. Examples of centralized exchange include Binance and GDAX whereas decentralized exchanges include EtherDelter, ForkDelta, BinanceDex, etc.
Centralized vs Decentralized exchange.
The main difference between these two categories is that centralized exchange requires an intermediary to facilitate the entire exchange while decentralized exchange uses the p2p model to help anonymous parties to exchange digital currencies. Both have pros and cons, however, the decentralized exchanges came into existence because of the several cyber-attacks and stolen funds on centralized exchanges. This is because centralized exchanges stores users assets on cold wallets while on decentralized exchange users are responsible for their funds and private keys. In terms of security, the decentralized exchange will take the lead but they also lack liquidity. Centralized exchanges monopolize the exchange market and are tagged by blockchain project for charging exorbitant fees for listing.
The xCrypt ecosystem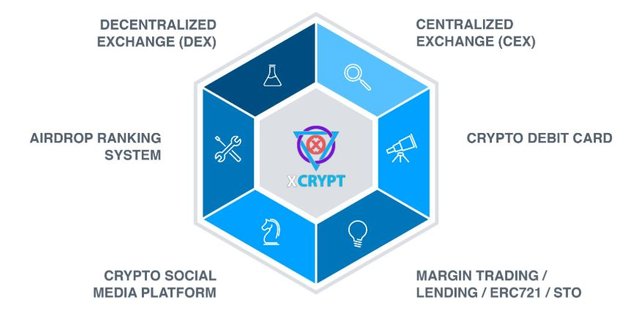 xCrypt is poised to introducing a new business model that will set a new trend of how crypto exchanges function. The model encompasses several aspects that will make a difference and improve crypto exchanges. This could range from innovative features which will be incorporated into their exchanges, reward program, initiatives geared towards e-loyalty/trust and consumer satisfaction, security, scalability, and several others. It will be trivial if xCrypt won't be introducing anything new to what we already know, we would rather stick to those we are familiar with and have the recognition.
xCrypt leverages the hybrid approach as one of the core traits in its ecosystem. In simple terms, they seek to exploit the best of centralized and decentralized exchanges. Both architectures come with pros and cons, however, adopting both can significantly improve the new product and mitigate certain threats. They are obsessed to build a trading platform that will foster a better trading experience and allow users to trade like professional. The introduction of intuitive and friendly interfaces will make the exchange appealing to traders, whereas useful and sophisticated trading tools, charts, indicators, and features will assist in users in making better trading decisions leading to improved trading performance and returns.
With daily news on hacked exchanges, any exchange is a potential victim and as such xCrypt have made comprehensive provisions for security threats. Several mechanism and technologies will be employed to ensure the exchange platform is secure and the CIA triad is not violated at any point in time. Some of the measures put in place include the private keys for their wallets being encrypted with AES-256 and stored offline, traders funds on the exchange are store on cold wallets with multi-signature technology as an access control mechanism and DDOS protection, etc.
The XCT token is a utility token that conforms to the ERC-20 standards. It also plays a significant role in the xCrypt ecosystem. XCT would be traded on the exchange which will make it possible to trade it over 100 other cryptocurrencies going to be available on xCrypt exchange. Other interesting functionality of the XCT tokens may include: purchasing of prime membership and PRO membership for social media, paying for the DEX system's and debit card fees, participating in ICOs listed on the exchange which also makes users entitled to huge bonuses.
XCT is also an integral component in the airdrop ranking system, this is a program designed to incentivize XCT token holders and serve as a means to improve the ecosystem and add value to the community.
In conclusion, xCrypt's ecosystem is an all in one solution model to the problems we face with existing exchanges and poised to liberating individual financial. For their proposed solution, we can conclude that xCrypt is really concerned with users welfare and financial excellence and that's why they plan to offer outstanding service to people in the crypto space include an affiliate program that would help users earn passive income and as well as the airdrop ranking system to reward XCT holders.
xCrypt have had two successful phases of their IEO on IDAX, however, subsequent ones will be carried out on Bitforex and Coinreal to give investors the chance to become holders of XCT tokens.
Link
Website--- https://www.xcrypt.club/
Whitepaper--- https://www.xcrypt.club/xCrypt-Whitepaper.pdf
Bitcointalk Ann thread --- https://bitcointalk.org/index.php?topic=4993175.0
Content credit:
Bitcointalk Username: FOPL
Bitcointalk Profile Link: https://bitcointalk.org/index.php?action=profile;u=2596274