WONO launches bounty campaign with Bounty0x.io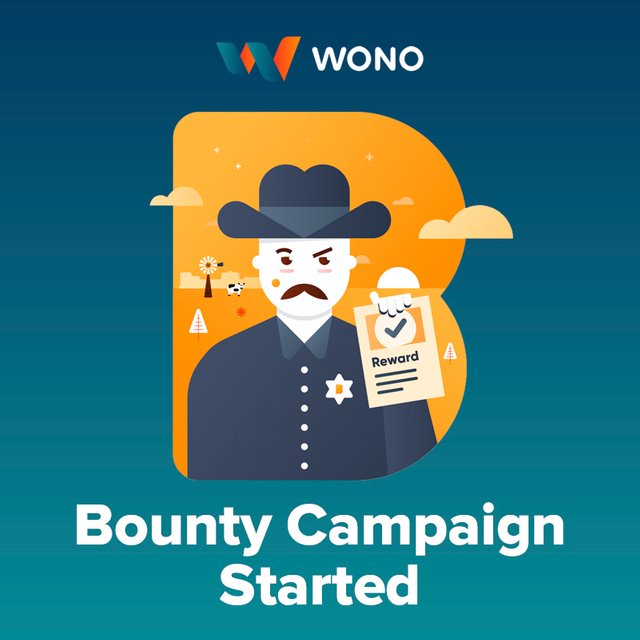 We're excited to announce that WONO official bounty campaign starts on 28th of May and will be run together with an experienced partner - Bounty0x. Bounty tasks include activities on Youtube, Reddit, Steemit, Medium, Bitcointalk, Facebook and Twitter. The total value of rewards is $300,000 or 600,000 WONO. All tasks are described in details here: https://alpha.bounty0x.io/host/wono.
We believe that for hunters it would be one of the best campaigns they've ever taken part in it, and here's why.
Often, bounty campaigns are criticized for two major problems. The first one is a tricky stake scheme. Usually, when you complete bounty tasks, you don't get a concrete sum of tokens. You get a stake. Then, when the bounty campaign is over, all these stakes are counted and participants are rewarded according to their contribution. We decided to use a more straight scheme. All tasks are evaluated in tokens and the token ICO price is $0.5. So you understand clearly how much you earn.
The second major problem is a manual accounting. Participants of the bounty campaign are listed in Google Forms or even Spreadsheets. This can be done "quick'n'dirty" and, what's even more important for startupers, it's free. But the result is always the same. Some data is lost, some are incorrect… People don't get their earned reward. And that's why we've chosen a strong partner, Bounty0x, who run totally automated bounty campaigns with no chance of a mistake.
These guys have a broad experience in running high quality bounty campaigns for top-rated ICO's. Civic, Ink Protocol, Lamden, Ethfinex, Deepbrain Chain, just to name a few. To keep the process 100% clear for all parties, Bounty0x publish transparency reports after campaigns. Here, for example, you can study the Civic report: https://blog.bounty0x.io/civic-transparency-report-74f6f26ac309
We hope to keep working with Bounty0x even after our ICO ends in August. They also run non-ICO bounties. For example, they've recently completed a campaign for Ziliqa. Bounty hunters had to vote for this project on Binance. As a result, ZIL was the second most voted coin and got listed.
To conclude, we're proud to be among Bounty0x partners. And all WONO bounty participants can be 100% sure that their contribution to our project will be rewarded fairly.