Can crowd arbitrage on WONO be used by criminals and cheaters?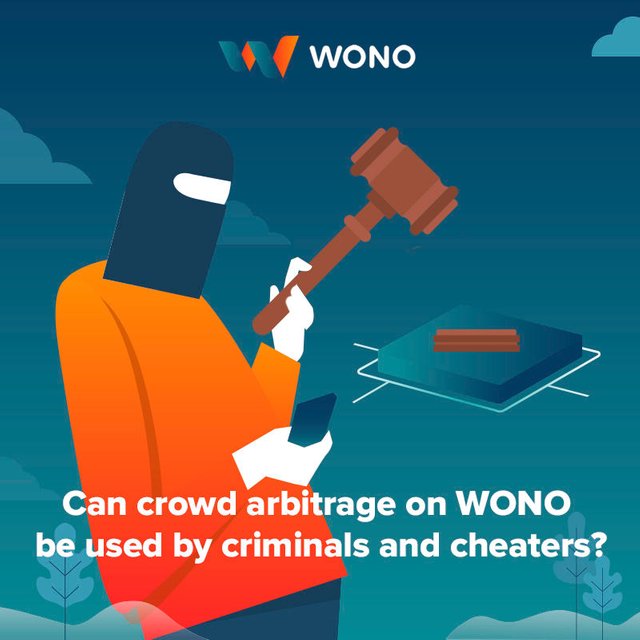 I love the moments when our early adopters ask good questions. Sometimes it inspires me to write articles like this.
This time inspiration came from a German crypto enthusiast Robert Schmidt who was working on a WONO review. Here's our dialogue:
Robert: Andrei I have a question regarding the Arbitrator. I write about the feature in my fifth article and something is unclear to me. From the Whitepaper "Arbitrage voting has no limit for the amount of staked tokens." Does this mean that any Arbitrator can use as many tokens as he wishes?
Me: Exactly!
Robert: Would this not cause a situation which leads to misusage of the feature? Let's say you have someone who caused a big problem and now he has a friend with many tokens on his account. The Friend could then shift the whole process to his interest, and he would win the decision. Wouldn't this be criminal?
And here's what I wrote in response:
Well, the system can't be protected against the single cases of arbitration misuse. Say, if you're in trouble and by chance have a close friend that has a free (!) huge sum of tokens, and he's ready to stake these tokens during the next 24 hours (that's the duration of the arbitrage)… then, perhaps, you can "hack the system". Once.
But your friend's reward as an arbitrator doesn't depend on the amount of tokens he's staked. It depends on the deal's price. So in fact the only reason to take part in such a fraud is to help you with your problem. Reward for a winning arbitrator is comparatively small, so there's no reason to start a fraudulent business like that.
Just imagine a deal worth a sum equivalent to, say, $20000, which is greatly above average. It may be a rental of a villa on the Pacific Coast. The average WONO's commission is 3% which is equivalent to $600. Arbitrator's part is 25% of this sum. It's $150. Not much for a guild of "black arbitrators" offering their services to those who got into trouble with their rentals, huh?
Don't forget that the tokens used for an arbitrage are locked in the smart contract until it's finished. So potential cheaters won't have an opportunity to take part in several arbitrages using the same tokens. Their "income" will be limited.
Of course there will be REALLY expensive deals for $100k or more where the winning arbitrator's reward worth bothering. But such deals will for sure attract many "reward hunters" and if you try to take part in this contest you risk losing your time on nothing (note that you won't lose the staked tokens even if the side you vote for, loses).
To sum up, WONO's arbitration mechanism is designed in a way that makes a fraudulent business not so attractive and profitable. Compare the income of 150–300 USD to the sums which different ICO scammers get from gullible investors. Or to fake "experts" putting 1–1–1 marks on your ICO page and then blackmailing you demanding 1 BTC… Blockchain market has many other opportunities for shady guys.
And in case someone would try… WONO will have a support centre, so if someone is involved in an unfair arbitrage, he or she can send a complaint. If the investigation proves that the arbitrator acted dishonestly, his of her rating will be dropped. As a result, nobody would sign deals with him or her. And since all users pass through the KYC procedure… it's a one way ticket.
Whitelist closes on Monday and it's Saturday already! Luckily the registration process at our genuine Telegram bot t.me/wono_bot takes only 3 minutes, so you're just in time :) Don't forget about the guaranteed 30% token bonus.