[ICO] Cardstack: Innovative Software System without any Locking Mechanisms and Barriers
[ICO] Cardstack: Innovative Software System without any Locking Mechanisms and Barriers


  Dear friends, today we'll review one of the ways to get our money back from big corporations. Thanks to innovative solutions like the blockchain technology the decentralized Internet can be made accessible for everyone. This is a statement of the project team I'll describe in this article – Cardstack.
  

Technical Details of the Solution
  The tools serving for the problem solution are App Framework (SDK for blockchain apps development), Aggregation Protocol (Tally protocol for complex computations) and Ecosystem Token (CARD token for monetization of the apps through smart contracts).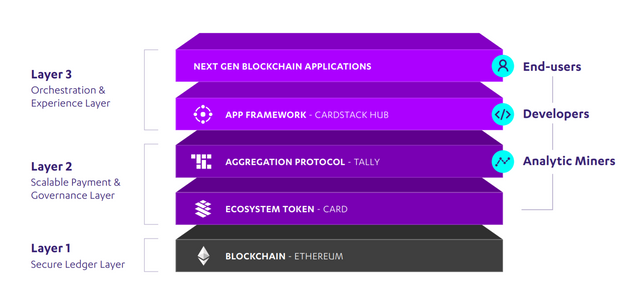 Layers of the Cardstack System
Just see the advantages offered by the solution:
Users can select application sets and use only the ones they need, and also rely on data confidentiality.
Developers are given the user-friendly SDK, which the help of which they will be able to create functional applications, receive guaranteed payment, store data with open source.
Miners are offered to participate in an innovative system with a fair distribution of mined tokens, reliable protection and all the advantages of decentralization.
  

Token Sale
For all the operations and transactions on the platform, special CARD tokens will be used (paying for software, for developers' and miners' work and material expenses). In order to raise funds for the project implementation, the team launches the token sale. It is planned to raise 35,000,000 USD. The sale will be conducted in several stages. The beginning of the token sale is planned for March 6, 2018.
  

My Conclusion and Opinion on Investment
 The reasons I think Cardstack is a good idea for investment are as follows.
The project is listed on the ICOdrops. It's a website where only 5-10 percent of the best of all ICO are listed.
The hard cap is not too high for the idea of this level which in its turn gives hope that the project will have more demand than it is allocated during ICO, the team will easily collect its hard cap and go to the stock exchange with the price higher than the ICO price.
The project received a high rating and is in the top investment ideas of such important bloggers and analysts in the world of ISOs as TheGobOne, CryptoMoon, Sergio, Liu, for example Gobone rated the idea at 9.08 out of 10 and the strength of the team at 8.67 with an overall project rating of 87.50% which is a very high score.
All this makes the project an excellent idea for investment. This is just my opinion, I'm not a financial advisor, conduct your research, but it's definitely worth looking at the project, I think it's an interesting investment for both short and long term.
Useful links
Website: https://cardstack.com/
White paper: https://cardstack.com/whitepaper.pdf
ANN Thread: https://bitcointalk.org/index.php?topic=2768237.0
Bounty Thread: https://bitcointalk.org/index.php?topic=2805234.0
Telegram: https://t.me/cardstack
My bitcoitalk: https://bitcointalk.org/index.php?action=profile;u=1077060;
ETH: 0xbe065A817a5Dfc49D878BE3f499C95e0e51Aaa57