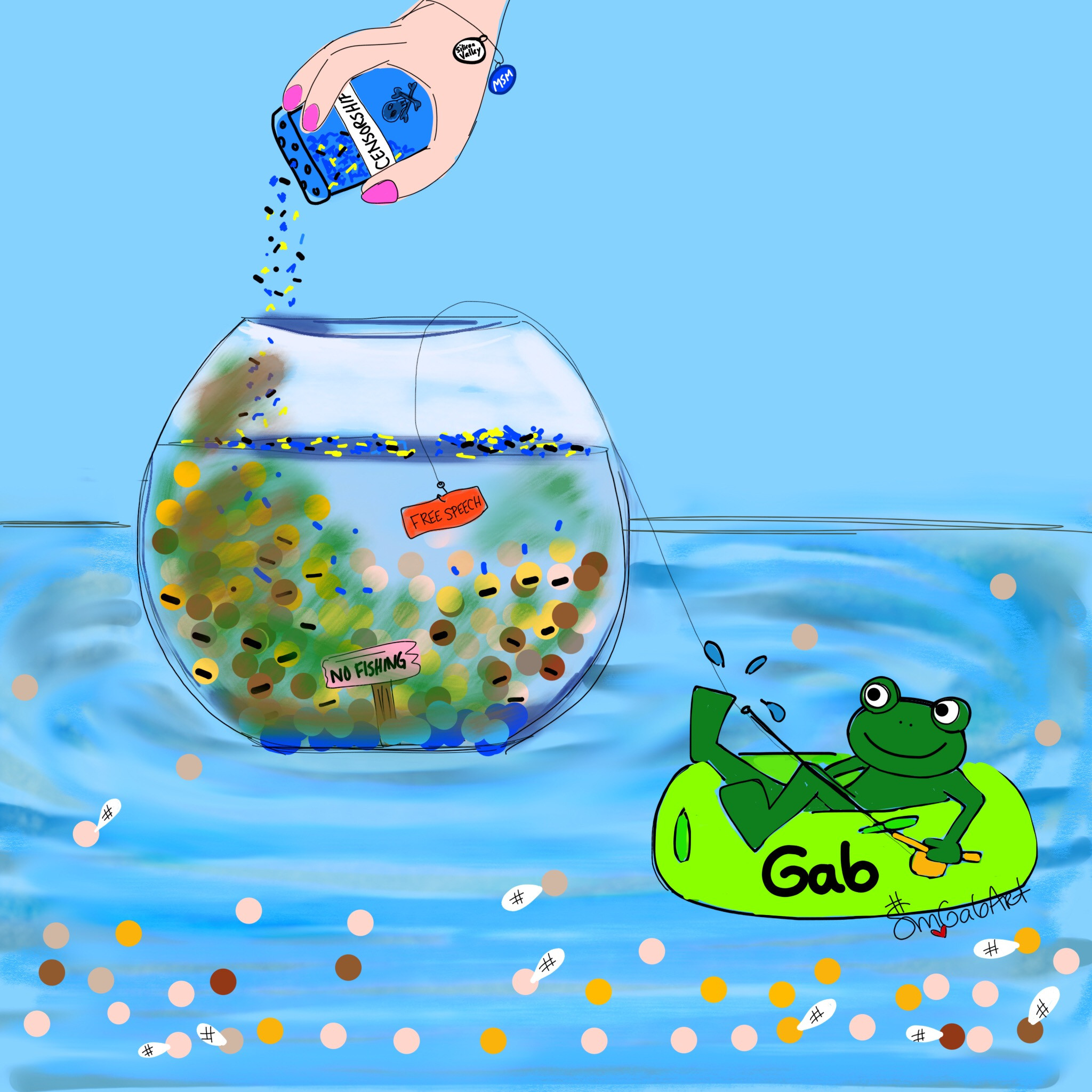 To raise the capital necessary to fund the business model described in our business plan Gab.ai began planning for an initial coin offering ("ICO") in August 2017. ICO's are a method for raising funds that often bypass the regulated and exploitative capital-raising process dominated by venture capitalists and investment banks. In an ICO campaign, a percentage of a new cryptocurrency, typically based on Bitcoin or Ethereum, is sold in exchange for legal tender or other cryptocurrencies.
Over the past year there have been plenty written and said about ICO's. Jordan Belfort, "The Wolf of Wall Street," recently called ICO's "The Biggest Scam Ever." The SEC has made both optimistic and warning statements about ICO's. They have also taken action on The DAO, a failed ICO that lost $50m in investor money.
More recently Tezos, a Silicon Valley-hyped company that raised a $232m ICO, has come under investigation and is facing a potential legal action after Tezos co-founders Arthur and Kathleen Breitman have accused Johann Gevers, President of the Tezos foundation, of inappropriate actions. To put it simply: the unregulated ICO has been a whirlwind of drama, problems, and chaos.
In light of these dumpster fires of risk and problems, Gab has been exploring the road less traveled with ICO's: regulation and SEC compliance. Gab seeks to build for the longterm future, not pump and dump on a get-rich-quick scheme or provide some sort of liquidity for Venture Capitalists and their LP's. Our goal is to empower people and defend free speech and expression on the internet at all costs.
Gab's first funding round was powered entirely by our community of 300,000 users from around the world. We didn't go to venture capitalists, banks, or special interests. Instead we partnered with our good friends at Start Engine to raise $1.07m in an SEC-compliant Reg CF Title III funding round. This is a big part of what makes Gab different than other ICO's: Gab is not just an idea on a white paper. We have a product, a thriving community of hundreds of thousands of users, and a brand that has been featured in hundreds of mainstream and alternative publications.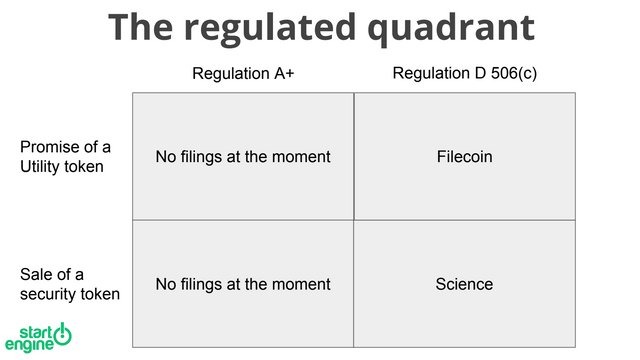 Start Engine approached us about their plans to conduct regulated ICO's. To our knowledge no other crowdfunding platform and very few ICO's themselves were even exploring this path at all. Most instead choose the high-risk wild west world of unregulated ICO's which are prone to high levels of scrutiny, transparency problems, and possible legal trouble.
Under the JOBS Act, there are currently two potential paths to a regulated ICO. One path, the Reg D 506(c), allows companies to raise an unlimited amount of capital without any SEC qualification required. There have been a few examples of this path being taken by high level ICO's such as "Filecoin" and "Science." The problem with Reg D is that the ICO is only open to accredited investors, or extremely wealthy individuals. Our goal is to empower as many people as possible and not limit ourselves to the 1%.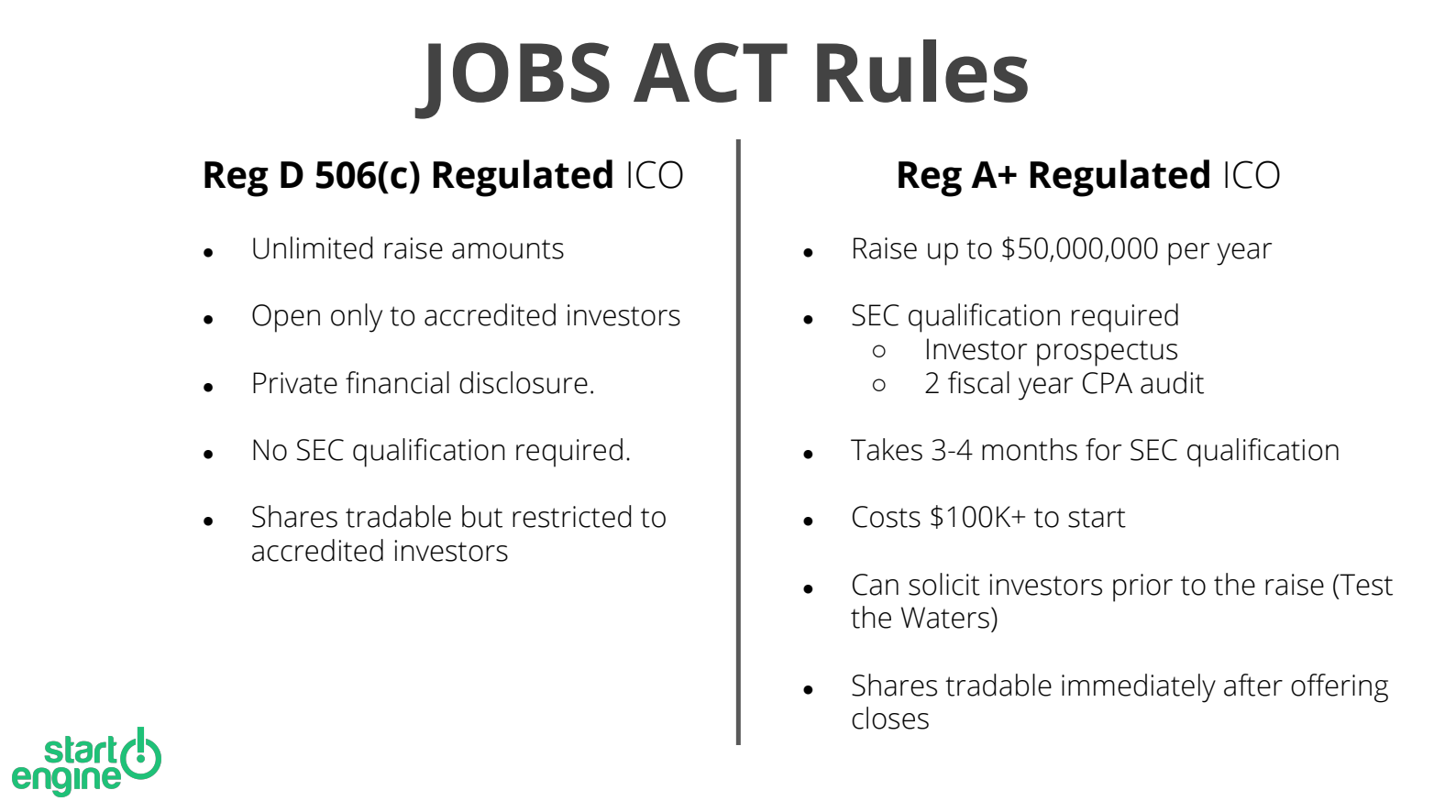 The second path is Reg A+. This requires a two year IPO-level CPA audit, SEC qualification, and is limited to $50m per year in capital. The beauty of Reg A+ is that the round is open to anyone including crypto holders, leveling the playing field and opening our ICO.
Up to this point no ICO has successfully raised capital through Reg A+. We question why companies who truly believe in what they are building would not want to be transparent and compliant with the SEC. We question why so few ICO's have actually built anything of value yet in order to justify the mass amounts of capital they have raised on mere ideas. Gab aims to be the first to accomplish this historical achievement of transparency, compliance, and clear value with the help of our friends at Start Engine.
Our vision is to create an incentivized communication protocol that empowers any developer or creator to build on top of a decentralized and censorship-proof online community without the need for any middleman or gatekeeper. Whether you are a developer, a content creator, or a consumer in the community: everyone will be rewarded by the Gab protocol.
In the coming weeks we will be launching our "Test the Waters" campaign on Start Engine and also releasing a white paper with more details about our vision. The new internet is coming and Silicon Valley can't stop it.