WORLD FIRST DECENTRALIZED GLOBAL FINANCIAL ECOSYSTEM FOR STREAMERS - DESTREAM

WHAT IS STREAMING AND WHO IS A STREAMER?
Basically to stream on the internet means listening to music or watching a video, instead of downloading it to your device to watch it later.
Streaming has grown so large that it has a branch for gamers and game developers. As new technologies emerge, a new source of income and carrier opportunities emerges as well. There is a new workforce of gamers out here called "STREAMERS" these guys broadcast themselves in real time while playing video games and they earn good returns from their actions.
While these guys might be new to you they have actually been around for some time and have managed to build a whole new industry for themselves. Video game live streaming became popular in the mid-2010s on sites like Twitch and YouTube, according to statistics by statista over six hundred and fifty million people tuned to video game streaming in 2017, the number is expected to hit seven hundred and forty million people by 2019, the gaming video content revenue worldwide in 2016 reached 4.4 billion U.S dollars and it's projected to increase in the years to come.
Just like every other industry, streamers also experience some challenges in their field and DeStream will eliminate some of these challenges, DeStream is building the world first decentralized financial eco-system for streamers.
DESTREAM ECOSYSTEM FOR STREAMERS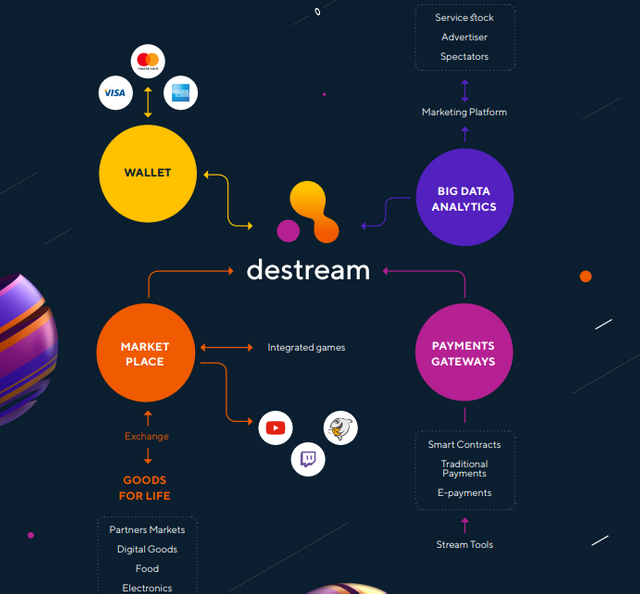 The DeStream eco-system is built for streamers, viewers, advertisers and entrepreneurs, it's a decentralized platform for the streaming market powered by the blockchain technology. DeStream will be resolving some of the problems facing the game streaming industry, some of which are listed below:
HIGH INTEREST RATES ON DONATIONS: Many of the traditional/centralized financial eco-system for streamers tends to charge high-interest rates on donations, DeStream will take at least 13 times lower donation commissions.
PAYMENT INSECURITY AND CHARGEBACKS: Unlike some of the traditional financial eco-system for streamers Destream will have internal smart contracts that will serve as a warranty of clear contractual relationships between viewers, streamers and advertisers.
NON-EFFICIENT ADVERTISING BUDGETS ALLOCATION: The DeStream platform will include an analytical interface based on users data.
You can read more on the whitepaper here https://destream.io/media/1101/whitepaper_en.pdf for the platform features.
The Eco-system Advantage
High-Level Security: DeStream will use smart contracts to ensure the security of the platform for streamers, viewers and advertisers.
Advertising: Data analysis algorithms will allow advertisers to distribute their budgets between a number of streamers.
Marketplace: On this platform, streamers will be able to take advantage of the blockchain tech, they can buy and sell their virtual items and services without using fiat money.
Streamers on the DeStream platform will be provided with a marketplace to sell their goods such as digital, clothing, various merchandise for his subscribers, such as mugs, t-shirts, etc.
DeStream will generate it profit from charging commissions on deposits and withdrawals of funds, or for performance of internal operations.
THE TOKEN
The DST token will be the default token of the ecosystem, users will be able to make donations, buy digital goods and services, get rewards from advertisers, gain access to data analytics, pay for ecosystem services and perform internal P2P transactions in DST tokens.
THE TOKEN INFO
Token name: DST Token
Token sticker: DST
Supply: 6,000,000,000 DST
Blockchain: STRATIS
THE TOKEN DISTRIBUTION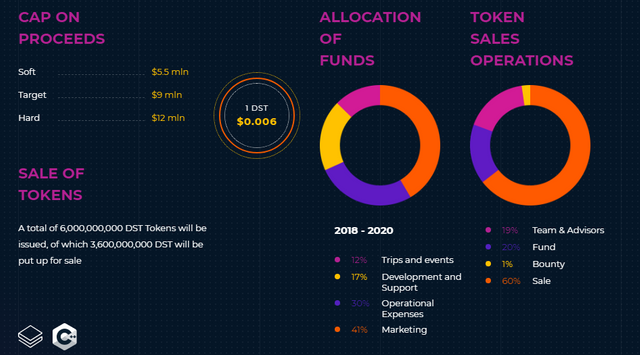 THE TOKEN SALE
The DST Token public sale is currently on, interested investors can buy tokens here https://destream.io/?referralId=adf52557d7994818a3bf8131262f2179#action=bountyreg
CLOSED PRESALE
Jun 15 — Jul 15
SALES FOR STRATIS HOLDERS ONLY
Jul 15 — Aug 1
TOKEN SALE
Aug 1 — Sep 30
50% BONUS FOR STRATIS HOLDERS
Jul 15 — Aug 1
BONUSES
+25% Aug 1 — 15
+20% Aug 15 — 29
+15% Aug 29 — Sep 5
+10% Sep 5 — Sep 12
+5% Sep 12 — Sep 19
0% Sep 19 — Sep 30
USEFUL LINKS
WEBSITE: https://destream.io/?referralId=adf52557d7994818a3bf8131262f2179#action=bountyreg
WHITEPAPER: https://destream.io/media/1101/whitepaper_en.pdf
ONEPAGER: https://destream.io/media/1132/onepager_en.pdf
FACEBOOK: https://facebook.com/destream
TWITTER: https://twitter.com/destreamproject
TELEGRAM: https://t.me/DeStreamEN
BTT: https://bitcointalk.org/index.php?topic=4698321.0
WRITER INFO:
BTT: https://bitcointalk.org/index.php?action=profile;u=1106862;sa=summary
BTT USERNAME: tobicrypto