The future is here- DNAtix is offering a new blockchain Infrastructure for Genetic storage and transfer
There's a common saying that data is life, with the advancement of technology everything seems possible. This new project DNAtix is bringing the future closer by utilizing advanced technologies.

Everything is changing around us, Scientists has long time before now discovered that we can store biodata for future use. The rise of Genetic Data Storage as also called for a better method of storing this large biodata, that is why a project like this one "DNAtix" came to life.
What is Genetic Data Storage?
Genetic Data Storage is a type of biodata storage that involves the collection of your DNA, well according to the simple definition of the dictionary, DNA is a "deoxyribonucleic acid, a self-replicating material which is present in nearly all living organisms as the main constituent of chromosomes. It is the carrier of genetic information." in other words, it's the qualities that make up a living organism.
DNAtix will use the blockchian tech to improve the way we store biodata. This new genetic ecosystem will serve as an ecosystem and Portal for GDAPPS (genetic apps), allow anonymous genetic services, propel genetic research to develop new health solutions and more.
THE DNATIX PLATFORM
Users of the DNAtix platform will be able to store DNA data is a secure environment, the platform offers the three major services which include: analysis, storage, and transfer of digitized DNA sequences through a direct-to-consumer platform.
Meaning - The platform will provide easy to understand descriptions for user's DNA data.

Digitization - Users will be able to receive their DNA in a digitized form to their wallet.

Genetic Testing - Users of the DNATix platform will be able to run various genetic tests such as lifestyle and wellbeing, genealogy, forensics and medical genetic tests.

Solution Providers - DNAtix will offer users the opportunity to get referrals to relevant solution providers per identified genetic conditions.
The platform will allow users to upload and store their biodata, with use of the advanced Blockchain technology DNATix Genetic platform will be able to store large files and provide complete anonymity.
THE DNATIX WALLET
The DNATix wallet is a unique wallet that will allow users enter the DNATix Ecosystem, with this wallet users will be able to perform and pay for various genetic services, upload, store, transfer and analyze DNA sequences and receive genetic services in complete anonymity.
THE TOKEN
It's a token on the Eth Network.
Token Info:
Name: DNATIX TOKENS (DNATIX)
Total Supply: 150,000,000
Token Distirbution/ICO Info
Interested individuals can get some tokens here https://www.dnatix.com/ ,DNATIX is currently offering it tokens.
Exchange Rate:
1 DNATIX = $1.00
Currencies Accepted:
ETH, BTC, BANK WIRE USD/EUR
TOKENS ISSUED:
150,000,000
Token Pre-sale Dates:
August 15 – November 14
Public Token Sale Dates:
November 15 – December 15
Hard Cap:
45,000,000 USD
Soft Cap:
1,000,000 USD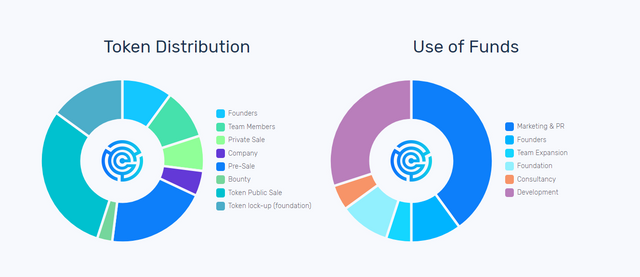 USEFUL LINKS
Website: https://www.dnatix.com/
White paper: https://www.dnatix.com/download/White_Paper.pdf
Social: https://www.facebook.com/dnatixgenetics/ , https://twitter.com/DNAtixGenetics , https://t.me/dnatix_tokensale
https://www.youtube.com/channel/UC63L_2KLDUOCyeJ9PK7oqkg
BTT ANN: https://bitcointalk.org/index.php?topic=4900060
WRITER: https://bitcointalk.org/index.php?action=profile;u=1106862;sa=summary