Momentum is building a bridge and a platform that will aid marketing and customer loyalty reward.

Momentum is building an infrastructure protocol for loyalty programs, this protocol and platform is set to revolutionise the way companies reward and interact with its customers.
About Loyalty And Customer Reward Programs
Loyalty and customer reward program is a typical marketing strategy designed by merchants to encourage customers to continue buying her products or use the services of businesses associated with each program. Days before now merchants use a loyalty card, rewards card, points card, advantage card, or club card is a plastic or paper card, Voucher card, etc... to reward its customers and now we will use tokens. The loyalty and customer reward industry is gradually coming to the blockchain network, the industry is worth over $400 Billion Dollars.
Why is customer reward program important?
A study has shown that brands which reward its customers actually make more sales, according to a study by advisory firm Bain & Co increasing customer retention by just 5 percent boosts profits by 25 to 95 percent, also acquiring new customers is more expensive than retaining customers.
As useful and effective as this marketing strategy might have proved to be it most often requires complicated software for it management which those not come cheap. This software's are used for the generation and distribution of rewards.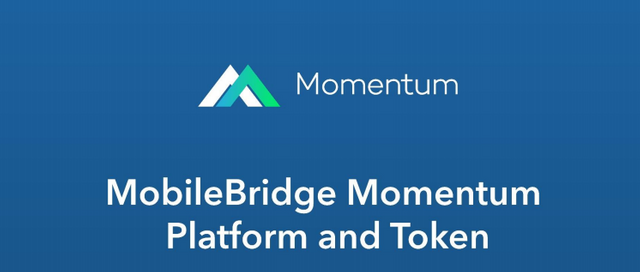 Momentum is building a user-friendly eco-system that will aid merchants with the distribution of rewards and also redefine customers experience with loyalty programs. The ecosystem consists of several BC2 apps.
MobileBridge Momentum has been integrated with the with the blockchain technology, its a platform that enables brands to launch new or convert existing programs into cryptocurrency-based marketing and rewards programs.
Companies can launch their own branded crypto tokens on the Momentum Platform, they can reward their customers for their purchases and loyalty, they can also reward attention, brand advocacy and data insights, consumers will have full control of their data.
Consumers can seamlessly use and enjoy the reward tokens they can also exchange their reward tokens into other branded tokens which can be used to purchase the brand product or pay for its service. This tokens can be earned when they buy something, provide some information about themselves, post reviews, videos or blog posts about products or services they bought, learn about new products, click 'like', watch a video and many more ways as listed on the momentum whitepaper.
The MobileBridge Momentum Platform will improve customers relationship with their favourite brands and also help brands carry out its marketing strategies effectively with the use of several tools available on the MobileBridge Momentum Platform.
The ecosystem also includes a wallet, an exchange for reward tokens, functional middleware which is running on the momentum protocol, the momentum protocol which is the global standard for tokenized loyalty programs and more.
THE TOKEN
The token sale is on as at the time of this post you can purchase some tokens HERE
Momentum token is a utility token and will be used in several ways:
it will be used for rewards,

it will be a gateway that will enable consumers to convert branded tokens on the momentum MobileBridge platform to Momentum Tokens, which can be exchanged for other reward tokens or crypto-currencies,

It will be the default payment currency, companies running solutions on the Momentum Protocol will pay for it in Momentum Tokens.

It is a cryptocurrency that can be transferred among peers.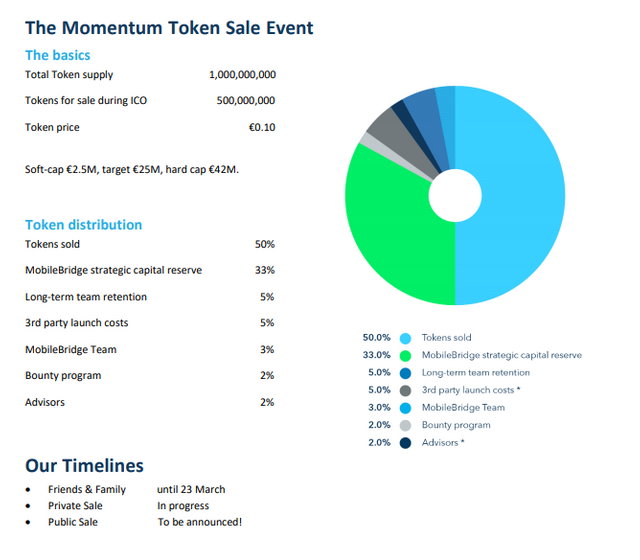 USEFUL LINKS:
Website: https://momentumtoken.io/
Whitepaper: https://momentumtoken.io/files/MobileBridge_Momentum_Token_Sale_Whitepaper_-_FINAL_v1.0_1102018.pdf
Bitcointalk Ann Threads: https://bitcointalk.org/index.php?topic=2943654.new#new
Bounty Threads: https://bitcointalk.org/index.php?topic=2969733.0
Telegram Group: https://t.me/MomentumToken
AUTHOR INFO
Btt Profile Link: https://bitcointalk.org/index.php?action=profile;u=1106862;sa=summary
Telegram: @oyin2002