Introducing GEMERA A Crypto Token Backed By Real Life Asset (Colombian emeralds)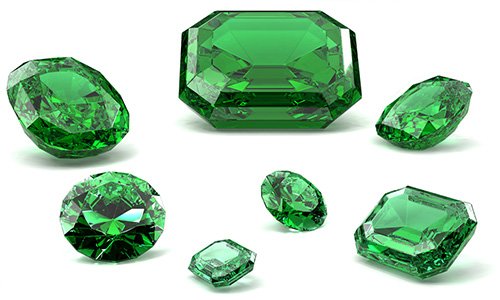 Emerald is a precious gemstone, it's most often green in colour and commonly mined in Brazil, Zambia and Colombia. A carat of emerald can be priced than a diamond. A carat of emerald is worth $500 or more.
Colombia is said to be the largest miners/producers of emerald in the world, the country is located on the continent of South America, it's estimated that colobia account for 70-90% of the global emerald market. This valuable jewel is extremely rare and highly valuable.

GEMERA wants to revolutionalize the way we store the value of digital assets, you will be able to buy the GEMERA Token that can later be redeemed for emeralds through the GEMERAs marketplace. The GEMERA project will combine the emerald industry and blockchain to revolutionalize the way we store value.
There is more than 9 billion dollars worth of emerald available in the world while only 5-10 of these emeralds are used for investment purposes because of the difficult nature of investing in the asset and other factors that surround it.
The traditional emerald market model has lots of middlemen which cause investors to spend more while producers earn less in the process of investing in emeralds, a standard investment in emeralds also involve transaction of thousands of dollars which might attract high transaction fees and many other factors.
GEMERA will revolutionize the traditional investment model with the use of the blockchain technology, it will connect investors directly to emerald producers with the aid of it token and marketplace.
THE PROBLEMS WITH TRADITIONAL EMERALD INVESTMENT
For the investors
Investing in emerald can be complicated for investors who have little or no knowledge about emeralds, it's so expensive and priced high that there might be no room for small investments most emerald investment transactions are often in thousands of dollars and it attracts lots of middlemen, there might also be a huge risk if investors if buying from an unlegalised producer. As for the Producer they tend to get less of then %50 of the real retail value due to the middlemen.
GEMERA Solution
Gemera will create a solution to solve these problems with the use of the blockchain technology, Gemera is offering potential investors who will like to invest in emeralds an opportunity to enter the industry as an investor by holding their tokens which is 100% backed by Colombian emeralds. These tokens can be redeemed for emeralds that they are stored with private deposit companies. Gemera will operate a transparent marketplace where they will provide information about these emeralds with the use of decentralized technologies.
THE TOKEN AND ICO
The Gemera token (GEMA) is currently on sale and investors will get 20%-15% bonus on the number of tokens you buy between now to Oct24 and from Oct25 - Dec12 you will get 10% or nothing.
THE TOKEN INFO
TOKEN NAME: Gemera Token
TOKEN SYMBOL: GEMA
TYPE: ERC-20
PRICE: 1 GEMA - 1 USD
CONCULSION
In conclusion with the Gemera project and tokens, potential investors can now invest in emeradls with small amount of money, bypass middlemen and transact large sum of money directly easily with the producers while producers earn more.
USEFUL LINKS
Site: https://www.gemera.io/
White Paper: https://src.gemera.io/src/GemeraWhitePaper.pdf
Bitcointalk Ann: https://bitcointalk.org/index.php?topic=4789620
BTT BOUNTY: https://bitcointalk.org/index.php?topic=4798641.0
Twitter: https://twitter.com/GemeraProject
Facebook: https://www.facebook.com/GemeraProject
Telegram: https://t.me/GemeraProject
Reddit: https://www.reddit.com/r/GemeraProject/
Medium: https://medium.com/@gemeraproject
Github: https://github.com/GemeraProject
Linkedin: https://www.linkedin.com/company/11564183/
Writer btt: https://bitcointalk.org/index.php?action=profile;u=1106862;sa=summary