Araw will use E-commerce as a channel to improve blockchain utilization around the world. Click to know more about Araw....
Innovating ideas keep surfacing on the crypto space, more and more companies are adopting blockchain daily which is the major reason why new ICO'S also surface the crypto space. We can't have enough projects, most especially when each project is unique in its own way and its targeted towards solving a particular problem in its industry.
What are ico's and why do most companies run ico's before they launch their project?
ICO simply represent "Internal coin offering" which's a type of fundraising in the crypto space, this might also be seen as a form of investment in potential projects. Companies offer their cryptocurrency at a particular estimated value to interested investors in good trust that the token might increase in value as it is been utilized or they will offer investors a certain return on investment for holding their currency.
Whichever business model the company decides to use, investing in ICO'S is one of the major ways people earn good profits in the crypto space. As an ICO investor myself, I can tell you a good ico is that that has some of the qualities listed below:
Good ICO rating on ICO sites
Large community
A realistic use case of token
A transparent whitepaper and easy to understand one pager or light paper
A good team with track records
And sometimes a unique and responsive website (just my personal reason for good faith)
A good ico project should have a realistic use case, it should be solving real-life problems with a lasting solution, it should be able to reach a large number of people and also it should be from people with good track records in the crypto space. The project I am reviewing today is ARAW and it has most of these qualities listed above.

ARAW is a decentralized payment solution for the E-Commerce industry, it is powered by the ethereum blockchain technology.
This new project wants to be a part of everyone's day-to-day online & in-store shopping life, it will let users bring their normal shopping behaviour into the crypto space without going through the stress of understanding the complexity of the blockchain technology.
ARAW is building an end-to-end payment solution for e-commerce merchants and shoppers, this payment solution will feature touch and pay cryptocurrency card, online cryptocurrency payment, and unified reward system.
THE ARAW ECO-SYSTEM
ARAW e-commerce payment eco-system feature these major platforms:
Araw Pay Online Payment: It's a widget that can be plug and play on any websites for online payments at a click of a button

Araw Card Touch & Pay: Is a physical payment card that shoppers can use in stores for payments and more.

Banking System Integration: The Araw eco-system has been integrated with bank payment systems for users convenience and easy conversion of fiat to crypto.

Cryptocurrency Exchange: For Peer to Peer transactions, cashback & exchange

Open API Platform: The eco-system also feature API for merchant to integrate on their e-commerce platform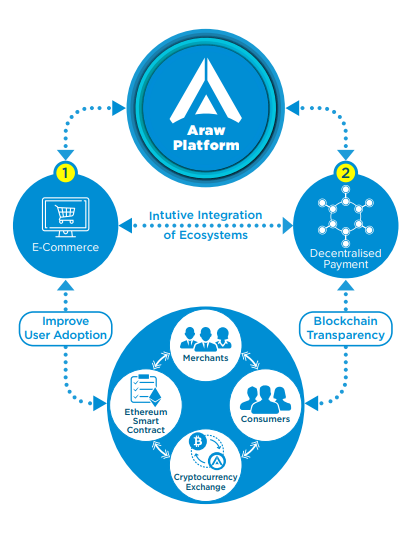 You can find more details about Araw and Araw token sale HERE or make use of the useful links below.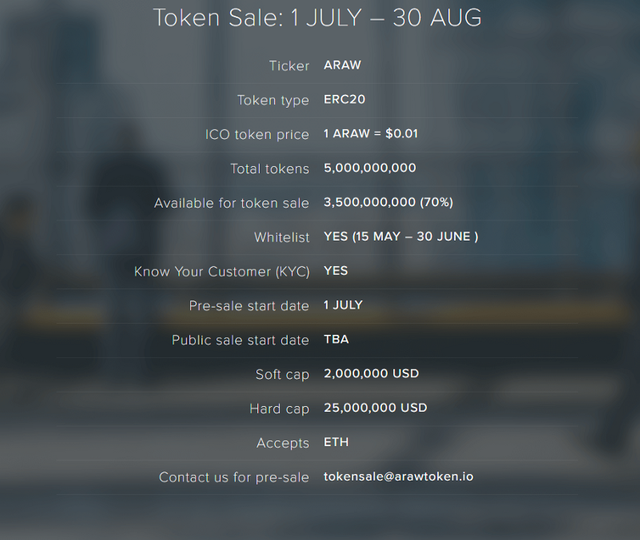 USEFUL LINKS
WEBSITE: https://arawtoken.io/
WHITEPAPER: https://arawtoken.io/assets/araw_whitepaper.pdf?v1.7
ONEPAGER: https://arawtoken.io/assets/araw_onepager.pdf?v1.0
FACEBOOK: https://www.facebook.com/arawtoken
TELEGRAM: https://t.me/ArawTokenOfficial
TWITTER: https://twitter.com/arawtoken
MEDIUM: https://medium.com/@TheARAWToken
GITHUB: https://github.com/arawtoken
BITCOINTALK: https://bitcointalk.org/index.php?topic=3497194
LINKEDIN: https://www.linkedin.com/company/arawtoken/
YOUTUBE: https://www.youtube.com/channel/UC3QKDkSt7UbhqWlAm2T5Abg
REDDIT: https://www.reddit.com/user/arawtoken
Writer
Btt link: https://bitcointalk.org/index.php?action=profile;u=1106862;sa=summary
Btt username: tobicrypto