RENTO! ICO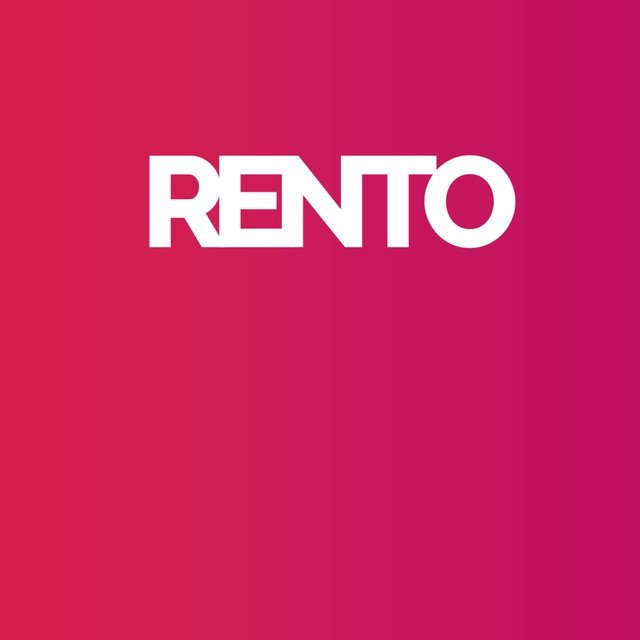 Rento is proposing a global sharing platform for businesses and individuals that allows the renting of underutilized assets. Unlike competitors in the market, Rento will rent any item to any individual rather than focusing simply on one market (cars, apartment share). Furthermore, Rento leverages blockchain technology to implement a trusted economy through smart contracts that ensure rental conditions are met and that the parties can count on one another to deliver and return the product or service. Rento aims to introduce the sharing economy in the daily lives of people everywhere, reducing waste in the economy and allowing more people to enjoy a variety of services and products without having to shoulder the cost of owning every type of item they use.
RENTO: TAKING THE SHARING ECONOMY TO P2P
Rento aims to develop a sharing ecosystem that dramatically increases the reach of the sharing economy beyond the existing industries, such as transportation or hospitality. Rento plans to develop a platform that makes the sharing of everyday products and services easier, as well as implementing sharing across different industries. Additionally, Rento utilizes blockchain technology to secure international transactions and smart contracts to facilitate security deposits.
The key components of Rento's ecosystem are:
● Rento App
● Rento Blockchain
● Rento Model Store
Rento App
The Rento App aims to expand the sharing economy beyond the transportation, real estate, and hospitality industries. It allows users to rent everyday items such as real estate, office space, hardware tools, electrical equipment, construction equipment, cameras, and everything that one may require or want to rent on the Platform. Features for platform users:
● Listing page: The listing page lists all the available services and products for renting on the Platform. It supports multiple categories, search filters, and geo-filters to show relevant results.
● Search engine: The Rento App comes with a built-in search functionality that allows users to search products using multiple filters and sorting capabilities.
● Renting calendar: Every product and service listed on the Rento App reflects its availability through a renting calendar. Users can access a product depending on its listed openings. Rento plans to introduce a "Book -in-advance" feature after the launch.
● Feedback: Rento has a built-in feedback system that allows users to rate the product or services depending on their experience. The Rento App utilizes blockchain technology to limit feedback manipulation practices on its Platform.
Features for listing owners:
● Active listings: The listing owners can find all of their active listings in a single location. Additionally, they can view the renting schedule of any item or service on the active listing page itself.
● Listing/Advertisement package details: The listing owners can access listing package details or advertisement subscriptions on the dashboard. Every business/service provider will receive a complimentary listing point package after completing the registration. Rento plans to introduce premium advertising and listing positions after 2020.
● Customer insights: Rento plans to introduce a customer insights feature for listing owners, allowing them to understand customer behavior, renting preferences, and other relevant parameters to grow their business.
Rento Blockchain
Rento is creating a proprietary blockchain with specific features that are essential for the sharing economy. The chain for Rento will be used specifically for the sharing economy. Because it is an independent blockchain, Rento is able to develop the chain specifically for the implementation of this business model, ensuring that it is the best database customized specifically for the needs of the Rento ecosystem.
● Custom smart contract facility: The Rento Platform requires specific smart contract customizations that are not available in the present blockchain platforms. Additionally, the Rento Platform needs the flexibility to develop new functionalities to address any operational/technical challenges in the future.
● Handle dispute resolution: Rento requires complete control over its blockchain to handle disputes, which is not possible when using third-party blockchains. Having its own blockchain will allow Rento to address disputes in accordance with local regulations. The Rento ecosystem features a Proof of Authority (PoA) blockchain to be used for transactions inside the Rento App, particularly for payments, security deposits, and transaction history, thereby ensuring full transparency.
COIN/TOKEN ECONOMY
Rento is raising funds for the development of its global renting/sharing Platform. Funds will be used for the everyday operations, development, marketing, and additional business solutions of the Rento Platform.
TOKEN ECONOMY
Token Specifications
Token name: RENTO Token
symbol: RTO
The total of tokens: 600,000,000
Number of decimal places: 8
Token Standard: ERC20
Network Base: Ethereum Network
Tokens for sale: 264,000,000
Cost per token: $0.01 ~ $0.12
ICO ORGANISATION
ICO Stages
Rento token will be available to purchase in 4 stages:
Stage 1:
Price: $0.01
Timeline: 16.10 - 20.11.2018
Amount of tokens available: 26 400 000 RTO
Stage 2:
Price: $0.02
Timeline: 21.11 - 15.12.2018
Amount of tokens available: 26 400 000 RTO Stage 3:
Price: $0.06
Timeline: 16.12.2018 - 31.01.2019
Amount of tokens available: 105 600 000 RTO Stage 4: (Optional)
Price: $0.12
Timeline: 01.02 - 28.02.2019
Amount of tokens available: 105 600 000 RTO
TWO-STAGE ICO
Rento Tokens
The Rento Token is designed for release on cryptocurrency exchanges. While the initial Rento Token is based on ERC 20, the Company plans to transfer Rento onto a PoA Blockchain. While all transactions within the Rento App will be based on smart contracts and it will be possible to make transactions and security deposits in all currencies (crypto and fiat), the fee for smart contracts and transactions will be payable in Rento Tokens only.
RentoShares
If Rento receives a license for issuing a security token in the future, the Company plans to issue shares in the Rento companies so that all people who invest in RentoShares will receive dividends, have a say in the companies' development, etc. The purchase of RentoShares will be possible only for Rento Token holders or participants, as they would have preferential conditions for becoming a Rento shareholder.
TOKEN DISTRIBUTION
Tokens for sale: 264,000,000
Owner's Tokens: 305,000,000
Tokens for Bounty: 6,000,000
Tokens for Team and Advisors: 25,000,000
FUND DISTRIBUTION
App Development: $4 784 500,00
Team and office: $6 863 500,00
Marketing: $6 445 000,00
Licensing: $160 ,000
Assets $1 547 000
ROADMAP
●ICO/Token Sale Event
■Phase I (October 16 to November 20, 2018)
■Phase II (November 21 to December 15, 2018)
■Phase III (December 16, 2018 to January 31, 2019)
■Phase IV (OPTIONAL, February 1, 2019 to February 28, 2019)
●Release of Rento App (December 2018)
●Launch of the Example Rental (June 2019)
●Release of Rento Blockchain (July 2019)
●Rentocoin enters the cryptocurrency markets ( 3rd quarter of 2019)
TEAM
Mariusz Bułka : Founder Mariusz is an experienced entrepreneur with a solid track record in real estate and the distribution of consumer goods across Europe, North America, and Asia.
Andrzej Laszczuk : Founder Andrzej is a lawyer and new technologies enthusiast. Before dedicating his time to Rento, Andrzej led a successful web design and branding agency.
Ewelina Siewiorek : Business Development Manager. Ewelina has deep knowledge in the field of business development and business relations. She is also experienced in lean operations, which helps keep Rento operations as efficient as possible.
Rento App product website : https://rento-app.io
Join this ICO Immediately
For token purchase : https://buy.rento-app.io