Peer Mountain breaks down how the partnership with Syscoin will benefit users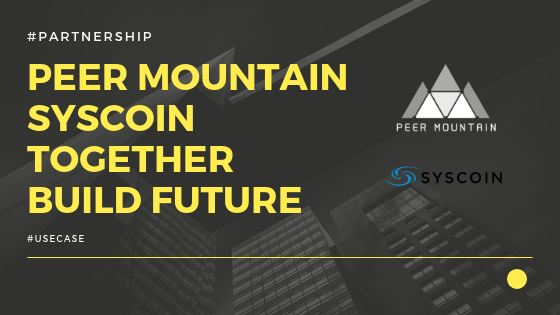 It seems as though these days every project is partnering for the sake of partnering. More often than not these partnerships are designed to draw attention to the project due to the names. It is a popularity contest more than it is a desire to make partnerships that will see the project flourish over time. Our partnership with Syscoin isn't one of those partnerships.
Our plans to create a decentralized future will see us work closely with Syscoin to build this future together. The partnership between our companies will see us run our two technologies alongside one another in order to verify a users trustworthiness and run an on chain service with great infrastructure.
Peer Mountain is a cross-chain protocol that facilitates the exchange of trusted information between peers with secure on chain records of these exchanges. Using Peer Mountain, all of the sharing that needs to take place to establish trust and meet legal requirements can be done digitally.
Syscoin is an infrastructure chain with cryptocurrency that offers near zero-cost financial transactions and provides businesses with the infrastructure to trade goods, assets, digital certificates and data securely. Syscoin has the ability to attract all business types thanks to its native set of features geared towards the financial sector. From eBay traders and High Street shops; Syscoin's decentralized network benefits everyone.
Recently the Blockchain Foundry, Syscoin platform experts, announced Blockmarket; a blockchain based marketplace where users can trade goods. Think of it as a blockchain based Amazon Marketplace or eBay, where you or any merchant can sell items to anyone who wants to buy them.
The Blockmarket shopping client, mobile or web based, will work with Peer Mountain's Peerchain protocol, meaning that when you have to share information to make a transaction, it can be done within the app. Every document is signed and logged on chain, so you get proof that these documents were exchanged. If you need validation of the documents, you can get that too with Peer Mountain trust providers; you just need to request them. Let's take a look at an example.
Imagine you live in Luxembourg and want to buy a classic American car. Since you live in Europe, you look for one that has already been imported and you find the perfect car in the UK.

Source: Google image
Since this is a big deal, you need to make sure everything is in order and you need to have certain papers in place to register the car. You want to make sure that this all checks out before making your payment of three Bitcoin (BTC).
To do this, you use the Peer Mountain features in the Blockmarket client on your phone. You swipe your ID document to the seller and ask them to provide their identity, since this is required by law. You can browse the available Peer Mountain trust providers in Blockmarket and find one that you trust to hand you everything you need to make sure you're not getting cheated by the seller.
Step one: you ask an identity trust provider, like KYC3, to validate the UK passport copy and selfie that the seller sent and make sure he's legit. You click "OK to pay KYC3 with 1 Peer Mountain Token (PMTN)", about 10 cents, for this validation.

Step two: the seller sends you the draft terms right in the Blockmarket client. You check the VIN number and ask Carfax in the US to validate the history of the car from purchase up to its export to the UK 3 years ago. The seller provides copies of the current registration and title forms, which you validate with the UK DVLA. Blockmarket, Carfax and the UK DVLA are all enabled using Peer Mountain enabled systems and all are verified using 1 PMTN token.

Step three: you negotiate the terms and then agree with the seller on three BTC price and pickup from a garage near him. The contract is digitally signed on chain by both of you.

Step four: you find a local garage near the seller on Blockmarket and get a technical check on the car. They also ensure that all the paperwork is in order. They send you the report right in the Blockmarket client and you click ok to send them 100 Syscoin for their service.
Since everything looks good, you send the seller three BTC for the car and have the delivery company, which you also found and hired on Blockmarket, pick it up from the garage that did the check.
Whilst you could send the seller fiat currency like GBP, USD or EUR, it is important to remember that the underlying cryptocurrency is pinned to the traditional currency, making it more secure to use.
This exchange could be settled in a few ways using either a smart contract which ties the two users together or using a hashlock that unlocks the funds once the car has been delivered.
That's just one example of how Syscoin and Peer Mountain will work together. Syscoin is the infrastructure for commerce and Peer Mountain is the protocol for trust. Together even the most complex deals can be negotiated and completed in a fully digital, on chain and private peer-to-peer mode.
The successful transaction becomes part of your identity and you can build up a profile, just like on eBay, that you can take anywhere on or off chain to prove your integrity in sales transactions anywhere! Welcome to the future; where trust and commerce can be frictionless, easy and among peers with no middlemen.
Do you feel like discussing this use case? Head to our telegram and shoot some cool question!