Pavo (PAVO) — ICO Alert Report
ICO Alert Quick Facts
loT blockchain for the Agtech ecosystem
$1 USD = 1 PAVO token
Pre-ICO: April 4, 2018-June 11, 2018
Main ICO: June 12, 2018-July 14, 2018
PAVO 100,000,000 tokens available / 200,000,000 total supply
Currently being used at grow houses in California
Pavo provides an intelligent, state-of-the-art, IoT blockchain solution for the global agriculture ecosystem. Pavo enables growers to make smarter, faster agricultural and business decisions based on real data. PavoCoin (PAVO) is an Ethereum token that enables cannabis market participants (such as growers, producers, innovators, retailers, and service providers) in our network to accept digital payments from their customers and community members and used inside our network as a mean of payment.
Erhan Cakmak, CEO & Co-Founder
ICO Alert: For those who are not familiar with PavoCoin, can you explain what it is and what the team aims to accomplish?
Cakmak: At Pavo, our goal is to create a new farming model that can pioneer the way for the digital-generation of indoor agriculture and transform the whole agricultural industry. Pavo basically will transform farming and farmers and catapult them into the digital age by integrating indoor farms vertically via the Internet of Things and leveraging blockchain technology to create a model that can democratize local agricultural economies around the world.
ICO Alert: How does PavoCoin function within the platform and why is it needed?
Cakmak: Other general purpose digital currencies have proven to be too volatile. The agricultural market deserves its own currency.
PavoCoin has multiple uses within the platform:
It can be used by farmers to pay the Software-as-a-Service subscription fee for our IoT-Blockchain yield and quality enhancement software solution. The token will also be used as a smart contract between Pavo and the farmer.
We are planning an agricultural marketplace for the platform to allow agriculture ecosystem participants to buy and sell (agricultural crop only), using PavoCoin as the currency and unit of account.
We are planning to implement smart contract-based custom futures contracts, using the coin, to allow farmers to pre-sell their crops. This will allow them to reverse a longstanding problem in agriculture, and receive a payment ahead of delivery of the crop.
ICO Alert: Conducting marijuana transactions can be complicated since the federal government has yet to follow states in legalizing marijuana. How can Pavo ensure the safety of those transactions?
Cakmak: First and foremost, Pavo never takes possession nor title to any crop, not cannabis, nor any other crop.
Second, the Pavo platform, and PavoCoin, is not limited strictly to the cannabis industry.
As a digital currency, PavoCoin is not subject to federal banking regulations that prohibit nationally chartered banks from working with the cannabis industry. We have confirmed with many growers that the chief finance problem they face is nationally chartered banks closing their accounts.
ICO Alert: As the earth grows overpopulated, resources may become scarce. How does Pavo Intend to make resource consumption of agriculture, one of three biggest consumers of resources, more efficient?
Cakmak: Deforestation and degradation of soil quality remain significant threats to food security and have a negative impact on the economy. Domestically, the USDA has estimated that the annual cost of soil erosion is approximately $44 billion dollars.
Pavo's IoT blockchain platform will help to create productive, less resource dependent indoor operations and can provide critical analytical insights into the grow-cycles of plants. This is a crucial point of the model as it highlights a move away from the great outdoors into more efficient and controlled indoor environments.
By moving plants indoors, the dependence on the weather can be eliminated. Pavo will provide the ability to control the climate inside the container, creating the ideal artificial growing environment as well as nurturing the wellbeing of the plants. By applying sensor arrays, the plants will "communicate" precisely what they need 24/7, 365 days a year. When farmers use hydroponics and a closed loop system, they may be able to reduce with Pavo's state-of-the-art technology water usage by up to 90 percent.
ICO Alert: You mention that Pavo utilizes intelligent learning. What does intelligent learning have to do with agriculture, and how can it revolutionize the industry?
Cakmak: The Pavo platform applies machine learning algorithms to provide farmers with a sense of their soil's strengths and weaknesses since it's constantly monitored and analyzed by the IoT platform which collects the data from all kinds of sensors around the plant and soil. The emphasis is on preventing defective crops and optimizing the potential for healthy crop production. Pavo helps to predict weather impact, analyze crop sustainability, and evaluate farms for the presence of diseases and pests.
For example, daily weather predictions, are customized based on the needs of each client and range from hyperlocal to global.
ICO Alert: More and more states are legalizing marijuana, which obviously, requires extensive agricultural infrastructure. How does Pavo intend to capitalize on this growing industry?
Cakmak: The stigmatization of cannabis has created the false notion that to grow cannabis indoors requires some special infrastructure. All indoor crops, from spinach to strawberries, or from corn to kale, require nutrients, water, light, heat, and ventilation.
The Pavo platform is ready-built to monitor indoor environmental conditions, including, but not limited to, temperature, humidity, pH content, and CO2. Our roadmap includes plans to support Internet of Things (IoT) control of lighting, ventilation and heating systems.
This feature suite places Pavo in an excellent position to capitalize not only on the fast-growing cannabis industry but also the increasingly important indoor vertical farming industry.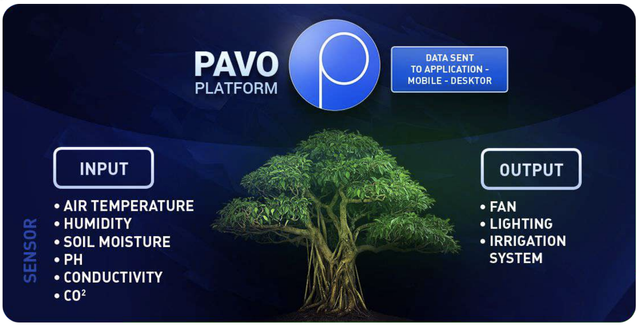 ICO Alert: Pavo's platform relies upon blockchain technology. How does Pavo utilize blockchain to increase crop yields?
Cakmak: Blockchain ensures provenance of the crops, by securing data related to crop production. Higher quality and yield will be achieved with the Pavo application which monitors and analyzes the plants 24/7, 365 days per year to measure the state of health and provide automated assistance to control their environment and nutrient needs, and make recommendations to farmers and growers.
ICO Alert: What is your plan to attract users to the Pavo platform? Are there any future partnerships planned for the future?
Cakmak: We will establish our marketplace and link consumers, restaurant and local stores to regional farmers for direct transactions — cashless and frictionless at a much lower cost than in the classic supermarket. The main benefit will be that the buyer of produce will know the provenance and quality of the products they are buying which will be inherent in the Pavo token and on record on the blockchain ledger. We plan to partner with logistics companies (regional and nationwide) to support the delivery of the purchased products. In addition, we will help to blockchain enable and crypto-enable other vendors in the AgTech ecosystem with our open source hyperledger blockchain platform. This will attract other software and hardware vendors to take advantage of the Pavo platform to deliver value to their customers.
ICO Alert: How far along is the project today and when can contributors expect to use the platform? What does the roadmap look like for 2018?
Cakmak: Currently cannabis grow houses in California are using Pavo's IoT blockchain platform. Also, Almond and Walnut farms in California are using the platform to manage their farms and to analyze their crop state.
ICO Alert: As a non-Blockchain question, we like to ask for unique predictions for the ICO and cryptocurrency space in the future. Where do you see both in the next 3–5 years?
Cakmak: ICOs will be more regulated than today and will have to go through a formal and standard process similar to an IPO. Cryptocurrencies will flourish and prosper and help economic societies to conduct businesses cashless and frictionless in a trusted fashion. Cryptocurrencies will also will be less expensive than the current banking transactions and payment tools such as credit cards and digital payment methodologies such as PayPal.
The Pre-ICO began on April 12, 2018 and will end on June 11, 2018 with a multiple phase bonus scale. There are a total of 40,000,000 PAVO tokens (PAVO) available during the Pre-ICO, representing 20% of the total PAVO supply. A soft cap of $1,000,000 is set for this period.
The Main ICO will begin on June 12, 2018 and will end on July 14, 2018. There are a total of 60,000,000 PAVO tokens (PAVO) available during the Main ICO, representing 30% of the total PAVO supply. A hard cap of $65,000,000 is set for this period.
$1 USD = 1 PAVO token
Current accepted currencies for PAVO include BTC, ETH, LTC, DASH and USD
HOLD is an ERC20 token, so it's important that contributors use ERC20 compatible wallets to send funds to the ICO smart contract, and to receive the HOLD tokens.
You need to register on the PAVO platform, where you can participate in the TGE and its stages, deposit funds, buy PAVO tokens, and find all the necessary information.
Next, you need to replenish the deposit on your account and undergo KYC procedures for the withdrawal of your tokens. You will be able to withdraw your tokens to a third-party wallet only after the end of the TGE.
After purchasing the tokens, you will be able to bring them to your ETH wallet (it should be your personal wallet, exchange wallets can't be used). When you pay with cryptocurrencies, a commission fee (transaction fee) is charged by the infrastructure of the corresponding block, the size of which you set yourself, and the transaction speed depends on the congestion of the network and the amount of the commission fee that you set.
You can buy tokens on: https://tokensale.pavocoin.com/