SpringRole: A Protocol for a Trust based Decentralized Professional Network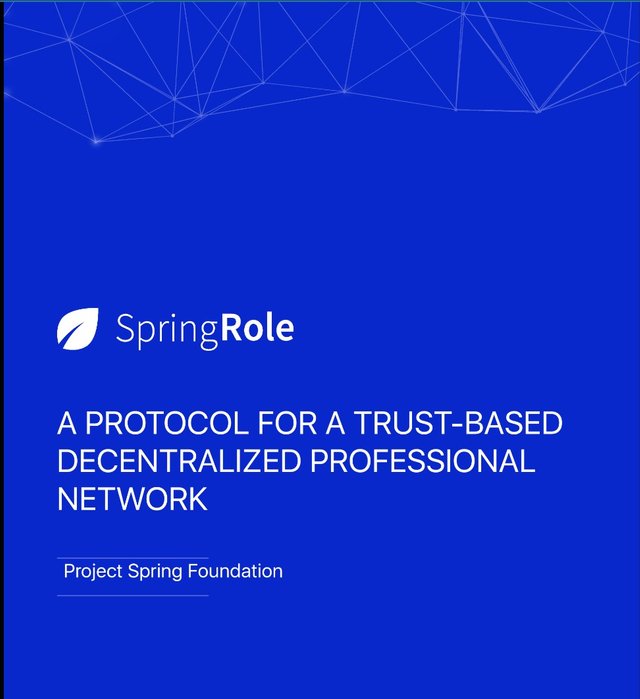 We all know Resumes are the used to make a favorable impression on a prospective employer. Resume is often the first impression a potential employer has of you. For this reason, it is referred to as one of the most crucial steps token during a job search. But it is now common to see that resume have incorrect information about a particular profile of some candidate. But do you think a solution to this can be tackle and give a concrete verification about a person profile? Spring network developers believe that Blockchain technologies for the first time enable an easily integrabel and scalable solution where everyone can have an immutable and synchronize ledger. So they are building a protocol that will allow people to have a verified resume and this will be powered by Blockchain technology.
Spring network will become a platform where people can view, share and acquire attestation on their professional profile, thereby creating a verified resume to share and use. Professional profile contain three(3) parts: Educational qualifications, Work experience and skillset.
This three part mentioned will have their own attestation flows and once verified there will not be a second time verification in the future again because the information is reliable. Education and employment status will be verified by different organizations and claim will be mark by True or false. Spring platform was created to handle (tackle) the problem of crowdsourcing reputation and in a particular skill, verifying, validating professional details via organizational attestation. They came to create trust among people and companies. Aim is to build attestation system powered by the use of public ledger and reputation scores and this system will authenticate validity of Resumes.
We have different types of attestations spring network will tackle their problems namely: Skill Endorsement, Educational Qualification Attestation, Additional Course Attestation and any other Attestation relating to previous work done in another company. There are also process of verification for spring network user when signing up with the platform. Google sign up and email need to be verify, sign up with university or employer for easy check up and KYC will be needed, this will require a valid ID card like passport or driving license.
ICO INFORMATION
Spring project have a total number of 10 billion token to power the use of spring network.
1 SPRING TOKEN=0.00002ETH
BOUNUS:40%
The ICO period is coming to an end soon but this project is here to stay to give a maximum focus on the area of candidates and employees bring trust among people and companies. Spring network is here to give a background verification on profiles. To know more about spring network project check out the information on the whitepapar and site below and to participate in the token sales before ICO period will be over.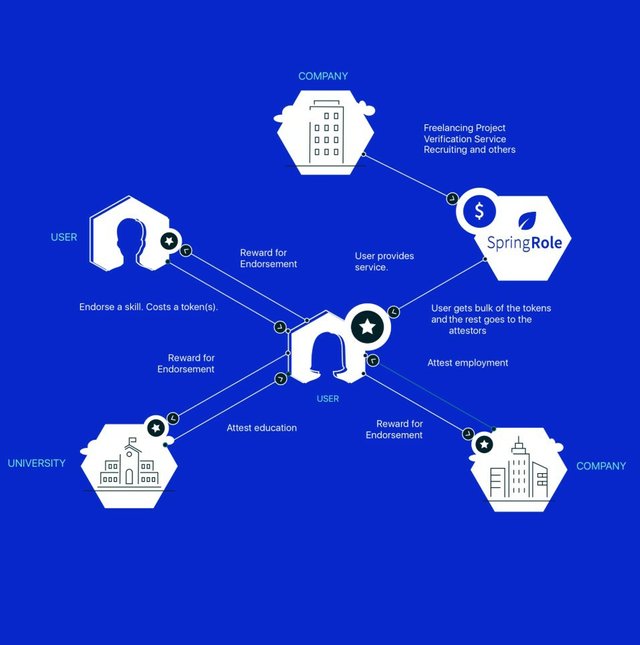 Site: https://springrole.com/
Whitepapar : https://docsend.com/view/k5nghff
Telegram: https://t.me/springrole_announcements
ANN/Bounty Thread: https://bitcointalk.org/index.php?topic=3556999
Bounty: https://bitcointalk.org/index.php?topic=3602729
Twitter: https://twitter.com/SpringRoleinc
Facebook: https://www.facebook.com/springrole/
My bitcointalk profile link: https://bitcointalk.org/index.php?action=profile;u=2157595
Username: Emmax