MoonX: the best trading exchange for all customers
Lots of people would like to say no to the centralized trading platforms which have difficulties with the personal data security, trading operations, high fees, limitations and the lack of ability to have an impact on the platform management.
And the new project MoonX is changing the whole situation now. All members of the MoonX are the Family. And each person of the MoonX Family can improve the system and manage the platform.
Therefore MoonX becomes the best trading exchange for all customers in the world. What's thedifference between MoonX and other competitors?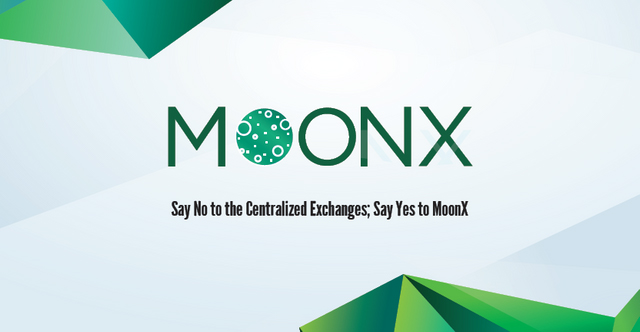 Description of the system and its preferences
MoonX is a blockchain-platform for trading operations with cryptoactives that has decentralised, multiple and high-level options and the own management system.
The main preferences of the platform are:
Safety and security for all system and her transparence;
Opportunity for scaling operations;
High technical level of the platform and the innovative technology for stock exchange;
Easy-to-use trading products;
Lots of the functional services;
The special coin mechanism and rewarding system;
Commission fees deposit refund;
Lots of value pairs and among them crypto-fiat exchange;
Management with using smart-contracts;
Other system options are available in the technical document:
http://www.moon.family/wp-content/uploads/2018/07/WhitePaper-MoonX-Ver-1.0.pdf
You can receive all these preferences thanks to the internal coin – Moon Money.
Token MM and ICO
The coin Moon Money or MM is a trading value of the platform which an each user can receive for the following operations:
• Trade transactions – an each transaction fee will return to a user's account like compensation.
It will be the unusual mining;
• Voting actions – an each user can participate in the internal life of the ecosystem. All user's
decisions and suggestion will be taken into account. It will make better the MoonX system.
The coin MM will be available soon. Followers are waiting the information on the official site. But
what facts are known today about ICO?
• The total supply is 2.4 billion coins;
• Price – 80 thousand MM is equal to 1 BTC;
• Private purchase are closed, soft capitalization are reached (28.6 billion USD);
• Hard level of the capitalization is 300 BTC;
• Value of the purchase is BTS or USDT;
• Registration – KYC.
Except ICO users can receive tokens at the time of the MoonX Bounty.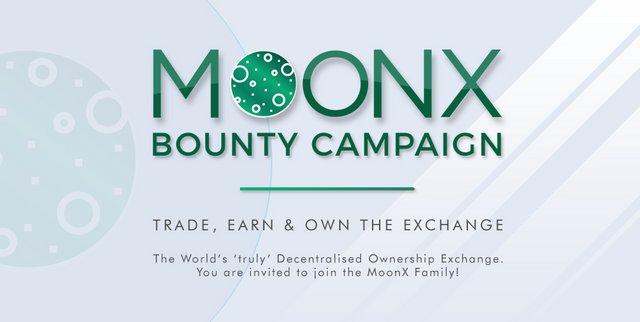 Bounty program of the project MoonX
The founder and the team suggests 800 000 MM (approximately 10 Bitcoin) for rewarding users in
the program. The beginning has already stated and included the following points:
25% - Facebook-campaign;
25% - Twitter-campaign;
20% - Content-campaign;
20% - Video-campaign;
10% - Telegram-campaign.
All users have to receive a proof authentification and follow the General rules by reference:
https://bitcointalk.org/index.php?topic=4979988.msg44912399#msg44912399
Let's go to the MoonX plans.

Development plans and MoonX analysis
The team MoonX has the reasonably good development plans. The roadmap will be affecting the
period from 2018 to 2100.
It consists of such main points:
• 2018 – launch and integration of the MoonX program, construction and launch Underground
Cryogenic Bunker;
• 2019-20 – launch the social enterprise;
• 2020-30-40 – decreasing part of stock markets, among them massive players;
• 2040-2100 – MoonX will change the world for the better.
Therefore experts evaluate the project MoonX quite nice. Lots of them give the score 7-8 from 10.
So it's a reason to take part in MoonX.
All necessary information
https://www.moon.family/
https://t.me/Moon_Money
https://www.facebook.com/MoonX333
https://twitter.com/MoonX555
Article writer
https://bitcointalk.org/index.php?action=profile;u=2008426