BatMine | A Green Crypto Mining Farm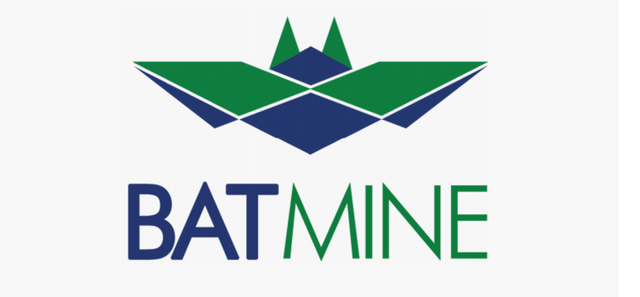 The creation of cryptocurrency has provided several avenues for people to generate income. It is right to say that the crypto space has created a lot of jobs. Many people are making a living from the crypto economy and the blockchain technology. Skilled and unskilled people are generating income depending on what they have to offer. Which ranges from business development, technical writer, programmer developers, web developers, crypto trading and investing, bounty hunters, financial analyst, marketing team, startup contributors, crypto mining and much more. Some people are earning far more than they would in regular jobs.
The crypto space had made a lot of people millionaires which would not have been possible in the real world. There are a lot of lucrative activities in the cyberspace which allows one to invest his talents or funds within the cryptocurrency market place for a high return on investment. Cryptocurrencies are gaining acceptance and a huge influx of funds is witnessed into the cryptocurrency economy each and every day. With this, comes a lot of crypto transactions of which these transactions need to be confirmed before they are completed and be termed as successful. All cryptocurrencies transactions need to be confirmed either by mining or validation. So the need for cryptocurrency miners cannot be overemphasized.
About BatMine
As the cryptocurrency is becoming popular, individual mining has become less profitable because of the need to have special mining gadgets the ASICs miners which are expensive. The miners also consume high electricity in mining crypto coins. BatMine is a cryptocurrency mining project that is out to build a community of BatMiners through the use of its Blockchain Applied Technology (BAT) mining farm. Miners are sure to make and generate revenue on the BatMine mining farm through its various revenue generation features.
Mining farms need to be located in places that avail cheap electricity that is why China dominates the crypto mining sector because of its cheap electricity. BatMine mining plant will be located in Europe with mining location being Bulgaria or the Czech Republic depending on the outcome of the crowdfunding. This is so because of their cheap electricity fees and crypto friendly regulations.
BatMine mining project aims to provide a large scale and cheap industrial mining services to its users. They will provide a high hash power rate at a low cost. Cryptocurrency mining is made easier and more profitable with the BatMine mining plant. BatMine uses advanced green mining technology they co-developed. They care about the environment and are cautious about the hazards of carbon emission.
BatMine Offers
BatMine offers a safe and secured infrastructure that is required for commercial mining of different types of cryptocurrencies. Transparency is maintained since the platform is built on the decentralized blockchain technology where mined coins will be distributed evenly among stakeholder and records stored immutability.

It provides the cheapest green energy with the highest hash power rate a miner can get from any industrial cryptocurrency mining farm from around the globe. A hash power of up to 55Th/sec at 4 cents per Kwh.

BatMine miners can generate income in 4 ways on the BatMine mining farm which could be from Mining of Cryptocurrency, Mining as a Service (MaaS), Custodial Services or Hardware Sales. Either way the user is able to generate income with little investment.

All investors will benefit from the income generated on the BatMine platform as stated on the transferable Silent Partnership Agreement. 30% of the profit made on the platform will be shared amongst investors base on the amount contributed by them for a period of 10 years which ends March 2029.

The BatMine platform uses the BATM Tokens. This token can be exchanged for service rendered on the platform. Users can also use the BATM tokens for goods like cryptocurrency hardware sold by BatMine.

A gift BATM tokens are allotted to any investor that acquire tokens during the ICO sales. 750 BATM Tokens are gifted to investors for every 1 ETH spent plus the relevant bonus token assigned during the token sales rounds.

The BatMine mining platform guarantees a profit distribution. Investors are given a monthly distribution of revenue generated on the platform base on their token holdings.

The BatMine offers a legal and licensed cryptocurrency mining platform that has been registered in line and procedure of the country of operation that is cryptocurrency friendly.

Token details
The BATM token is an ERC 20 standard token that is created on the Ethereum blockchain. The token is a utility token symbolized by BATM. It is the means of payment on the BatMine platform.
Details of ICO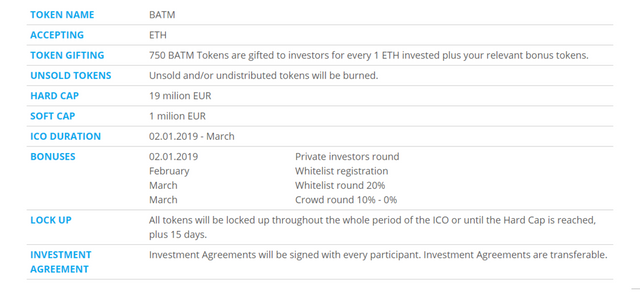 Final Thoughts
Cryptocurrency mining is known to be expensive with a lot of electricity usage. The BarMine technology has created a green commercial energy mining plant that offers very cheaper and lower energy consuming miners.
The BatMine Platform users can use the farms hash power or use theirs at the BatMine location. Revenue generated will be shared amongst the token holders which could be paid in either cryptocurrency or the fiat depending on how it is received. The BatMine project is backed by professional and hardworking team members that are working relentlessly towards achieving the aims and objective of the project.
For more detailed information. Visit the Website and check out the Whitepaper. Join the Telegram for answers to your questions. Follow on Facebook and Twitter for important updates.
Author's Authentication Bitcointalk Profile Link: https://bitcointalk.org/index.php?action=profile;u=1163494
Bounty0X username: Munareal