Hi Guys ! all of you know I always bring you the information about good crypto related projects through my blog. So today I'm going to introduce you a new cryptocurrency based project called #ARAW I think this project has strong potential in the future because it is an important connection of online shoppers with shoppers. Payment procedures are based on mobile devices.
ARAW Tokens, built on the Ethereum Blockchain technology, is anchored by the smart contract technology. This technology provides the retail and e-commerce community with further integration of unified reward program by erecting and designing various solutions that are directed to improving and enhancing the productivity and quality of not only the customer's online shopping experience but also adding values to our participating merchant's stores. The Blockchain technology provides Araw Tokens the means to transform the world. Therefore, we seek to improve the e-commerce and retail industry by rewarding customers on their shopping time and experiences and also design an intelligent market system by means of a reward platform that inspires the community to participate fully.
What is ARAW project?
ARAW is an ecosystem with decentralized payment, based on Ethereum Blockchain, which seeks to increase the implementation of blockchain in everyday life around the world. ARAW IS the first company in the world to combine the benefits of e-Commerce and payments industries; to provide end-product solutions for e-Commerce, Cryptocurrency Touch & Pay cards, online cryptocurrency payment and unified reward system on Ethereum Blockchain based on the ARAW token. The purpose of the ARAW token is to be a part of everyday online shopping.
The Araw Ecosystem was carefully designed from the beginning as a supportive sphere in which users can be confident in their trades on the Blockchain. To capture a variety of users, we have provided an ecosystem platform that is scalable and effective, yet simple over the Ethereum Blockchain, where customers and brands can interact without
restrictions in a dependable, trustless, and mutually beneficial manner.
Also ARAW token will allow regular customers to participate in the rapidly expanding world of cryptocurrency — bringing benefits to all parties involved. The key factors are the ease of acceptance for the client as reward schemes are already common.
The ARAW token is a utility based token specifically designed for the global E-commerce marketplace. ARAW token works as unified rewards as well as mode of payments for both online and retail outlets.
Overall, when it comes to purchasing the essential household items, individuals like stretching their budget, but there seem to be insufficient approaches to bundle the consumer's purchasing power and their extended friend's purchases to get rewards. Most of the tools adopted got these programs fail to meet the growing demands of consumers because they are complicated to use and time-consuming.
Similarly, the bargaining power is gradually moving towards the merchants from the consumers. Hence, ARAW token aims to disrupt the traditional E-commerce shopping experience through a more rewarding and alternate approach, In the current ARAW Token model, all participants; Araw token holders, users, merchants, and consumers are rewarded thereby developing a sustainable crypto-model and high- consumer stickiness approach. The current ARAW token platform ensures that our users or consumers can generate rewards from their purchases and those of their referrals.
Moreover, through our easy to use and user-friendly mobile app, ARAW tokens can be transferred from one token holder to another. By purchasing Araw tokens or using our tokens to purchase goods from any of our participating merchants, consumers can instantly earn cash without increasing their shopping expenses or changing their shopping habits. Through our platform with in-built AI capabilities, our participating merchants will benefit from ARAW token by receiving consumer insight and meeting their demands. Similarly, smaller participating merchants on ARAW platform will also benefit through the acquisition of new consumers and users on the platform. Protected and made easy by the smart contracts Blockchain, we want to give our merchants the control of their rewards through the provision of an easy-to-manage platform to utilize the funds received from selling products or goods. This will substantially increase their usability and offer them greater security.
Provisioned with the needed customer's details, our retailers or merchants will have the opportunity to tailor their incentives or rewards in relation to the interests of the consumers thereby increasing in-store conversion and enabling a better shopping experience. As we plan to make Araw Token a universally-accepted Token throughout the world, our micropayment feature ensures that our users will earn ARAW token at any of their preferred bookshops and redeem their points at a local coffee shop.
ARAW ICO Details
Token Type: ERC20
Platform: Ethereum
Symbol: ARAW
Pre-ICO: July 1
Public Crowdsale: TBD
Token Supply: 5,000,000,000
Tokens Available for Sale: 3,500,000,000
Soft Cap: $2,000,000
Hard Cap: $25,000,000
Price: 1 ARAW = $0.01
Minimum Purchase: 0.1 ETH
Payment Methods: ETH
ARAW Token Economy
Our market principle and mode of operation at Araw Marketplace results to a continuous circulation of ARAW token among all the market players:
• Merchants need ARAW token to reward customers for assisting with the sale of their product, to compensate buyers when they rate products and to pay for deals.
• Merchants pay customers as an incentive to increase their footprints of loyal customers.
• Customers will be able to spend ARAW tokens to make purchases at Araw e-commerce marketplace.
• Customers will be able to purchase ARAW tokens through Araw wallet using fiat or cryptocurrency.
• Customers may be offered discounts in replacement for ARAW token.
• Investors can buy and sell ARAW tokens from cryptocurrency exchanges.
• Customers will be encouraged to hold tokens in their Araw wallet to get better futuristic value.
This creates a constant flow of ARAW token within the ecosystem; thus, boosting the value of ARAW token and qualifies it for trade on an outside stock exchange platform.
Token Sale
Ticker: ARAW
Token type: ERC20
ICO token price: 1 ARAW = $0.01
Total tokens: 5,000,000,000
Available for token sale: 3,500,000,000 (70%)
Whitelist: YES (15 May — 30 June)
Know Your Customer (KYC): YES Pre-sale
start date: 1 JULY
Public sale start date: TBD
Soft cap: 5,000,000 USD
Hard cap: 25,000,000 USD
Accepts: ETH

Benefits to Investors
• Strong team of Technology geeks to develop cutting edge technology product
• Experienced & Proficient e-commerce business development team
• Existing platform LIVE for more than 2 years
• The Araw Platform MVP is LIVE for testing
• Team tokens are locked for 3 years so we are committed to deliver what we have promised in the roadmap
• The cheapest price to buy ARAW token is during ICO
• The ARAW token is going to be a part of the customers day-to-day shopping
• Use ARAW tokens to make purchases on the Araw E-Commerce marketplace
• On-boarding Merchants will buy ARAW Tokens from the early Investors
• Since there are only a certain amount of Araw token that can ever exist, Scarcity combined with a thriving underlying decentralised ecosystem will result in appreciation of Araw token value.
Further Information:
Want to know more about the araw project? Take a look at their official website and their soon to be released whitepaper for more information. Also subscribe to their official communication channels to stay up to date. Any questions, feel free to comment below.Website: https://arawtoken.io/
TEAM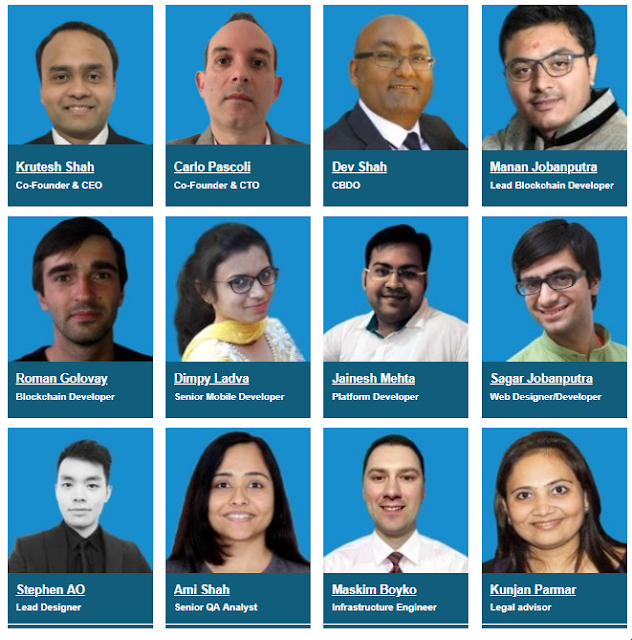 Whitepage: https://arawtoken.io/assets/araw_whitepaper.pdf
ANN: https://bitcointalk.org/index.php?topic=3497194
Telegram: https://t.me/ArawTokenOfficial
Facebook: https://www.facebook.com/arawtoken
Twitter: https://twitter.com/arawtoken
Username : Turkaisih
BTT profil link : https://bitcointalk.org/index.php?action=profile;u=2119983
ETH Addres : 0x32941adE83E118C0E4a64a5118aE8396C0bAd266