Preview : There has been an evolution of how multimedia content is been created and distributed. Ranging from the fact that technology has changed a lot of things. A major concern is the script assets(source stories, scripts, novels, webtoons, scenarios, etc.), which is the foundation of any creation in the media world are yet to work with the quality and effective tools. Documentation is a big problem owning to the fact that most data material has no central data base for all story assets. This has led to misappropriation and loss of valuable materials.
Back in the days, filmmaking was very costly and technically demanding. Movies production depends on investors whom are willing to throw in money. Of course, as films were expensive to make, there were always more writers looking for producers than there were investors willing to commit to a project. This meant that the frustration of screenwriters and producers twenty years ago was the cost of production.
INTRODUCTING STORICHAIN:
storichain was created to provide a partially decentralized dApp and a shared protocol to solve the problems facing the story industry through block chain characteristics. The industry can be referred to as media industry that rely on script contents to provides movies, web novels, drama, plays, musicals and radio dramas.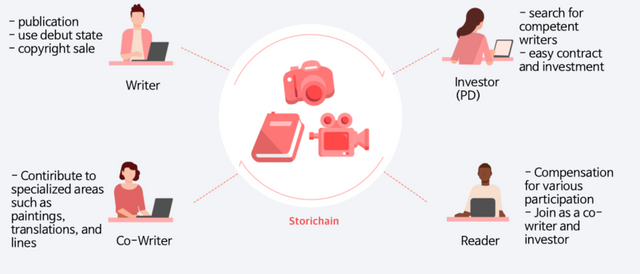 WHY DO WE NEED THE BLOCKCHAIN:
The block chain has been an effective technology so far to solve the problem relating to data, where information are gathered and connected in blocks and store in a distributed ledger using a special technology called cryptography. This new technology has solved a lot of problems facing our current ecosystem. Storichain thought that it is more important to prove the value of the creator's efforts by systematically measuring who contributed to the story, when and how they have contributed, how the ownership was transferred, and how much each creator contributed to the story in case of collaboration.
WHY DOES STORICHAIN PROJECT CHOOSE THE BLOCKCHAIN?
To Store the 'activity metrics'
To Store data of the ownership (copyright) transfer of the story
To Store the terms and conditions of payment
Contract for 'Story Idea Creation' between trustless individuals (non-facing)
Contract for 'Transaction of Intellectual Property of Stories' between trustless individuals (non-facing)
Confidence of the payment of writing fees for the author, based on monitoring results
Measurement of asset value based on story creation and monitoring results.
SOLUTIONS OFFERED BY STORICHAIN FOR STORY ASSETS:
Every story asset has it's unique value. To detect the quality and uniqueness of an asset, the blockchain is used to give an accurate value to media assets to avoid devaluation and misappropriation. Using the public blockchain, they will notarized and store the participants contracts related to story IP and other story based contents.
The storichain platform will:
Investigate and datafy readers feeling towards story scene.
Reward users who contributed to the project processing with Airdrops.
Among the many forms of intellectual property, transactional story scripts are the only form which the growth value for each stage of creation can be measured. When we introduce blockchain, a trust-based data distributed storage and computation technology, each story script becomes an IP.
Storichain names the story interaction posts that are posted within the platform as 'Story' or 'Stori,' and if it is converted into a form of 'Publishing Rights,' which is a right to produce derivative work using the original story, it is called as the 'Story IP' or 'Stori IP.'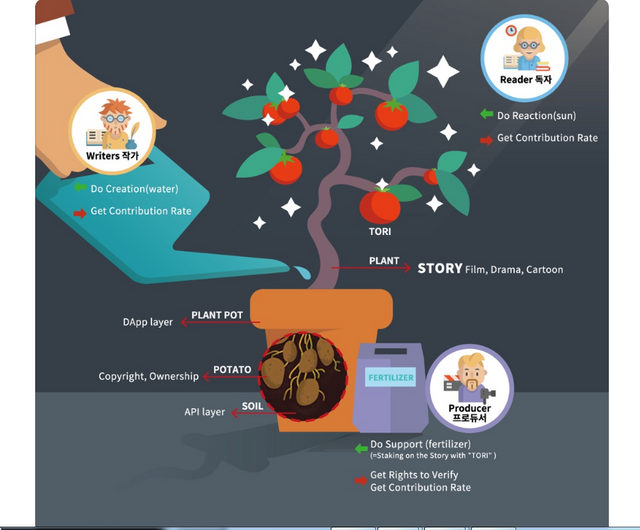 Token Economy
The storichain project will be designed and run on the Ethereum block chain platform . the ticker will be referred to as TORI. TORI is a utility token that can be used for a variety of services that are provided in Storichain's dApp (i.e., purchasing creation templates, paid reactions, support, etc.). since the "bone of contention" of this platform is stories, tokens will be calculated by counting the number of stories and also introducing a qualitative indicator called contribution and growth index. This will result to adding additional tokens based on the number and quality of stories that are created by the writers.
Allocaton & Distribution:
Initial Supply : 4,000,000,000 TORI
1 TORI = around 0.0034~0.0035USD
Initial Sale : 600,000,000 TORI
Sale B : 420,000,000 TORI
Sale C : 360,000,000 TORI
Public Distribution


CONCLUSION: I do believe there is a potential happy ending to the story industry using the block chain. Independent film doesn't need to roll over and die. It doesn't have to continue to make the same, predictable and frankly tedious mistakes. But, the ability to create the future, the future of professional, independent screenwriting lies on modern technology and storichain is providing such innovation.
For more information, visit https://storichain.io/?ckattempt=1
Telegram group: https://t.me/storichain_en
My profile: https://bitcointalk.org/index.php?action=profile;u=2348967