Moozicore : The New Background Music Experience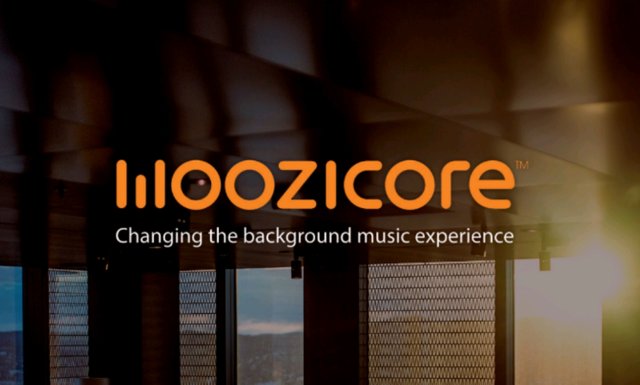 According To Wikipedia Music is an art form and cultural activity whose medium is sound organized in time.  To me, music is my whole world and music gets me through my day to day activities and different people have different styles or types of music they enjoy mainly because different music fits into the different type of mood a person is in at a particular time. We are in a world of technology and social media mostly everything is done online these days because people are always on their phones listening to music or going about their business.
Since 2008 when Satoshi Nakamoto created blockchain technology it has promise to change business models and break barriers by being a centralized network and trying to change the world by giving individuals like the artist more control over their intellectual property and ending the age where the  central authorities like the record label gets to make profits  and take away money from the artists and creators . 
In this article, I would be introducing Moozicore which is a decentralized platform that would revolutionize background Music service for Businesses especially businesses that music is essential for customers like bars, clubs, and cafe etc..
What is Moozicore?
Moozicore was created to give control to the customer, moozicore is a decentralized social media model where the business owner gets access to Moozicore web panel which would give the business owners and customers a better experience by having total control over their playlists. And with the MooziCoin (MZI) and the MooziCoin Gold (MZG) users of this platform would be able to pick the songs they want to listen to and vote upcoming songs on the playlist and the best part is that users would be able to interact with other Moozicore bar-goers. And also be able to share their activities on other social media and according to the latest Statistics 4 out of 10 customers stay longer in places where appreciated music is played which means the Moozicore platform would bring in more customers for the business owners when implemented.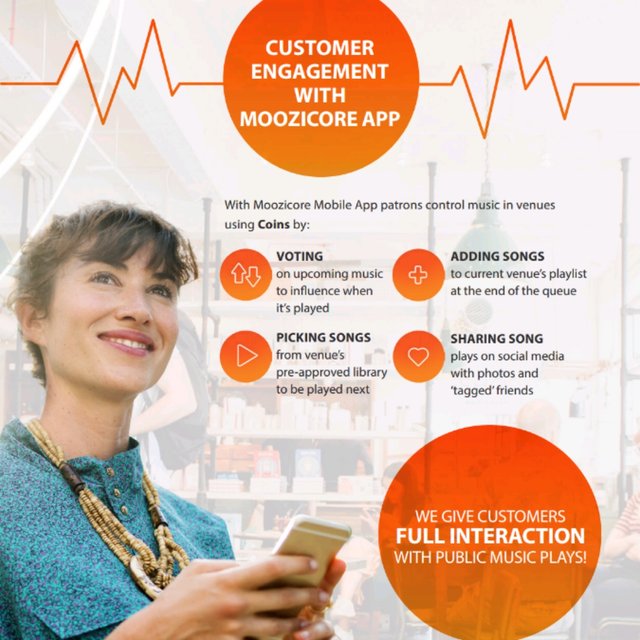 The Business Model
Moozicore business model is based on three sources of revenue : 
Saas: for a monthly subscription fee, where their business owners get access to the Moozicore web panel and have access to create playlists from millions of songs fully licensed library with the opportunity for customers to engage in the music right from there smartphones 
MicroTransactions: The customers would have access to vote upcoming songs and add songs to the venue's playlist and they can pay with MooziCoin (MZI)
Ads: Moozicore integrates background music service with TV screens in venues for engaging the customers and it also allows in location advertising for brands where customers can also advertise their brands on the Tv screen.
Project Team and Roadmap
Team: Moozicore project has a team of 8 professionals from different fields. This project team is led by Adam Krzak and Hubert Kawicki, who are both the co-founders of this project.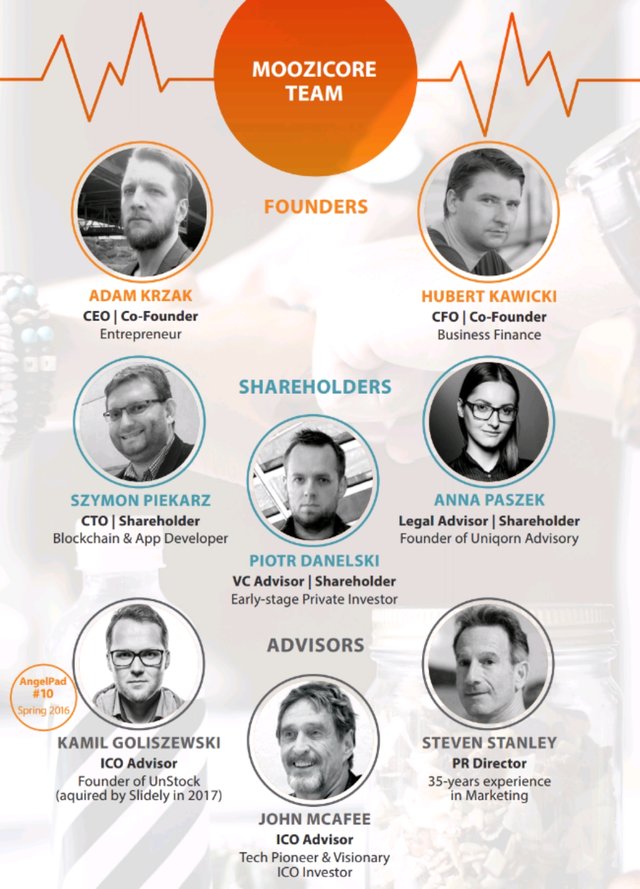 Roadmap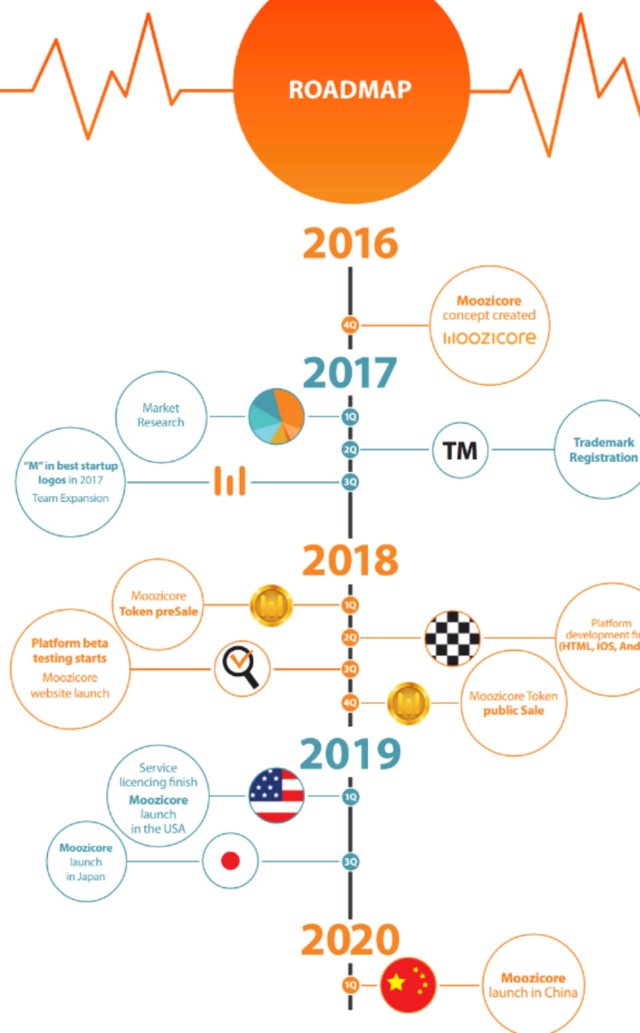 ICO AND TOKEN INFORMATION
Details Token MZI 
MooziCoin Token - (MZI)
Platform - Ethereum
Type - ERC20
Price - 1Eth = 70,000 MZI
Total MZI supply is 250,000,00
Soft cap - 300 Eth
Hard cap - 1953 Eth ( 166,000,000 MZI)
Minimum purchase amount - 0.05 Eth
Details Token MZG
MooziCoin Gold - (MZG)
Platform Ethereum
Type ERC20
Price 1MZG - 0.00036ETH
Total MZI supply is 1,000,000,000
Soft cap - 100,000,000 MZG 
Hard cap - 498,000,000 MZG 
Minimum purchase amount- 0.3 Eth
Conclusion
Moozicore is a new amazing platform for users to enjoy their favorite music when they are out having a good time with their loved ones with this revolutionary background music service. And unlike most Streaming services Moozicore would be fully licensed and legal for businesses of all kinds. And as the users are enjoying their favorite music with the help of a smart contract a percentage of the revenue goes to each of the members of the band, manager and record label.
Official Contacts
Whitepaper: https://tokensale.moozicore.com/whitepaper.pdf
Website: https://tokensale.moozicore.com/
Website: https://moozicore.com/
Contact me on bitcointalk >>
My Bitcointalk profile:
https://bitcointalk.org/index.php?action=profile;u=2227129
If you like this article kindly Upvote, drop your comment or question in the section below.
Thanks for reading.