Destream - The First Decentralized Global Financial Ecosystem for Streamers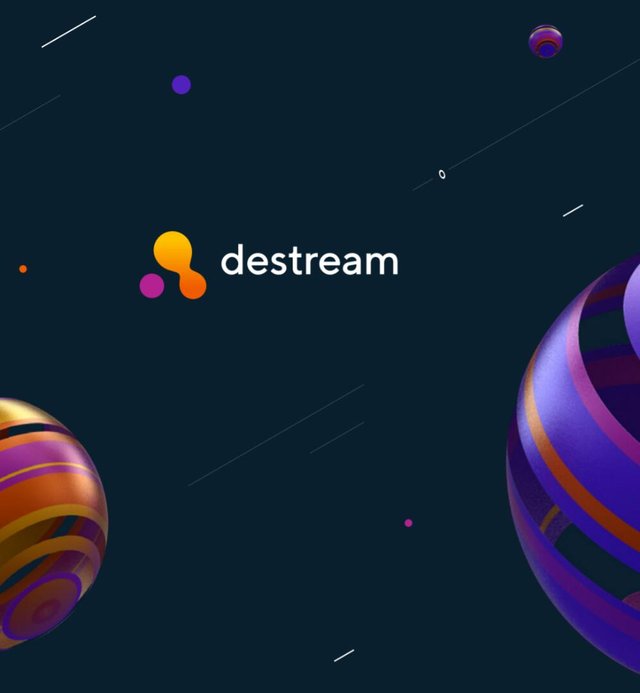 Destream Project Review
According to Wikipedia Streaming gameplay involves sharing the games you play and your reactions in real time with a remote audience and People who stream their video game play, either by hobby or profession and are known as streamers. Its a new world and the old professions are fading away and been replaced by new ones ; online professions like blogging, eSport athletes and also Professional streamers who often combine high-level play gameplay , and entertaining commentary, and occasionally earn income from advertising, subscriptions, and donations but also there are millions of non gamers that also stream their content online, like make up artist , musicians, actors , motivational speakers and so on.
The Blockchain technology since its creation by Satoshi Nakamoto in 2008 has grown so much in recent years and changing the world with it's numerous and limitless applications. By allowing digital information to be distributed but not copied, blockchain technology created the backbone of a new type of internet which help people from all over the world Transact and solve different problems they are posed with, in their daily lives.
Decentralization means the network operates on a peer to peer or user-to-user basis, and With the development of smart contracts and also the creation of cryptocurrencies for different decentralized platforms. the blockchain technology in its own way has already been used to revolutionize different industries and has endless possible future applications.
In this article I would be introducing and talking about Destream which is a decentralized platform that will revolutionize the Game Streaming industry by using the blockchain to scale an existing platform to greater heights by simplifying the process of creation of customized subscription packages, financial transactions and a more transparent marketplace for all the other actors like the advertisers all over the world.
What is Destream?
Destream is a global financial ecosystem built on the blockchain. Destream is a decentralized ecosystem that has been created for the streaming industry, I.e both the content streamers and their audience will get to benefit from an improved financial gateway for the exchange of monetary value in respect of the value of content that is been exchanged.
It is important to know that Destream is not a platform aiming to compete with the media content delivery giants like Twitch and YouTube, destream however, will be taking a more delicate and crucial role in the streaming ecosystem, by acting as a website add on to these media streaming sites and helping the streamers to facilitate better, quicker and easier payments for their services.
Streaming is a very big business in these times and data from the whitepaper has shown a lot of billions in US dollar realized as revenue over the past years with a big increase each year. The streaming space has evolved but the financial services provided have not and destream will help provide solutions to the problems faced by streamer in their business.
The Main Problems Streamers Come Across 
The streaming world is a very big one as i have said earlier and there are lots of problems streamers encounter everyday but there are mostly financial problems .
And this are some of the problems 
* Very high interest rate on electronic payment 
* Problems of chargebacks 
* Complexity of consolidation of funds
* No guarantees of payment 
* There is no single tool for designing personal mechanisms 
* Many different rules and restrictions 
* Its also almost impossible for lower ranked streamers to get advertisements jobs
Destream The Innovative Solution
The Destream is an ecosystem built over old existing streaming services like Twitch and youtube, meaning Destream is not creating a new a streaming service just providing add ons for media streaming website.The DeStream decentralized global platform for the streaming industry, governed by a smart contract will ensure the plan to effect the terms of transaction and powered by the platform's DST tokens.
* A single access point for streamers, viewers and advertisers where everyone can interact and contribute ideas 
* Solution to High interest rate on payment by removing the middle man and cutting the transaction fee from about 10% to  0.77%
* And a new possible way of paying streaming services directly from your Destream platform 
* About a hundred pre configured smart contracts for interaction between streamers, viewers and advertisers 
* The possibility of trading virtual items in the domestic marketplace and on affiliated platforms 
* The Destream token can also be able to purchase household appliances , foods and other goods
* Destream platform would also be managing the relationship between advertisers and  streamers through smart contracts 
The Project Plan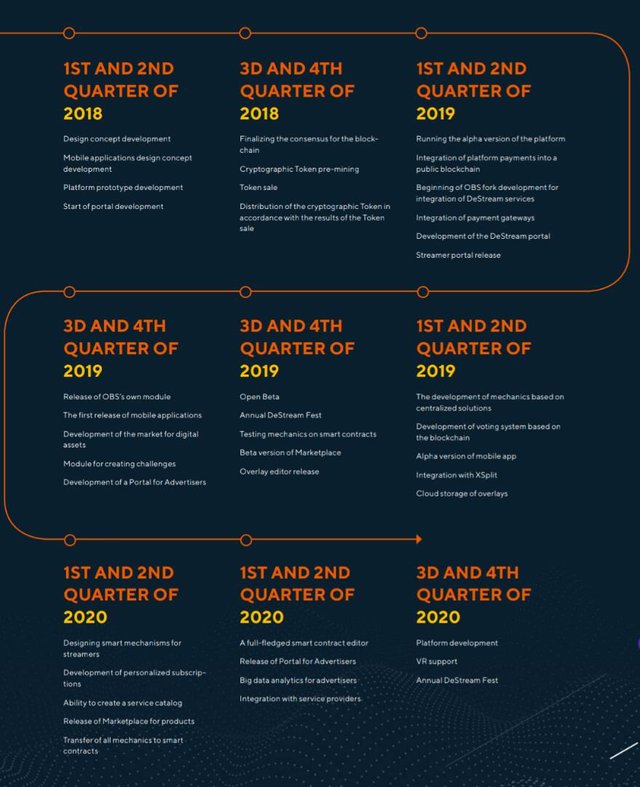 What the DST Token can be used for
- To pay for the transaction fees on the platform 
- To make donations 
- To buy digital goods
- To perform internal P2P operation 
- To gain access to big data analytics 
- To receive payment from advertisers 
1 DST is equivalent to $0.006
And a total of 6,000,000,000DST will be released, of which 3,600,000,000DST will be for sale with over 60% up for sale .
Soft Cap - $5,500,000
Target Cap - $9,000,000
Hard Cap - $12,000,000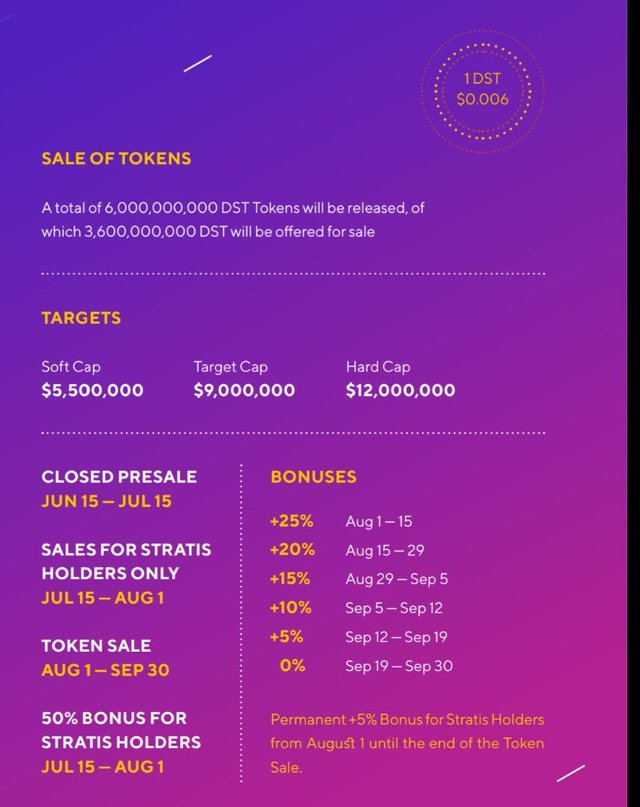 You can Join the ICO through the referral link below and benefit up to 5% bonus on the funds invested.
https://destream.io/?referralId=adf52557d7994818a3bf8131262f2179#action=bountyreg
Official Contacts
Website: https://destream.io/
Whitepaper: https://destream.io/media/1101/whitepaper_en.pdf
Telegram: https://t.me/DeStreamEN
Bitcointalk ANN Thread: https://bitcointalk.org/index.php?topic=4698321
Facebook: https://www.facebook.com/destream
Twitter: https://twitter.com/destreamproject
Contact me on bitcointalk >>
My Bitcointalk profile:
https://bitcointalk.org/index.php?action=profile;u=2227129
If you like this article kindly Upvote, drop your comment or question in the section below.
Thanks for reading.