ASOBI COIN - ICO AND COIN REVIEW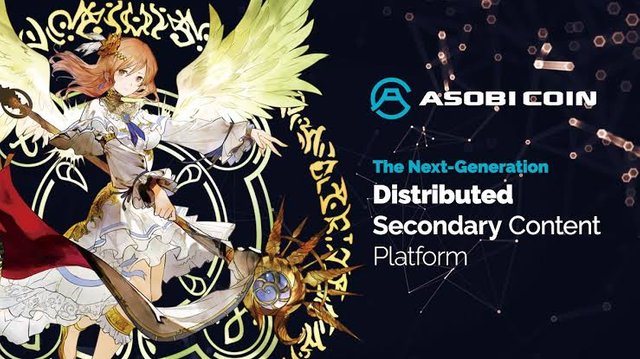 INTRODUCTION

Asobimo which area of specialty is Massive multiplayer online role playing games ( MMORPGs) was founded in 2007 and has since then been one of the world leading online games company. Asobimo launched "iruna Senki Online" 3DMMORPG a feature for mobile phones and has since 2011 they have  invested in smart phones games with over 15years of experience in online games and over 600 employees around the world. Asobimo has been one of the top leading gaming companies in the country with Japanese gaming market bringing over $12.4bn in incomes. Some examples of games created by Asobimo are Toram online , Avabel Online and iruna online with total downloads of about $50 million and online game sales of $200 million.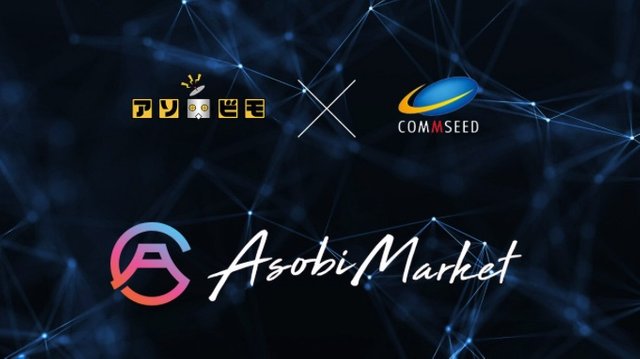 Asobimo created a platform built on blockchain technology which will provide a distributed secondary content platform which is the Asobi market where gamers can buy and sell virtual items either through the game publishers or sell them in the game. And users would be able to buy and sell musics with others. Using blockchain technology Asobimo is a DAapps , and the users owns the license which provides Decentralized Security Systems, and each transactions will be carried out using Asobi Coin tokens (ABX) and personal wallet Asobi Wallet.
ITEMS THAT CAN BE PURCHASED FROM ASOBI WALLET
Some Digital content can be purchased such as :
Game items
E books
Videos
Music
E-Tickets 
On the platform users can easily buy and sell content with the ASOBI WALLET.  A P2P style distributed secondary content platform would be made available. At the secondary When users dont longer want or like the songs or ebooks on their phone they can sell it at lower price on the platform and the sold amount would be automatically transferred as ASOBI COIN to your ASOBI WALLET.
Problem 
The main problem is the digital content are easily being transferred and too easy to copy. How do we allow users redistribute their digital content and that would work for everyone 
The Innovation Solution 
Blockchain Technology with provide irrefutable proof of content ownership which is more secure and Asobimo DAapps would also provide a distributed secondary content platform with Decentralized Security System 
Conclusion 
The Asobimo platform is one that is equally innovative and revolutionary, and it is also a platform that is needed in order for their users to interact with others while gaming and also earn some income from buying and selling of music, videos , e books and some game items . Asobimo is creating a secure network for transactions that is save for everyone .
Project Team and Roadmap
Team: Asobimo project has a team of 20 professionals from different fields.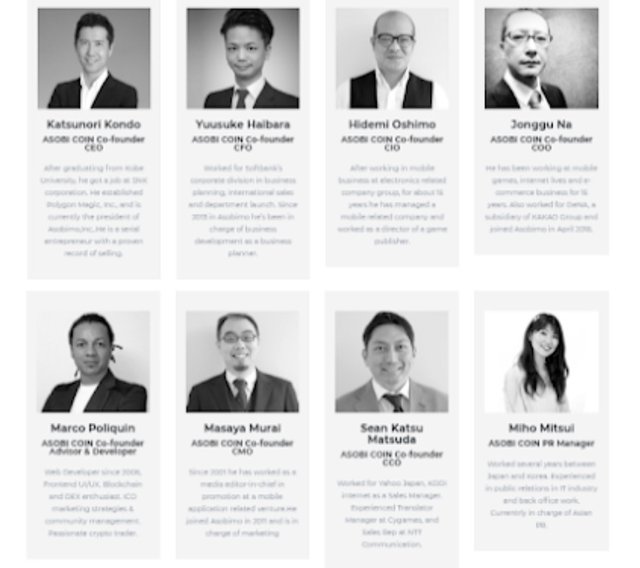 The experience history and expertise of this team is stated fully in the Asobi Coin
Roadmap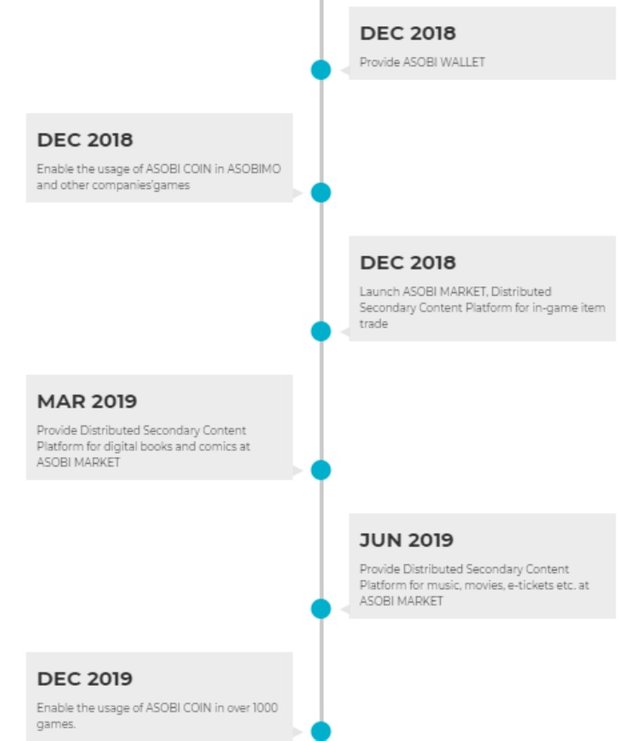 ICO AND TOKEN INFORMATION
Token : ABX
Standard: ERC-20
Total Supply: 16,500,000,000 ABX
Pre-Sale (outside Japan): total sales of 400,000,000 ABX
Hard cap: JPY 5,500,000,000 (about US $ 50,000,000)
Soft cap: 550 000 000 JPY (about 5 000 000 US dollars)
ABX Price : 1 JPY Approximate 0.01 USD
Price 1 ETH: 43,000 ABX
Price 1 BTC: 750 000 ABX
For more information :
Website : https://asobimo.io/en/
Whitepaper : https://asobimo.io/pdf/white_paper_en.pdf
Telegram community : https://t.me/AsobiCoin_Official
Twitter : https://twitter.com/AsobiCoin
Facebook: https://www.facebook.com/Asobi-Coin-130436194467568/
Contact me on Bitcointalk >>
My Bitcointalk profile:
https://bitcointalk.org/index.php?action=profile;u=2227129
If you like this article kindly Upvote, drop your comment or question in the section below.
Thanks for reading.