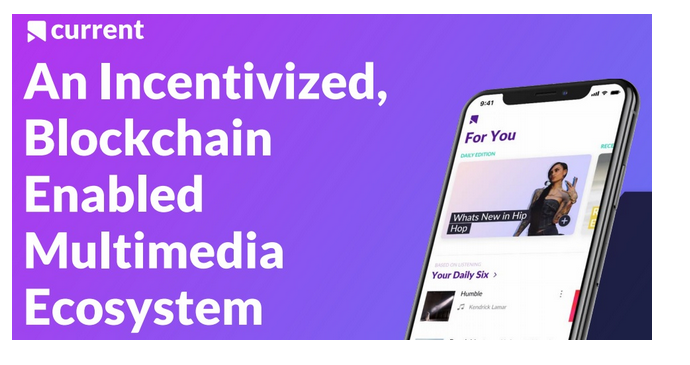 Introduction:
In the current technologically advanced and interconnected era, it's quite a herculean task to calculate the amount of hours spent online, watching or streaming one's favorite multimedia. The revolutionary and aggressive internet usage has broken all boundaries and has made world a smaller place. According to data available it's concluded that on an average a person spends five hours a day surfing and streaming their favorite multimedia be it songs or videos etc. Well, just imagine that if someone starts paying you for the amount of hours spent online watching or sharing your favorite program!! Isn't it like striking gold? Well the dream has come true indeed and believe it or not, the story starts from Current which is one such platform that will help you in earning money from your streaming experience.
Current is an excellent multimedia platform that bestows incentives for its users if they share, play and use multimedia content that's available in the playlist. Current will provide incentives for users if they play available multimedia content, such as YouTube, Spotify, or Sound Cloud, directly in one place. It is a platform that consolidates a list of great contents from the popular media networks so that user can have a centralized location to view the best media. Using blockchain technology, Current has already garnered more than 200,000 users with a more convenient search and discovery experience. Current has managed to provide with 300 million songs and over 1 billion videos too.
On current consuming your media is easier and more rewarding than ever. Current rewards its community through currency a new digital token designed for the media industry to play your favorite music videos podcasts.
The Current token…your dreams turning to reality!!
Current is planning to launch and pay its users via media network token, called the CRNC (pronounced "currency"). Needless to say to earn the CRNC token is pretty simple straight forward and easy. All you have to do is just go online and need to stream the content you like on the Current Platform. There is no scope for redundancy as each token will have its own mechanism and its rules for distribution too.
The amount earned is also directly related to the number of referrals they've made successfully. They will earn (3%) of their distribution value of tokens for each successful referral. In the beginning all the new users will be shown ads to generate at least 5 tokens in their e-wallet. The ads will start to reappear in the program if the minimum balance of 5 tokens is not maintained in their wallet. To bring creators and curators into the platform, they have designed a series of content integrations which will allocate 20% of each earned token.
Salient Features of Current:
The users just need to hit the Play button and sit back. while Current takes care of everything else. Jotted down below are some interesting features:
Pocket friendly – Wasn't it always annoying to pay extra charges for subscription services? Not anymore!! The CRNC can be immediately used to wipe off the extra subscription costs or any premium subscriptions as well.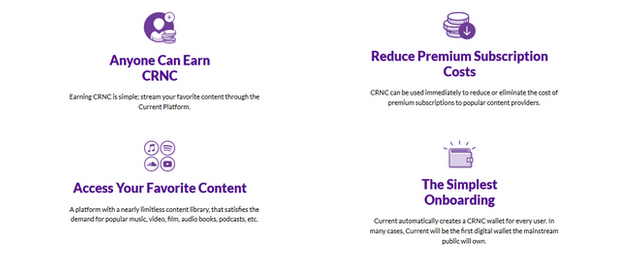 Enjoy & Earn - Getting hands-on CRNC is not at all challenging. Use the Current platform for streaming your most favorite content and get paid in return.
Simple Onboarding – All the users are provided with CNBC e- wallet with the help of which buying anything within the platform becomes easy.
Watch what you want to – Current is a platform that provides a plethora of informative videos by getting access to the boundless library. This library fulfils all the needs related to videos, music, songs, and many more.
The Token Sale and ICO Details
The token sale will use CRNC tokens to conduct transactions in the platform. The total supply of the tokens during the sale is 1,000,000,000 CRNC. The different acceptable digital currencies include BTC, ETH, and NEO.
Presale has started and will run till 21st February 2018. However, the ICO will start from March 14th, 2018 and will continue till April 4th, 2018.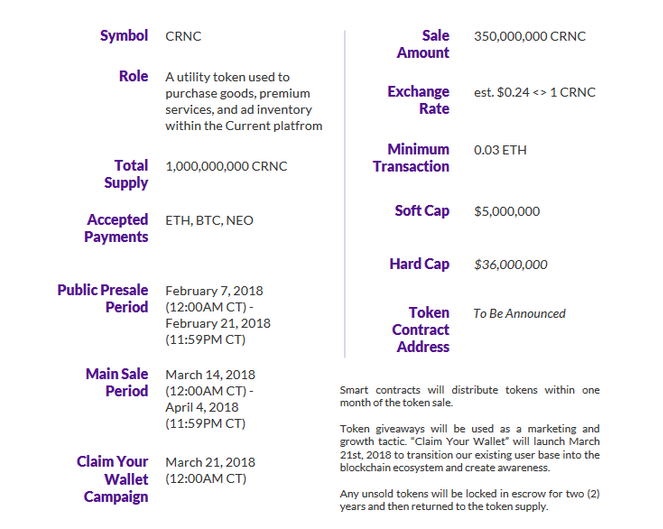 The soft cap is stipulated at $5,000,000 and the Hard Cap is at $36,000,000. The minimum transaction needs to be done of 0.3 ETH.
The token allocation is as follows.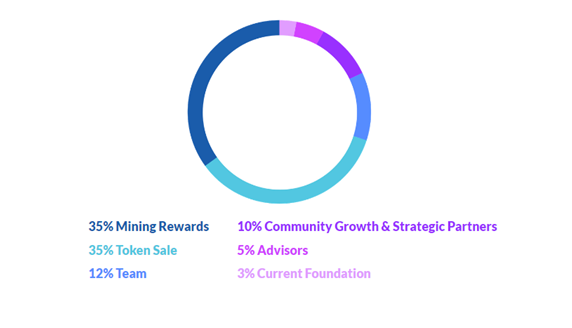 35% - Rewards for Mining
35% - Token sale
12% - Team
10% - Community Growth
5% - Advisors
3% - Foundation
Concluding Remarks:
With an excellent and innovative idea that has a vision to incentivize users based on watching and streaming content, it can be stated without a shadow of doubt that current is all set to hit the market at great heights. In a nutshell, it won't be an overly statement to make that if you are searching for an investment opportunity with great returns, Current won't let you disappoint.
More details on:
Website: https://tokensale.current.us/
Whitepaper: https://cdn.current.us/whitepaper.pdf
Blog By: Lanirm Knayam
Btalk profile: https://bitcointalk.org/index.php?action=profile;u=1308391