This is the second issue of a series of questions and answers about the Konios project. In this issue we dedicate ourselves to the topic "Airdrop". The questions are compiled from the community conversations, inquiries and internal findings. The Konio team members involved in the development of the platform will answer the Q&A series in the form of an interview according to their area of expertise.
Definition:
"AirDrop" is used to signify a special event where participants are able to receive free tokens or cryptocurrencies into a digital wallet for a small task or even for free. These AirDrops have resulted in many people scoring free money — and it becomes more valuable over time in many instances.
IMPORTANT NOTICE
The Token Distribution will take place after the ICO
(exact date yet to be announced)
Step 1
Visit https://airdrop.konios.com


Check if the URL is green!
STEP 2
Enter your e-mail address and confirm the reCAPTCHA, then click REQUEST.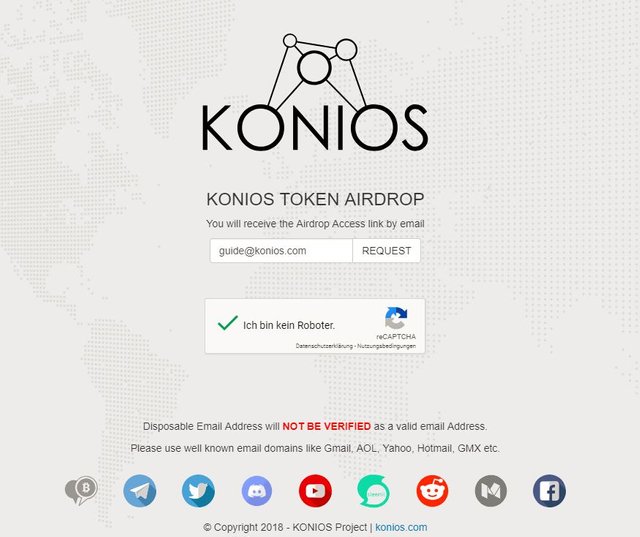 STEP 3
If all went well, then you should see the message below: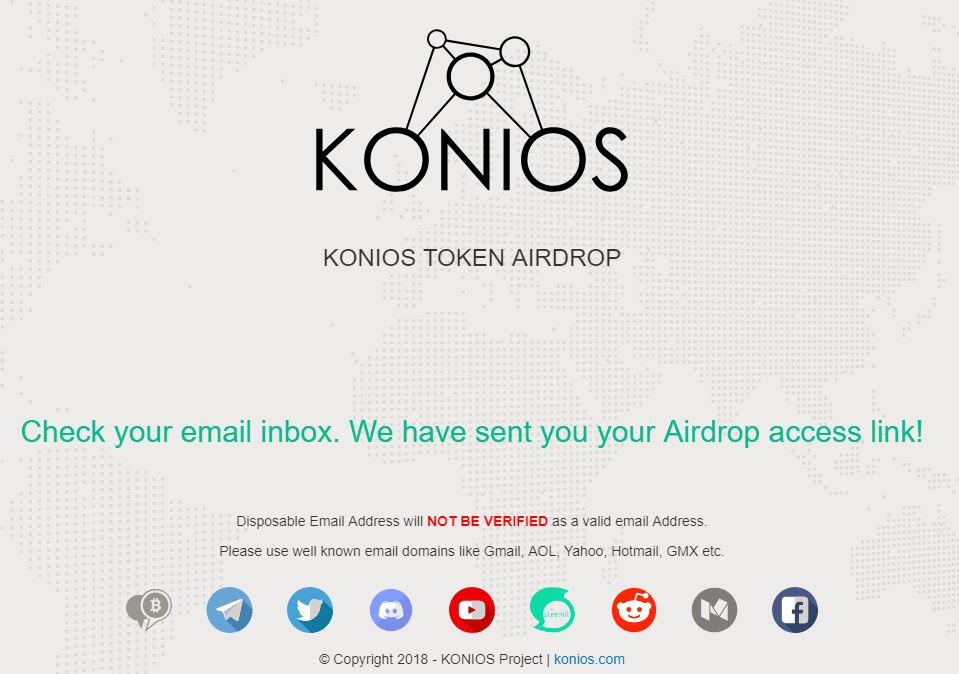 IF it didn't go well. You perhaps entered an email address, that you already used! You can try again with another email address.
STEP 4
The email you should have received, looks like this:


Click the link (or copy it into your browser)
KEEP THIS LINK SAFE!!
You can only check your balance and information with this link. There is no login area.
STEP 5
If your link worked successfully, you should get this screen: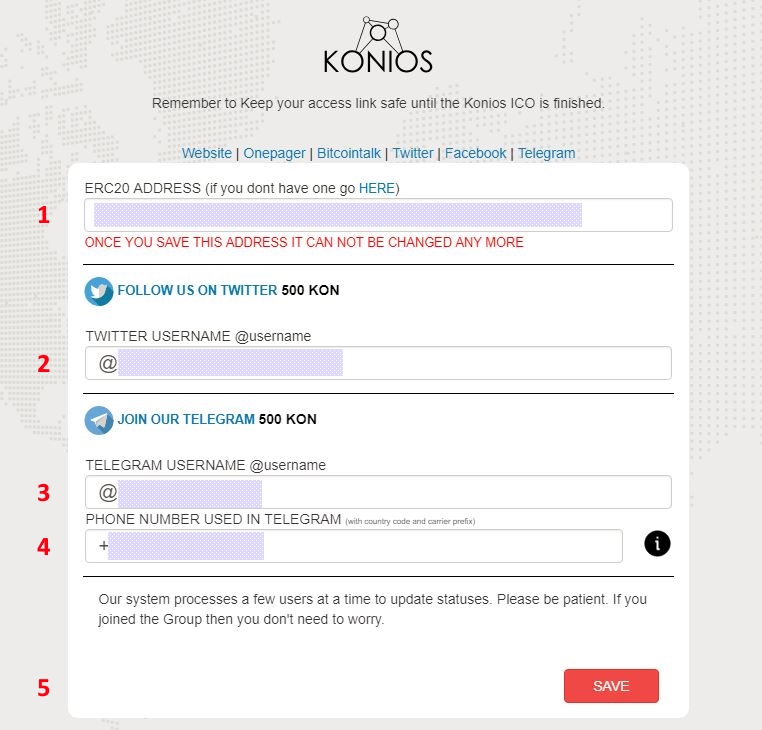 Enter your Ethereum Address (ONLY public address. Never share your private keys!!!!!!)
Follow us on Twitter (https://twitter.com/KoniosOfficial) and enter your Twitter Username.
Make sure you put the "@" in the beginning.
Join our Telegram Chanel: https://t.me/koniosofficial and enter your Telegram Username.
Make sure you put the "@" in the beginning.
Add your phone number including country code
Info: We need this to confirm with Telegram, that you actually joined as well as that your account is real! We don't care about your phone number and we won't drunk dial you!
Hit the SAVE button.
STEP 6
After you hit save, you should get a confirmation. You can simply click OK.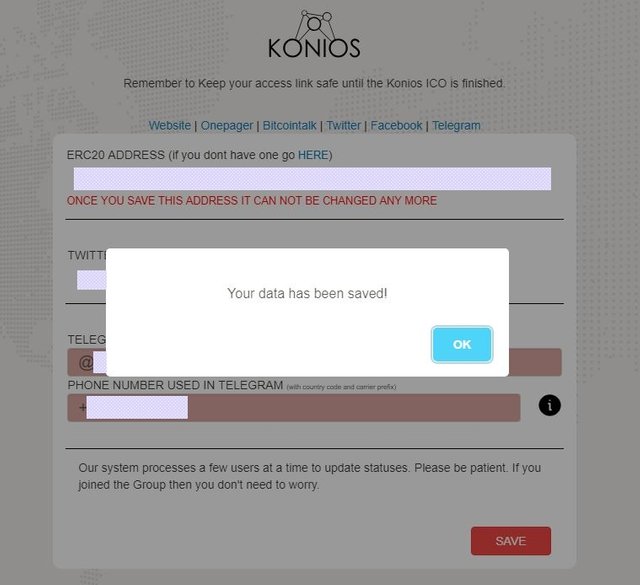 STEP 7 (for the impatient)
If you Follow us on twitter and joined the Telegram channel — you only need to wait.
When the Telegram area appears in red, that means our system is still checking it. It can take a few minutes and it will update automatically.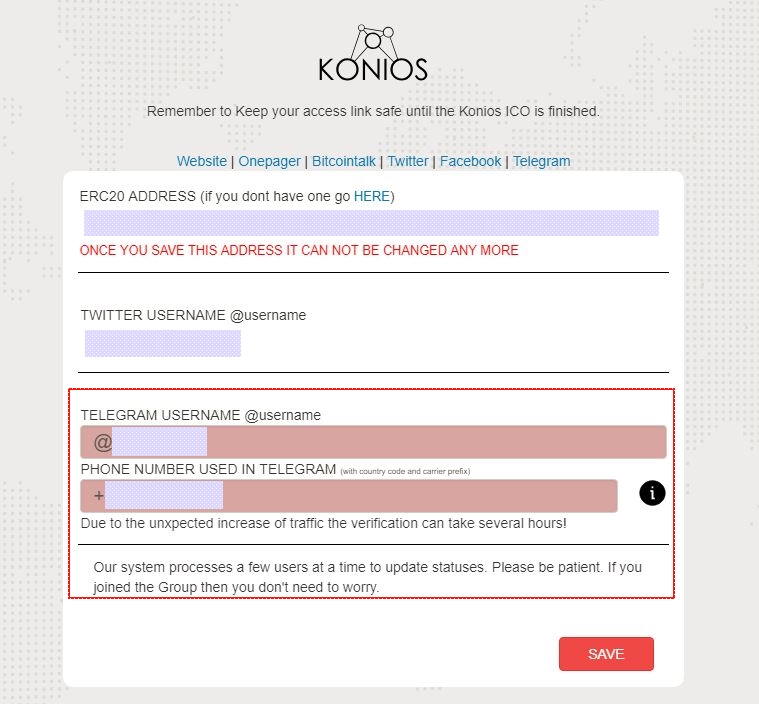 SO, the only thing you need to do — sit tight!
Step 8
After a few minutes it should look like this: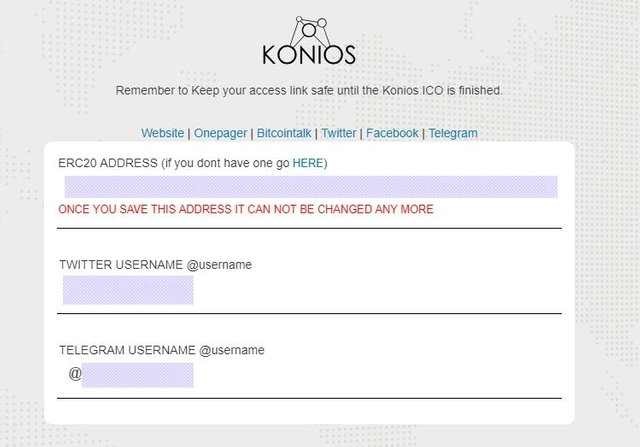 If scroll down a little, you can see the balance and referral link: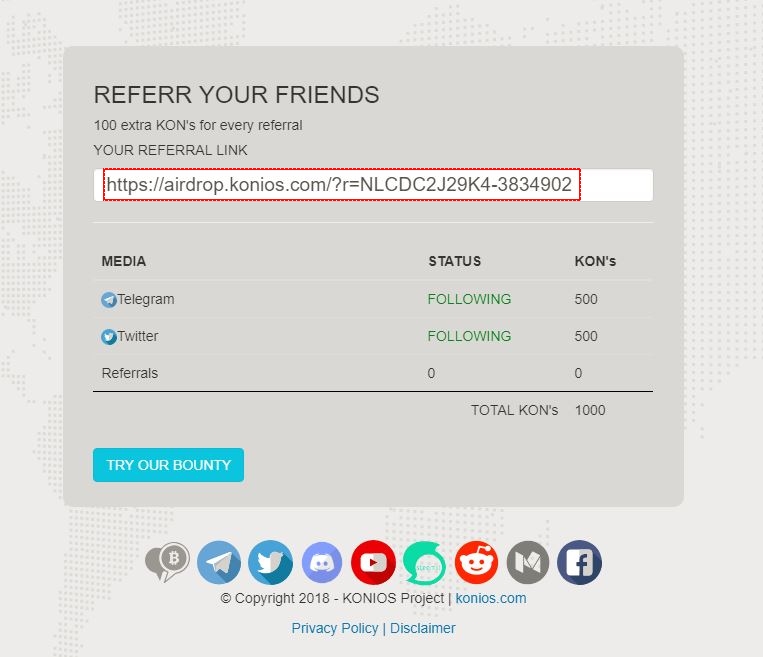 Use the referral link to invite your friends, family and pets to join the airdrop.
We give you additionally 100 KON Token for every referral you make!
We hope this guide helps you to get successfully through the Airdrop!
From Switzerland with Love
YOUR KONIOS TEAM