FlipNpik social network for business promotion with the help of monetization and blockchain technology

Often, local small and medium-sized enterprises are forced to enter into competition with large retail enterprises and large-scale e-Commerce organizations. Regional stores don't have the financial and human resources to compete on a common basis with giants like Amazon, eBay or Etsy.
FlipNpik is an advanced collective social network that aims to help local businesses. It has a ready-made and working mobile application, where sellers can simply promote their organizations, and users will earn by viewing entertainment and information content. This platform makes full use of all the advantages of blockchain technology, and also has an algorithm of fair and decentralized distribution of all values in The FlipNpik ecosystem among its participants. The main task in the construction of this project is to contribute to the qualitative growth of the economic parameters of local enterprises and effectively promote the dissemination of methods of reasonable consumption of local scale.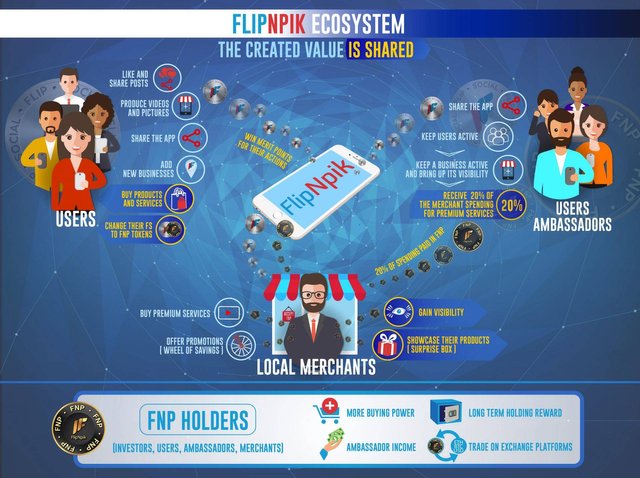 FlipNpik platform is able to provide enterprises with large-scale promotion and recognition in social networks, thanks to the active participation of the interested community. Participants of the platform, who cooperate with certain enterprises, will be able to get good rewards for simple actions. They are creating value on the platform through a variety of actions, including creating content (posts, videos), add a new organization in the application FlipNpik or becomes the direct representatives of the partners of the certain brand-based partnerships.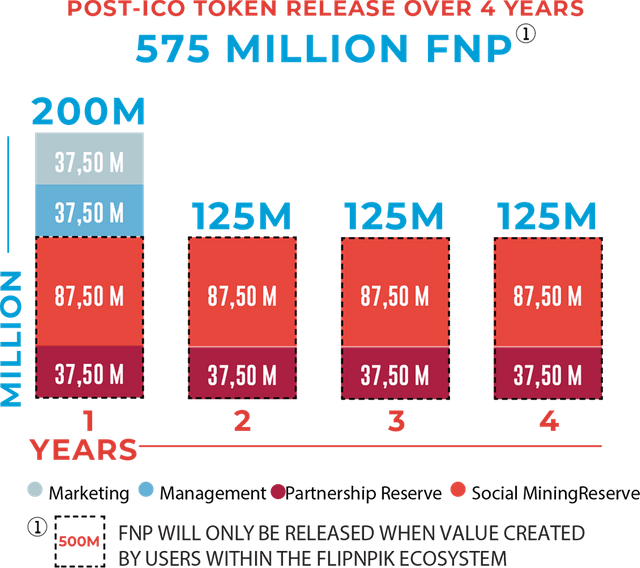 In the ecosystem should be divided into two main components: the token FlipNpik (FNP) and Flip Social. FNP is a utility token that was created based on the Ethereum blockchain. It is used directly on the platform to carry out transactions, in particular to pay rewards or to buy promotion of a particular store in the form of premium status (various promotions, market data analysis, access to an extensive online market, etc.). Flip Social is a unique algorithm that rewards users in order to keep them on the platform and encourages them to be active. Users-employees will be able to spend honestly earned reward by purchasing services and products of the project partners, get access to profitable offers and discounts, as well as be able to play entertainment games distributed through the marketplace of the FlipNpik platform. Partners actively improve the visibility of the business on the platform, thereby receiving good rewards from the owners.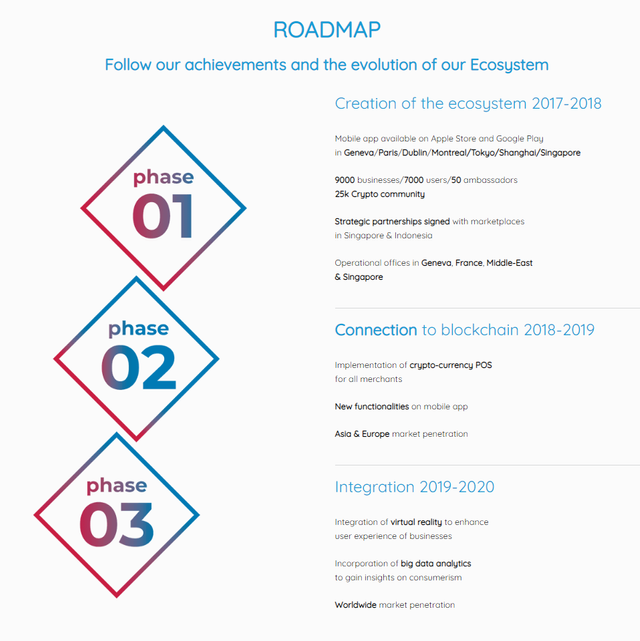 Over the sale of token-ICO, which holds the platform FlipNpik you can follow the links below.
Website: https://flipnpik.io/
Whitepaper: https://flipnpik.io/whitepaper
Twitter: https://twitter.com/flipnpik
Facebook: https://www.facebook.com/flipnpikworldwide/
LinkedIn: https://www.linkedin.com/company/flipnpik-worldwide/
Telegram: https://t.me/flipnpikico
ANN: https://bitcointalk.org/index.php?topic=4630541
My ETH address: 0x4C99F7b818A8a8ef54c07c5B29FCd6E07f355f5B
My Bitcointalk profile: https://bitcointalk.org/index.php?action=profile;u=1897319