EUREKA blockchain platform for the transformation of science by means of decentralization and transparency

EUREKA is a new platform that is developed by EKA Blockchain Solutions GmbH, for the publication of scientific materials and assessments, monetization based on the use of the internal eponymous token. The use of blockchain technology on the platform is fully justified, since now the results of scientific research will be reliably protected, transparent, decentralized and cannot be changed by third parties. Research will not belong to a single centralized organization, so no one will be able to dictate certain conditions, will not restrain the choice of topics for study and so on. EUREKA aims to democratize and completely transform the procedure of scientific publications and reviews, thus making it more operational, efficient and objective. To do this, the EUREKA token will be used to pay the reward as a refund for all participants involved. The moment has come when any worthy scientific research will be evaluated and paid for according to its importance, quality and feasibility. It is worth noting that the EUREKA project develops and supports an educational interactive platform ScienceMatters, which is engaged in publishing activities. ScienceMatters was established in 2016, has received legislative recognition in the European Union and the scientific community. The publishing house already produces several journals, and research covers all possible areas of scientific activity.
The activity of the EUREKA platform is tied to the work with the Ethereum blockchain, with the help of which special timestamps for the creation of scientific information are created and stored, which is successfully encrypted and recorded in a distributed database. This approach ensures the safety of data, gives a full guarantee of ownership and belonging to the author, while preserving intellectual property rights. Thus, scientific discoveries are protected from plagiarism or forgery. Peer reviews of a large community of professionals on the basis of crowdsourcing, which are members of EUREKA, will be used to check the quality and obtain estimates of a particular work. The result of the review will be more accurate, unbiased and fast, as opposed to the situation where in the usual case the evaluation is limited to one or two reviewers. Publications and reviews for convenience will be placed in a specialized decentralized archive, from which, if desired, can be transferred to any selected scientific journal. In addition, the results of research works and publications placed in the archive will be available for viewing by educational institutions, sponsors, organizers of various awards and grants. Now, any program for funding research can be easily implemented using the EUREKA platform, so there will be a unique rating system based on blockchain technology and its own General monitoring system to obtain accurate and reliable results.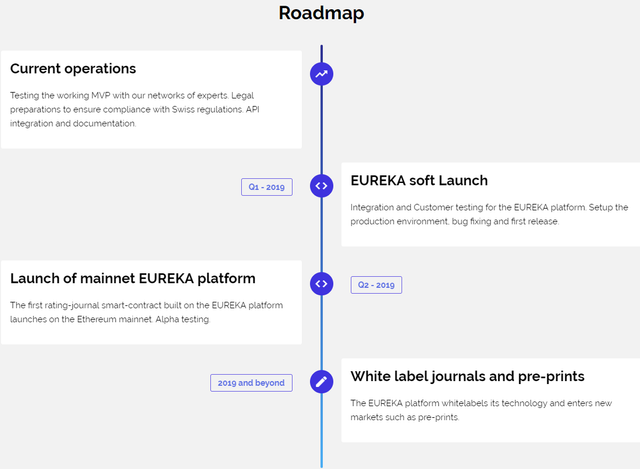 Internal Eureka tokens for a well-designed monetization system, which allows, for example, to pay for the use of research results for replication, that is, to confirm, Supplement, refute or summarize existing research results. New researchers make a confirmation or addition to the study, as a result, as a compensation, Eureka tokens are paid to both the original author and the one who did the replication. This advanced system facilitates communication for sharing scientific information, and saves time and money.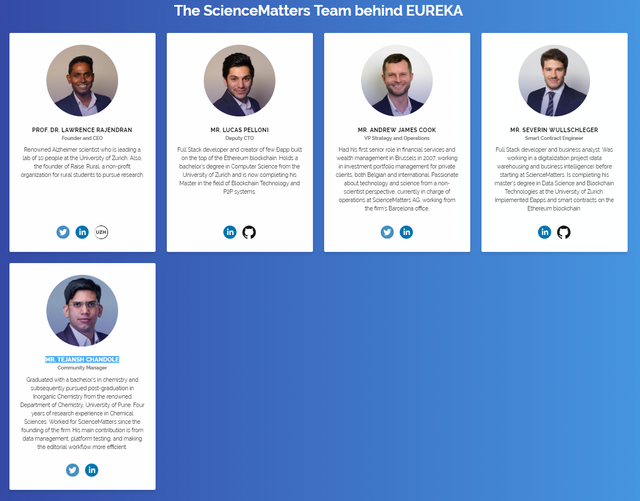 In addition to the above, EUREKA offers a special algorithm taken with ScienceMatters. This algorithm based on artificial intelligence allows you to make predictions based on similar or related studies, analyzing recurring topics, General links in the annotations. On the basis of this, a single narrative is created for joint inventions, for example, to predict the creation of drugs.

Website: https://eurekatoken.io/
ScienceMatters: https://sciencematters.io/
Twitter: https://twitter.com/TokenEureka
Facebook: https://www.facebook.com/tokeneureka
Telegram: https://t.me/joinchat/EXhWdw1KgAQgnraZhI9XBA
ANN: https://bitcointalk.org/index.php?topic=5043012
My ETH address: 0x4C99F7b818A8a8ef54c07c5B29FCd6E07f355f5B
My Bitcointalk profile: https://bitcointalk.org/index.php?action=profile;u=1897319