DexAge is a user-oriented decentralised exchange, secure trade and market P2P lending

According to the developer's idea, DexAge will be a developing secure and resistant to hacking platform for peer-to-peer trading or cryptocurrency exchange, which will function regardless of external factors, including the growing community of traders and crypto-enthusiasts. All participants of the platform are equal and will serve to build a mutually beneficial ecosystem. DexAge is decentralized and in addition to peer-to-peer exchange and trading can be used to provide peer-to-peer lending and DApp chat services. One of the main features of this project is the orientation to the end user and Autonomous management with the help of social network elements and blockchain technology.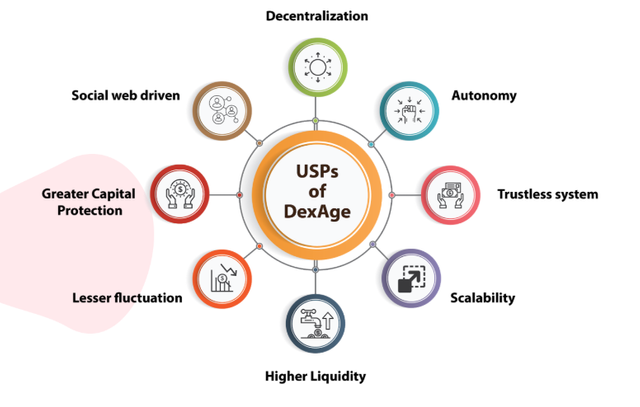 Peer-to-peer transactions that users will conduct on the platform will be conducted using smart contracts and managed using decentralized tools, so all trading or lending operations will be fast, secure, transparent and secure. The platform is Autonomous, decentralized and end-user-oriented, so protection from outside interference is the strongest.
DexAge offers a variety of technologically advanced services that meet modern requirements and allow for peer-to-peer trading and the creation of a Lending Marketplace. Let's consider all the main elements of this platform:
A Fair system of referral rewards, which will charge the user with internal DXG tokens for attracting active referrals who invest in the DexAge platform or trade on it. Thus, it will stimulate the permanent growth of popularity of the platform and the value of the token.
Introduction of Proof of Stake (POS) for mining on the platform for transactions, as this method is less harmful to the environment, as it consumes less electricity. Rewarding users in this case will be carried out from the paid commissions for the services of transaction verification. At the same time, the Equipment for mining Ethereum cryptocurrency can be easily rebuilt for the needs of the DexAge platform.
Interact with the community through voting and polling to create a decentralized Autonomous organization (DAO), and for the integrity and transparency of surveys, smart contracts will be used. An example of this feature would be a decision on the listing that if a coin with a vote of community members.
Reliable peer-to-peer trading through wallets that have no limit and are not controlled by centralized organizations and operate directly without intermediaries.
Tools to diversify the user portfolio through a decentralized application that will manage the funds of various coins. Users will be able to easily through a single interface to distribute their investments into various coins that will be considered promising or that will be recommended by the system.
Created a special DApp in the form of chat, through which you can communicate, share thoughts, ideas, send and receive utility tokens DXG.
Simple p2p exchange of cryptocurrency assets, which is beneficial to both the seller and the buyer, as transactions are completely independent, as they are controlled by intelligent contracts, which eliminates the possibility of sole control.
Maintaining an effective system of increased liquidity of cryptocurrency assets on the platform through the introduction of coordination through social networks to find people who want to exchange their funds profitably.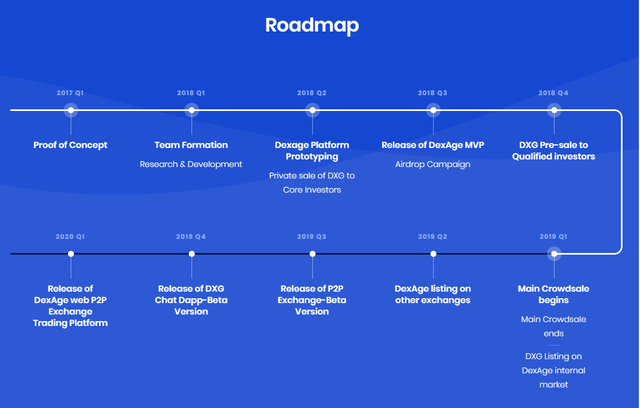 Internal utility tokens DXG will be used on the platform DexAge for payment of commissions and remuneration of miners.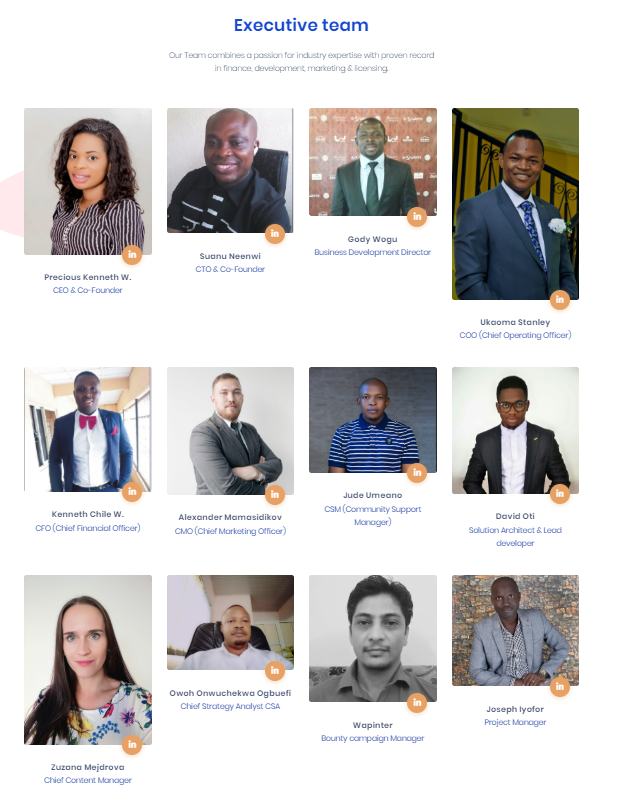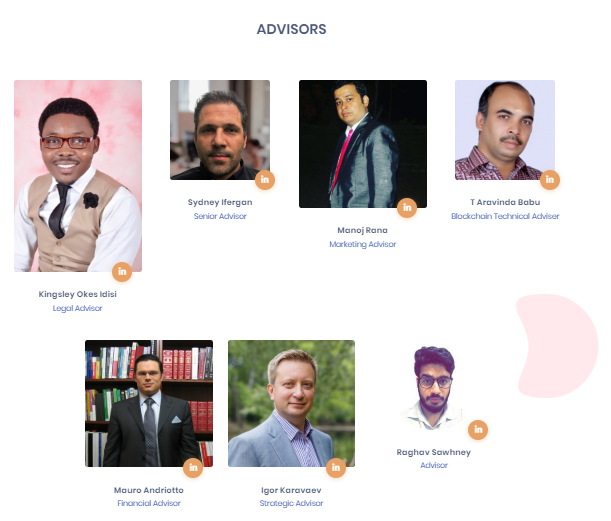 Detailed information about the platform capabilities and the project team can be found at the links below.

Site: https://dexage.io/
Whitepaper: https://dexage.io/ico/files/white-paper.pdf
Twitter: https://twitter.com/dexagetech
Facebook: https://www.facebook.com/dexagetech
Telegram: https://t.me/dexage
ANN: https://bitcointalk.org/index.php?topic=5079166
My Telegram: https://t.me/pashaklimov
My ETH address: 0x4C99F7b818A8a8ef54c07c5B29FCd6E07f355f5B
My Bitcointalk profile: https://bitcointalk.org/index.php?action=profile;u=1897319