Saifu ICO: why it matters among others?
Today, Monday April 30 is the last day of Saifu ICO. 
There are tens of ICOs launching and finishing every week, and we don't care about majority of them, so why did this particular one attracted my attention? Let's have a better look.
Saifu is a Czech based fintech company aiming to build a legal solution to buy and sell crypto for companies and individuals. As it is stated in their WP:
We're creating a safe and regulated bridge between crypto and fiat currencies that enables individuals, businesses and banks to seamlessly add cryptocurrencies to their everyday operations and smoothly transition to the digital economy. 
Indeed, that is what the market really needs. But we have observed a lot of ICOs declaring the same and then screwing up. What is the difference?
The difference is that Saifu has a license from Czech National Bank.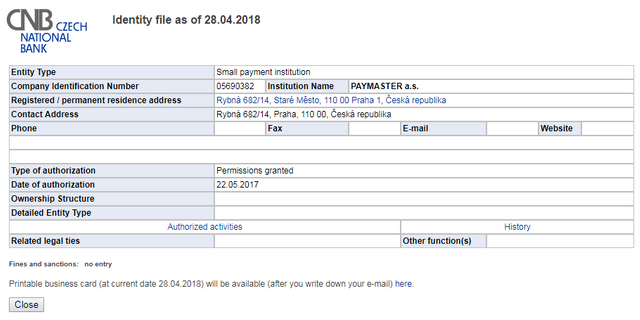 This is the most important point to pay attention to: Saifu is the only company among all the competitors who succeeded to get the licence as a payment institution. Which means that they indeed can execute what they declare: allow legal transactions from crypto to fiat.
By the way, the Czech jurisdiction for this kind of project was really a smart choice. They are loyal to crypto currencies and have sane regulation of crypto payments. According to "legal guidance" for purchase and sale of Bitcoin which was issued in the Czech Republic, and the law "On Deanonymization of Bitcoin": "financial institutions are required to identify (development according to the EU "Action plan" and common plan to combat terrorism) customers, and the latter are forbidden to use fictitious names".
The following restrictive measures are also currently being discussed:
1. Application of VAT to transactions with cryptocurrencies ("vláda plánuje přidat do zákona o DPH paragraf, podle něhož odběratel zboží či služeb ručí za daň neodvedenou dodavatelem v případě, že za ně zaplatil virtuální měnou").
2. Special registration procedure for bitcoin users ("transactions worth more than 1.000 EUR are considered" AML high-risk "in accordance with § 6 para. of Act No. 253/2008 Code").
I will not write here about team, market and other assessment points: they are pretty ok and reviewed by InnMind team, otherwise this post will not appear in your thread ;-) If you want to read more you can check the detailed Saifu review by ICO Rating which gave Saifu "Stable+" rate.
There is also a very detailed and well written review by @s-h-d-p, or another one by @richard3455  which definitely makes sense to read if you want to make a smart decision!
Here are some handy links to check it deeper: ICO website, startup profile on InnMind, White Paper, company website, telegram group.
ICO ends in less then a day, softcap is already reached and project will hopefully move forward according to the roadmap. I'm not giving here investment advice, it's your risk to make the investment decision. But I advice you to pay attention to this project and at least put Saifu on your radar. It is worth it.
Sincerely yours, Nelli from InnMind