Make blockchain work for your business!
Hey, crypto community!
Starting with a reminder: less than 3 months left before Blockchain Leadership Summit in Basel, Switzerland - the major event in blockchain and crypto industry! 👇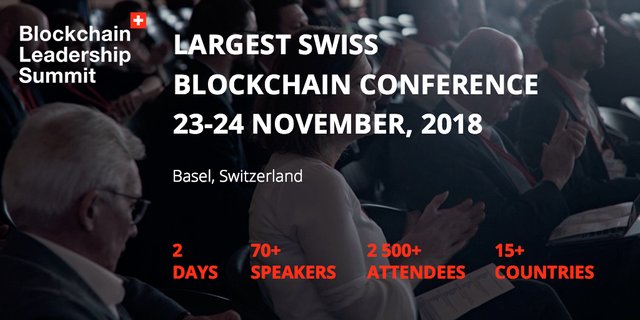 Today I want to describe briefly what we have prepared in the program for businesses and entrepreneurs to get maximum value out of Blockchain Leadership Summit.
👉 Master class for startups about proper ICO execution and post-ICO strategy
... with the review of best practices and examples from real cases...
👉 Workshop / master class ­for startup founders and investors on assessment and due-diligence of tokenized startups
... experienced and well-known in this industry investors will share with you their approach on how do they make an investment decision...
👉 Master class for investors, family offices and asset managers on how to invest, work and manage crypto assets
... comprehensive guides and handy tips from professionals in crypto finance industry ...
👉 A special track for all interested businesses about new media and marketing on blockchain
... for those of you who don't want to depend on Zuckerberg's mood or Twitter's policy about whether to block or limit the advertisement of ICO, crypto services or blockchain based products ...
👉 Panel and presentations on blockchain implementations in traditional industries, real-world applications of Dapps
... while some still say "blockchain is only a hype", we will show you the amazing products, innovative solutions on blockchain in healthcare, supply chain, insurance, ID, etc.
And it's only a part of what we have in summit program!
InnMind team makes incredible effort to organise this event for you, for us, to build and sharing knowledge, facilitate business deals between industry players and boost the industry development. We're working 24/7 preparing a unique tailor-made program and insightful content to ensure that each participant will get maximum value out of Blockchain Leadership Summit in Basel. No "blabla-experts", no "professional-speakers-about-everyt­hing", only real businesses speaking, learning and networking with real businesses.
So don't waste time, Get Your Tickets NOW!
PS: special rates for startups are available on demand by getting in touch with us: [email protected]
See you in Basel on November 23-24!
Cheers,
Nelli & InnMind BLS team