ICO Exolover: Ecosystem for Global Sexual Interaction on the Blockchain
Hello to all crypto enthusiasts!
On the last day of May, which is really hot this year, we found for you the hottest project in the ICO field: @exolover - Ecosystem for Global Sexual Interaction on the Blockchain ;-)
✨ Hot startup on token sales! ✨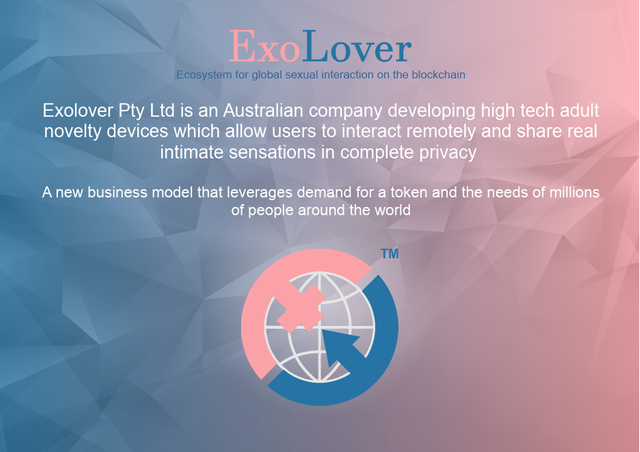 Take your time and have a look at a very exciting blockchain project from Australia which aims to upgrade the human experience in sexual interactions ♥♥
ExoLover Pty Ltd is an Australian registered company with a global footprint. The entity is engaged in designing, developing, manufacturing, marketing, selling and licensing patented and proprietary intellectual property rights related to its ExoLover Suite of high-tech adult sex toys.
The patented state of the art wearable technology realistically emulates perceptory, acoustic, somatic, visual and haptic stimuli allowing users to interact remotely over the decentralized blockchain ExoLover Platform. With ExoLover, users can connect and indulge in their most intimate fantasies in complete privacy while investors stand to yield high ROIs due to the growth potential of blockchain technology adoption.
A new business model that leverages demand for a token and the needs of millions of people around the world.
Exolover token distribution event details:
1,000,000,000 EXO Tokens will be produced to conduct a Token Distribution Event
700,000,000 EXO Tokens will be sent for exchange on Pre-Initial and Initial token distribution
PreInitial token distribution started 29/05/2018
1st week 1EXO = $0.050
2nd week 1EXO = $0.060
3rd week 1EXO = $0.070
4th week 1EXO = $0.080
Initial token distribution starts 29/06/2018
1st week 1EXO = $0.085
2nd week 1EXO = $0.090
3rd week 1EXO = $0.095
4th week 1EXO = $0.100
Minimum exchange is 0.1 ETH

Soft cap is $500,000. Hard cap is $25,000,000

ICO finishes - 25/07/2018
Links:
https://www.facebook.com/Exoloverofficial
https://twitter.com/IT_EXOLOVER
https://www.linkedin.com/company/exolover-pty-ltd/
---
Who we're amd why we're doing it?
InnMind is an international platform that unites investors and startups from all over the world. ICO market is a mess but we cherry pick the most exciting ones for you. We have a number of selected startups in an active stage of ICO. All our projects have been verified and undergone due diligence. No scam, no fraud, no lambo for investors money.