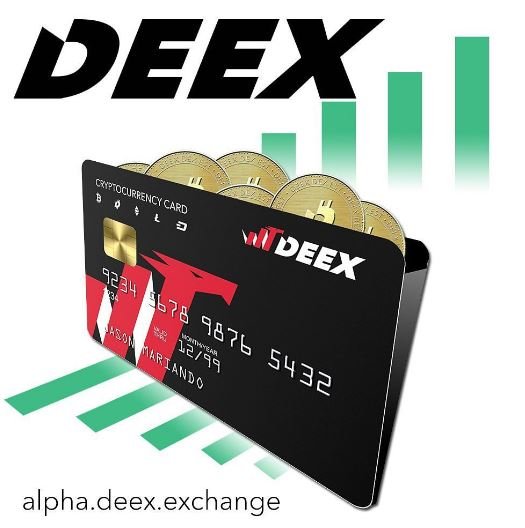 INTRODUCING DEEX
The cryptocurrency ecosystem is still in its early stages and current cryptocurrency exchange platforms are evolving gradually in the face of unprecedented demand.
Yet there remain significant problems in these centralized exchange platforms that need to be overcome in order to earn the trust of both seasoned traders and newcomers alike, who are willing to trade but are hindered by the Wild West attitude of many exchanges where "Enter at Your Own Peril" seems to be the motto which get many newbie afraid of trading.
Security, High fees, poor customer service, fear of loss, and many other problems are holding back the true potential of this market. In order to overcome these hurdles, a cutting edge, secure cryptocurrency exchange platform (Decentralized in nature) is desperately needed which lead to the creation of this exceptional and robust crypto exchange; DEEX.
DEEX Exchange is a convenient and reliable cryptocurrency exchange that provides a high level of security for your funds. Trade on DEEX using the most popular digital assets and make a profit now.
THE TECHNOLOGY BEHIND DEEX EXCHANGE
BitShares 2.0: This is the basic functionality of DEEX. BitShares 2.0 is a high-tech, decentralized, blockchain based platform which allows to create highly efficient financial "smart contracts" for all areas in economic activity that are used for global Internet space to provide services.
Below are some of the advantages of the BitShares 2.0 platforms that can be benefited on the DEEX exchange platform:
Decentralization in nature;

Transferable Named Accounts: Natural account names can be use for easy memorization and remembrance;

High performance: Up to 100,000 transactions per second;

Dynamic Account Permissions (for corporate environment);

Cryptocurrencies trading with a stable price (BitAssets / SmartCoin);

Referral rewards program;

Recurring and Scheduled Payments: Either periodic or planned payments;

Delegated Proof-of-Stake Consensus (DPOS): Delegated Proof of Participation.

User-Issued Assets (UIA): This is an assets created by the platform participants;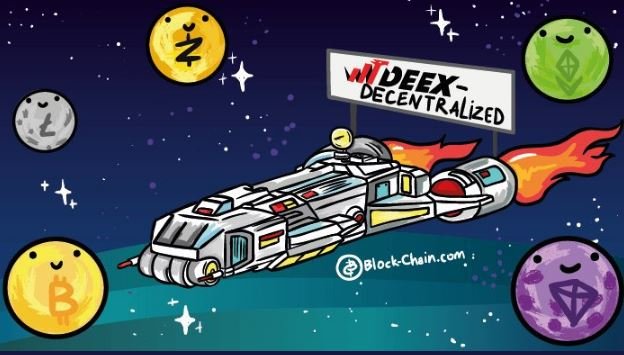 In the nearest future, the DEEX team is planing to introduce the following financial instruments:
i. DEEX.CORE: This is a basic token which gives an opportunity to receive income from the exchange's participants activities through direct or indirect participation in the work of the exchange and projects implemented on it. Other words it is a mutually beneficial and low-risk investment in your own exchange.
ii. DEEX.ICO: This is an ICO token which allows users to receive income from the ICO without having to examine the details of each individual innovation project. By purchasing this token, user can receive revenue from all ICOs conducted with DEEX ICOs.
iii. DEEX.FUND: This is a cryptocurrency blockchain fund which allows to invest in different types of funds within the DEEX, which depends on the level of the investor's attitude to risk, managed by the DEEX fund's traders with an extensive trading experience since 2004.
GAIN MORE INSIGHT ABOUT DEEX.CORE
DEEX.CORE is the main DEEX settlement unit, which will provide an opportunity to generate income from market fluctuations of the other currencies. Thanks to the system of smart contracts which realized depending on rate's fluctuations of various cryptocurrencies. DEEX offer allows even ordinary users to receive an income depending of market's volatility without having to learn the nuances of market mechanisms.
DEEX.CORE will be the most profitable tool for making payments on the exchange commission/fees or listing fees. Depending on the amount of tokens on the account, the amount of commission charged will be reduced. For the first year of operation of the DEEX Exchange the holders of the token can receive the much benefits.
DEEX.CORE tokens will allow the receiving of reward for masternode's owners on their personal accounts. With this development, the more tokens on a user's account, the higher the amount of remuneration. In order to become a full masternode, it is necessary to have a minimum balance in DEEX.CORE2 on a personal account in the ecosystem (another method is that; other tokens holders can transfer their tokens to the owners of masternodes on a rental basis and receive an appropriate fee).
Owners of the masternodes will be receiving revenues from charging commissions from transactions within the ecosystem and paying transaction commissions with tokens from other projects issued in the DEEX Exchange.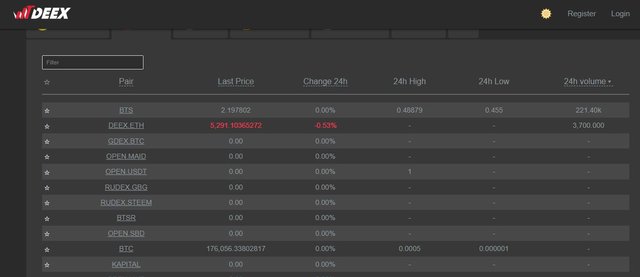 ROADMAP
Below is a well elucidated and predictable roadmap of the DEEX exchange which is being followed one after the other;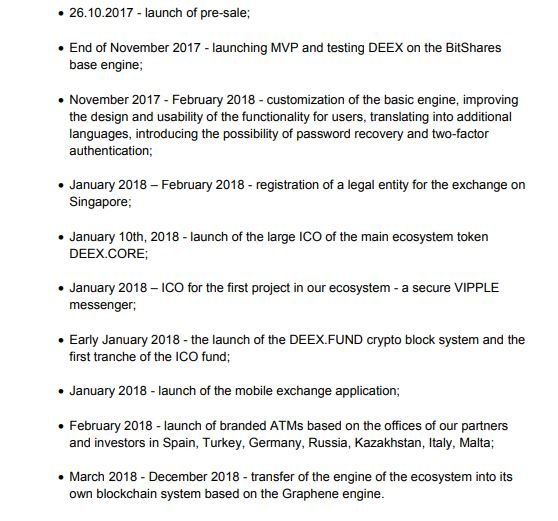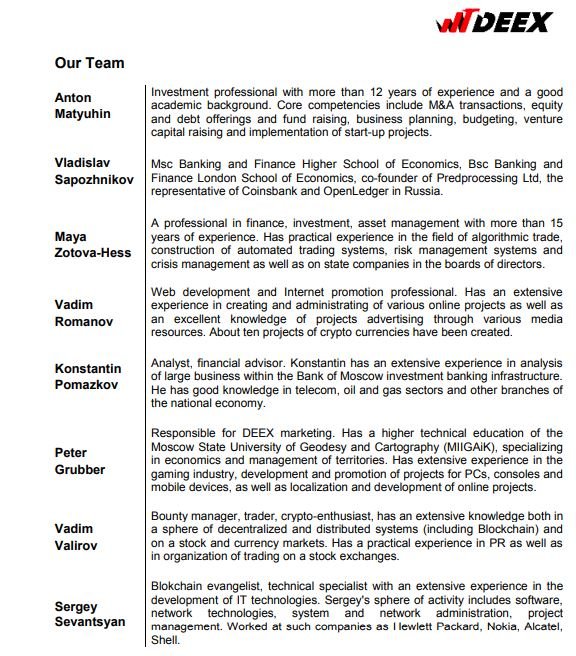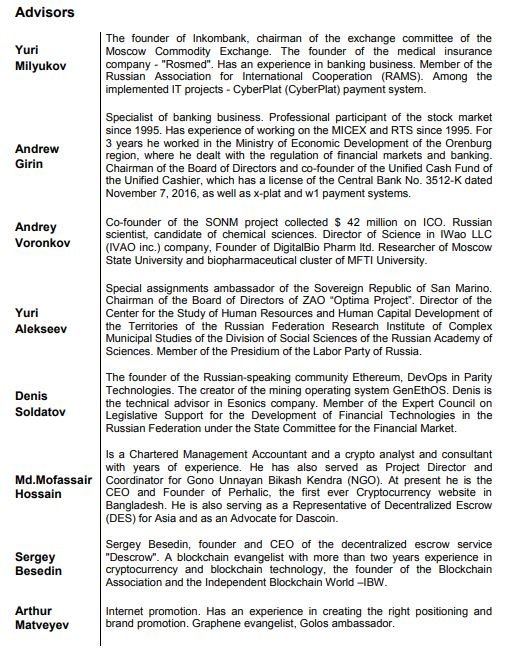 CONCLUSION
Rest assured, DEEX aims to cater to the casual trader who needs an easy to navigate platform. At the same time, DEEX will provide powered-up, cutting-edge features for professional traders who require the full range of earning more, decision making and fundamentals information at their fingertips.
Key in now into the DEEX Exchange project to trade top currencies in a unique and welcoming environment, discover promising new projects and ask or give advice in a community focused on creating a bright future for everyone! Become part of the DEEX community and be a DEEX token holder now that the price is still very cheap to afford for everyone.
Get connected anytime with the Project using the links below for more information, updates and participation:
WEBSITE: https://www.deex.exchange/
WHITEPAPER: https://www.deex.exchange/docs/DEEX_wp-2.0_eng.pdf
ANN THREAD: https://bitcointalk.org/index.php?topic=2375913.0
TELEGRAM: https://t.me/deexexchange
FACEBOOK: https://www.facebook.com/groups/deex.exchange/
INSTAGRAM: https://www.instagram.com/the_deex/
TWITTER: https://twitter.com/deex_exchange
REDDIT: https://www.reddit.com/user/the_deex
GITHUB: https://github.com/thedeex
GOLOS: https://golos.io/@deexexchange
STEEMIT: https://steemit.com/@deex
MEDIUM: https://medium.com/@the_deex
YOUTUBE: https://www.youtube.com/channel/UC5oYUk9QC4kbM5ZBpodOUcQ
WRITER'S DETAILS
BitcoinTalk Username: cryptoblezin
BitcoinTalk Profile URL: https://bitcointalk.org/index.php?action=profile;u=2178561;sa=summary
ETH Address: 0xC89b8Dd7e3E137DB108575EeAe301E52b6C72d9F