What happened to SUPERBLOOM/SEED?

Pre ICO
I visited a live presentation by Emmie Chang and her team in Zurich. They presented Superbloom - A platform where numerous angel ICO investors collectively become one large ICO investor, with access to highly sought-after ICOs, beneficial investment conditions and shared professional due diligence. This is the great idea of Superbloom in my own words.
In addition to the Syndication benefits, each holder of the Superbloom native token called SEED, receives an airdrop of these selected ICO's. The white paper reads:
"Members receive new tokens valued at 10-20% of their SEED holdings, so if they hold $100,000 in SEED, they get $10 - 20,000 in new tokens over the course of a year."
The presentation was credible, the target was very clear and they're backed by by some big names.
Superbloom had their pre ICO since February 2018 and regular ICO from June 26-28. The marketing was very aggressive, with tokens sold at USD 0.10 and bonuses of 20% or 30% for large investors. Later in the process, as the ETH price dropped, one ETH was pegged to 5800 SEED, which was promoted as a 20-30% discount because ETH dropped around USD 450.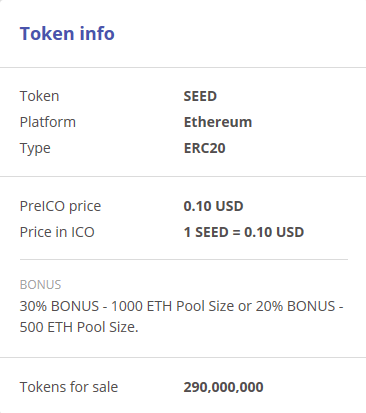 Screenshot from ICO Bench
Superbloom announced a referral airdrop for people who retweeted a message on twitter and registered on their platform. In addition, people who brought more referrals receive another 50 SEED per referral. This could add up to 5000 SEED and was directly promoted as a USD 500 reward. The Telegram channel quickly grew to 60k members, which is an amazing achievement.
On June 29 SEED was listed on Digifinex, a top 20 a Chinese crypto exchange.
Post ICO
The Telegram group counts 60k members, the smart contract on Etherscan counts 729 addresses

Most people probably joined because of the airdrop of SEED instead of the syndication benefits

Many of the 60k telegram members are surprised they have to go through KYC to redeem their tokens.

The referral reward tokens caused a lot of confusion, because many didn't receive the airdrops they expected.


The team has to explain itself numerous times because promises aren't met


Buying additional SEED through the website is not working properly. I know this firsthand, because I tried it with a small amount of ETH on July 4 and got the below confirmation, but until today (July 10) my balance still wasn't updated.


The price on Digifinex dropped quickly to 1 cent on the day it was listed. Today, a week later it's down to 0.495 cent. So people that invested on 2-3 weeks ago have lost 95% of their investment.

According to below screenshot from Digifinex, it looks like there was an attempt to rescue a further drop


As a consequences of the decline in price, KYC costs more than the airdropped tokens

If someone contributed $100,000 in SEED, then that's currently worth $10,000 at best, with airdrop of approximately 1,000-2,000 per year.
Open questions
Why is buying SEED on the platform not directly updated in the balance (or in 5 minutes)?
According to the contract, 110,878,419 Seed is issued and according to the whitepaper, 500M are for the token sale. What will happen to the remaining 389'121'581 SEED Tokens?
Where do the airdropped tokens of the highly sought-after ICOs come from? (ie. do you expect to buy them or expect to receive them for free?)

Conclusion
I have no hard feelings towards the Superbloom Team - In contrary. I like them and would like the project to succeed. The idea of the angel investor platform is still great, but Superbloom has a rough start. The team is probably very disappointed with the timing of their platform. Doing an ICO during a bear market is obviously a painful process. If your USP is to sell more ICO's, it's probably even worse. But times could turn and the token is currently attractively priced. With token supply of currently around 110M, valued at 0.000011 Ether, this corresponds to roughly 550K. With the total token supply of 1Bn, this corresponds to roughly 5M.
However, there are some problems that need to be addressed. If Superbloom can resolve the airdrop problems and the problems with the platform, they can start building trust. If ICO's become attractive again, they could build momentum and still be very successful. Apart from the open questions above, I'm currently curious if they can keep their promise to frequently select and airdrop the highly sought-after ICOs that they promise and I would like the Superbloom Team to make an honest statement about this