Intro
Hi guys back again with me in my post, today I will tell the project again, that will make the changes in the cryptocurrencies ecosystem, right now we all know that the cryptocurrencies especially bitcoin is very booming right now there are many people that I use bitcoin, from the professional traders, the big investor, and newcomer in the cryptocurrencies that don't know about bitcoin. it is very risky that if the newcomer in bitcoin want to try bitcoin for other currencies like trading, or investing. In this platform, there are many features that will make the bitcoin and all cryptocurrencies are more secure than the traditional wallet. let me introduce you Ingot coin https://www.ingotcoin.io/, the new ecosystem in the cryptocurrencies world.
What is Ingot Coin?
Ingot coin is the wallet platform that has the blockchain system and integrated with a Digital Bank, Brokerage, Exchange, Certifier, and Initial Coin Offering (ICO) Accelerator, with that many connections I think Ingot coin can make the buy and trade from the other place into another place in an easy way, this platform ingot coin is based on ERC20 Ethereum token, we all know that the best smart contracts for right now are in Ethereum erc20 token. ingot coin work in the decentralized system, so it doesn't have any central, like the other cryptocurrencies that use the blockchain in their system.
Ingot coin will make the new innovation of ecosystem-based by the bitcoin system, blockchain, and smart contract that will facilitate between other contracts. this purpose of makes this platform want to eliminate inefficiency in the traditional system, Ingot coin Ecosystem will change the trades, settlements, and payments and make them instant and more efficient than before. and of course, it will reduce the cost when you make the transaction.
Features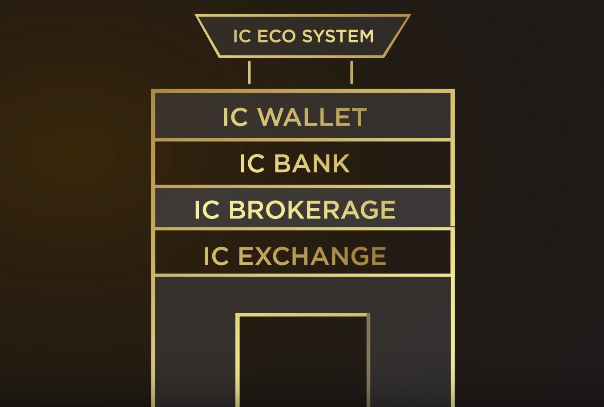 This is the all features from the Ingot Coin Ecosystem:
IC Wallet: IC wallet will be the universal wallet for saving, investing or sending money from the user that based on blockchain system and of course it will more secure than the other platform. and this IC Wallet will connect with other features like the IC Digital Bank and other features
IC Exchange: IC exchange will connect with all features, like the IC wallet, IC Brokerage, and IC digital bank with a User-friendly User interface that most people will use it easily. in this place, we can convert or selling our coin into another coin.
IC Brokerage: IC brokerage will make the liquidity, efficient price market and access into all financial product. from the FIAT to ETF commodity, in this features the user can use it to buy some commodity with their cryptocurrencies like BTC /APPL, BTC / GOLD, etc
IC Digital Bank: in this place, we can see that this is the main place for the IC ecosystem because in this place we can see that it integrated with IC Brokerage, IC Exchange, and IC wallet. The client can open the new bank account from this features
That is the main features of the Ingot Coin Ecosystem
Token Allocation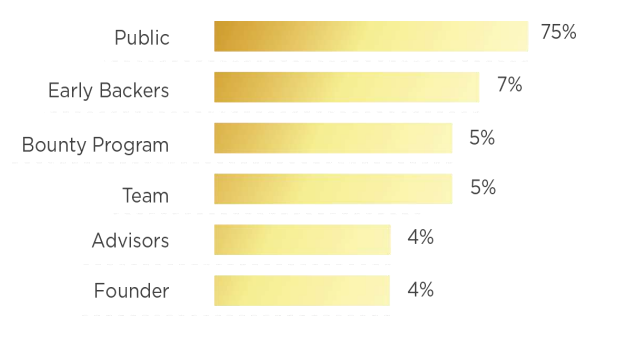 Token Details

Token TIcker: IC
Price: 1 IC = 1 USD
Platform: Ethereum
Accepting: USD, ETH, BTC, XRP
Soft cap: 37,000,000 USD
Hard cap: 90,000,000 USD
Roadmap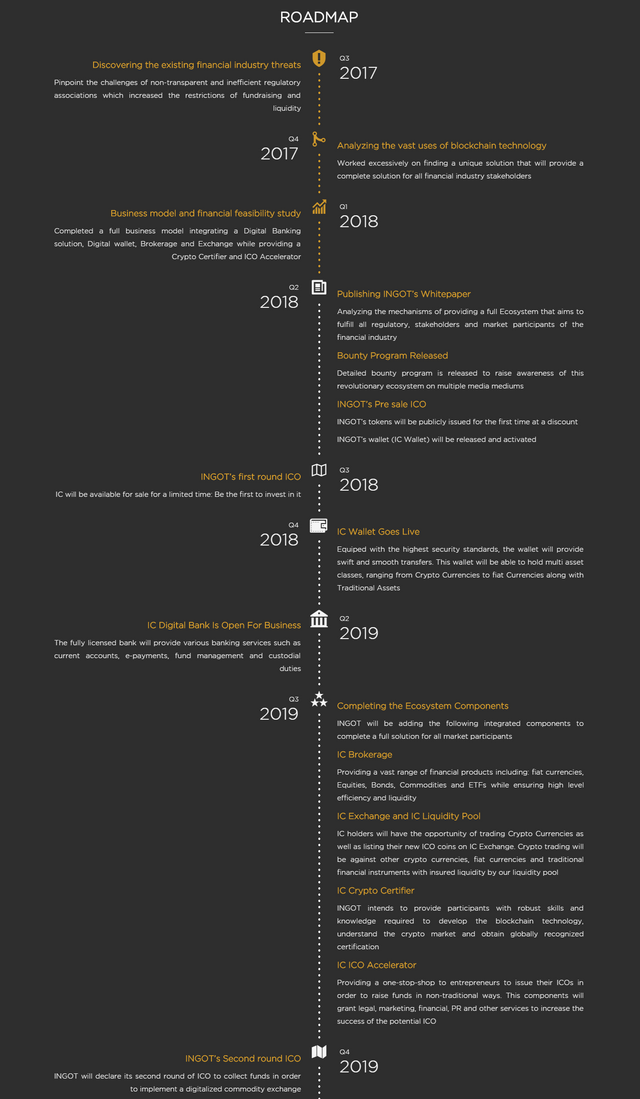 Follow and Subscribe Social Media
if you want to know more about this project you can try to follow and subscribe all their social media below,
Conclusion
This project is great because they will make the innovation to makes the customer and consumer can use it with efficient, its, not like the previous platform that not efficient at all. this platform will give 4 main features like the digital bank, wallet, broker, and the exchanger, so the user can use all features in 1 apps. so if you have any interest to invest in this platform you can try to invest in https://www.ingotcoin.io/ Thank you for coming in my blog site, i hope you can get the information from this site
to know more about me,
Author: gesdan
Bitcointalk Profile: https://bitcointalk.org/index.php?action=profile;u=1057473
Telegram Username: @jasson_albert
Eth Address: 0xbe10b9C0DbcC5CA1A7De2e3bF472345A7Bc85d2B