#4 ICO Review - Bankera Cryptcurrency Bank and Debit card. Metalpay and Polybius comparison.
Bankera ICO is an addition to an already established successful company with Spectrocoin.

Spectrocoin is an exchange and wallet service that also supports fiat deposits and withdrawals in several currencies.
Already, Bankera has the necessary regulatory and IT arrangements to offer individual international bank account numbers (IBAN) which can accept and make payments in the Single Euro Payments Area (SEPA).
ICO funds will be used to develop Bankera.
Reward for investing in Bankera is 20% of the transaction revenue payed as a weekly payout. That 20% is then split around token holders. If you compare this to Metalpay, they plan to reward you with up to 40% of transaction fees? But again its really tricky to actually work out what that is exactly as all those details are vague. Polybius also offer 20%. It looks like Polybius is still in the ICO stage. It is hard to tell without signing up they do seem to have a similar model but with no working product (please correct me if I am wrong).
Most importantly, SpectroCoin will be entitling Bankera token holders 20% from its net transaction revenue from the first week after start of pre-ICO.
Key facts about SpectroCoin.
Clients: 300,000 and 1300+ new registrations everyday
Cards issued :50,000+
Average daily volume: 500,000 EUR
Team members: 40+
Bankera will not have any physical branches. But it will partner with third parties to allow cash deposits and even allow bussinesses to act as agents such as gas stations or newsagents etc.
Why use blockchain.? Same reasons as always. To cut out the middlemen which reduces the cost to the end consumer.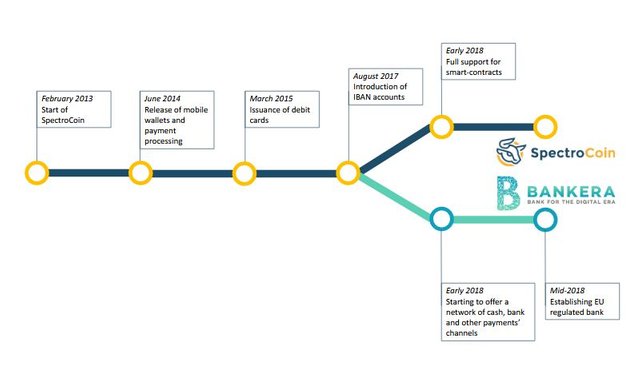 Bankera will offer money wallets in 22 fiat currencies initially, covering all the major currencies such as USD, EUR and GBP. It will also support major digital currencies.
Bankera will be apart of KYC so fraud detection systems will be to a high quality. As well as many other services that will mean having your business account with Bankera will reduce costs.
Why is it better than standard banks though? Because standard banks run on old technology which is very inflexible. New companies such as TenX are already showing how much better their card service will be compared to standard Visa cards. With TenX for example internet transactions can only be made with the virtual card. The CCV on the virtual card changes every time a transaction is made thus making it near impossible for the receiver of your payment to then turn around and use your card. So you are only risking that one payment.
I see this going a step further in the future with these companies offering whole card number changes with each transaction. This is just an example of how flexible this fresh approach can be.
Most of the technology required for Bankera to be up and running is ready to go and is ready for testing.

-Core services Bankera will be offer after the ICO.
-Loans and savings.
-More Crytocurrencies.
-Fully regulated bank with IBAN support and will seek to become an authorized issuer and acquire of payment cards (like visa) so they do not have to rely on third parties. (Similar to what TenX is planning).
-Investments.
They provide a fee structure and revenue structure and explain how it all works. They are predicting Bankera to be profitable from day one as the services it provides are ready to go and usable immediately. Though they don't explain this in much detail and the profits could be as low as say almost zero.
Token holders will get discounted rates on using all Bankera services. You will also get 20% commission of net transaction fees of Bankera and Spectrocoin on a weekly basis.
Net transaction revenue is basically the total fees paid, minus the direct costs. These will be issued via smart contract.
Overall the white paper is very well written and didn't leave me with many questions. How it all works is very clearly explained. It is a very very easy light read and before you invest I would read the white paper even if you skim it to the good parts to get more details and examples than I have provided here.
ICO
It is currently in a pre ICO state. They are doing a pre ICO (10% of all tokens) to judge interest so they can set their hard cap and coin price for the real ICO. The pre ICO is heavily discounted so it is the best time to invest. Already the next stage will be cost around 50% more than the pre ICO because they have reached the highest tier during the pre ICO.
The number of pre ICO tokens sold will determine the hard cap. If tokens are not sold during each stage they are distributed proportionately to pre-ico and ICO investors only.
There will be three stages. pre-ICO 10%. ICO 30% and then Secondary ICO 30%. 25% will go to the team and employees and 5% will go to advisors.
Because they already have an existing platform the ICO is very straight forward. You sign up to Spectrocoin transfer funds from any wallet, does not have to be ERC-20 supported and can be directly from the exchange and then you just buy BNK tokens without any fees directly on the Spectrocoin site. This took me all of 5 minutes including a transfer to Eth directly from an exchange.
Note the amount of tokens you receive is based on current ETH price. So if ETH goes up 10% you will get 10% more.
You can refer others to get a small bonus amount of coins. Here is my referral or you can just sign up without it. https://spectrocoin.com/en/signup.html?referralId=3036355894
Obviously I would appreciate it if you used my referral.
If you invest more than 1000 Euro (100,000 BNK) you will get a Bankera card for free with is available immediately (some countries not included). This is likely around 4-5 Eth. You can also buy Bankera with BTC and several other currencies. I have confirmed with Bankera support directly and if you own 100,000 BNK you will get a free card.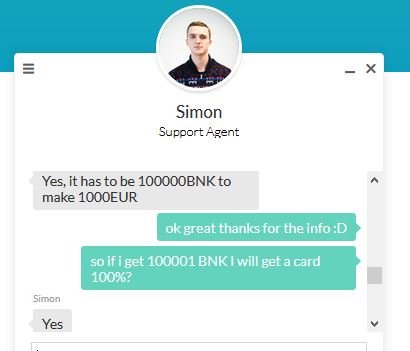 Bankera is a long term investment. While parts of it will be up and running immediately. You won't see it really take off until around mid 2018 and major lending model will not kick in until around mid 2019. But you should see good gains as it hits exchanges.
Another interesting aspect is when the ICO finishes it will already be on an exchange. So you can buy and sell BNK right away. Though it is not exactly your traditional exchange and the prices are not as competitive as real exchanges.
The Team
I don't want to go into the team too much. You can do your own research on LinkedIn, Facebook and google.
It looks pretty solid really. Read the white paper for more details. They have the CEO of NEM and a politician or two as advisors.
The ICO status bar is updated every 24 hours. You will receive referral bonus tokens within 24 hours.
I have used the online support several times now and they are very quick and fast and were able to answer all my annoying questions. Very impressive. I asked hard questions so they transferred me to other team members if the support agent didn't know the answer.
Comparison and competition
Metalpay and Polybius are the most similar ones that come to mind. TenX is also but they are going the card route first and the issuer route later and are not really looking to be a bank.
Bankera working products and is already ahead of the game, they also have Spectro coin.
Metalpay looks good but doesn't have a roadmap and it doesn't have any working product. It also doesn't have a fee schedule or provide you with working numbers or actual detail on how it works. I really don't like that at all.
I was able to find out that card support won't be available until around December for MTL but the alpha has been released and the Beta should be available before a months time.
MTL has done well on exchanges since the ICO so there is no reason Bankera should not either.
In researching MTL I just can't get behind it with confidence yet. I need more details. The lead dev goes ON AND ON about the 5% bonus you get. But there is no numbers for investors to do the math on. There is no fee schedule and the nuts and bolts on how it works are missing. It makes it hard to invest at the current price, you really had to get in early.
Originally I was against Bankera because it just looked like it was a rehash of Polybius. I had not researched it at all at that stage. It plans to be Crypto bank with a card and exchange services. Bankera is an expansion of Spectrocoin and compared to its competitors this puts it well ahead. Look at MTLpay. It has a massive following. I went to the slack channel to get answers but just got fanboys that could not give me answers to basic questions. They pointed me to a 1 hour long video to give me the answers. I am 40 minutes in and its just pure hype so far from the lead dev. So hopefully the last 20 minutes has the goods.
Both offer very different solutions to the same problem and both are interesting. I feel Bankera is in a better position and have a much clearer transparent structure.
Concerns
Two users appear to have an issue with the founders. It is all detailed here. This is the only place I can really find any negative information. The founder of Banker has the first post in this thread and he details why the guy probably is not happy. There is also one negative case against Spectro coin. Again the founder is right in there and posting on the threads explaining the situation. It looks to me fraudsters were caught out and are really unhappy. They provided fake identities and violated multiple rules and are basically just complaining about very reasonable things. If you are worried follow all the links and have a read. I also googled and there is not much more than these links out there.
https://bitcointalk.org/index.php?topic=2126829.0
I read every link there and there is some not very well substantiated claims. But it does give me pause. People are claiming numbers are not stacking up but honestly they are claiming the same numbers as Polybius and less outrageous numbers than MetalPay. The profits they claim to be making are based purely off Spectracoin's current success and current financials.
They really don't seem to over promise at all. Also note, the accounts are all NEW accounts on bitcointalk claiming scams.
After reading it all it looks like two scammers got called out by the founders and multiple members of bitcoin talk tried to help them prove Spectro had done something wrong.
In the end everything provided by spectrocoin seemed very reasonable and all the "proof" provided by the "victims" just made them look stupid and guilty of being scammers.
Conclusion
It looks to be a reasonably solid investment. Especially if you get in at the pre-ICO stage. I personally have invested but I have not gone over the 1000 Euro mark yet. I may top up we will see.
Links
https://polybius.io/
https://bankera.com/
https://spectrocoin.com/en/signup.html?referralId=3036355894
my referral link.
https://www.metalpay.com/
Please note metalpay website provides very little information. You need to hunt down other links such as metalpaynews.com, a sub reddit not linked on their page and other sources such as slack.
I publish and talk about all these reviews on the facebook group Cryptocurrency Collective. Any comments and questions are usually discussed here. Anyone is welcome to join just make sure you answer the entry questions.

.