Evident Proof passes smart contract audit with a 100% score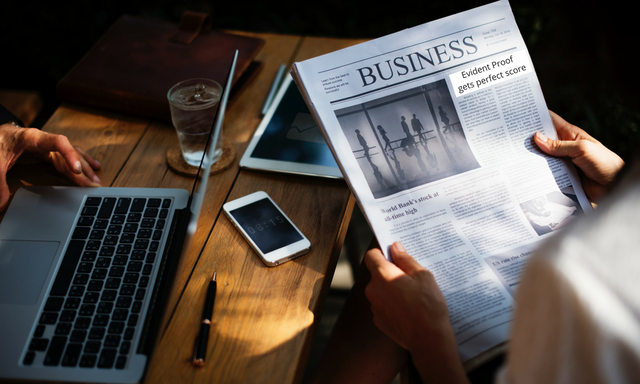 We are pleased to announce our platform has passed a smart contract audit from Hosho, a global leader in Blockchain security and smart-contract auditing. By receiving a 100% rating for our testable code, we are proud to receive a score that exceeds industry standards.
Smart contract audits are crucial because the live code on the blockchain can be difficult to rectify. Despite this many blockchain projects fail to complete one let alone receive a 100% rating from Hosho.
Matt Roden, Evident Proof CTO, said: "We're delighted to receive Hosho's endorsement of our impeccable software development standards. We believed before the audit that our protocol was close to flawless. But we know our customers need transparency to put their trust in us for such an important service.
"Hosho has a reputation for being the world's most diligent smart contract auditors, so this is an important milestone for us."
Our software is an 'Immutable Proof As A Service' or 'IPAAS', which operates by receiving data and then encrypting the information by creating a unique signature known as a seal. These seals are then stored in an immutable ledger, called a proof chain, which lives on both a private and a public blockchain.
The Evident Proof platform aims to help deliver businesses, organisations and individuals with immutable proof certificates, so they can verify the accuracy and time order of their digital records.
Our management team has great experience in running and building large-scale multinational IT platforms. CEO Adrian Clarke is a former CTO at Microsoft, and our developers have worked with Microsoft to develop its proof of concept.
Hosho said: "The team of experts at Hosho, having backgrounds in all aspects of blockchain, cryptography, and cybersecurity, can say with confidence that the Evident-Proof contract is free of any critical issues."
We are now putting in place a bug bounty program to encourage further analysis of the smart contract by third parties. Hosho's recent audit and endorsement is a significant step as we look to support clients justify and verify their data activities on the blockchain.
Want to know more about our project? Chat with the team in our Telegram: https://t.me/EvidentProofOfficial