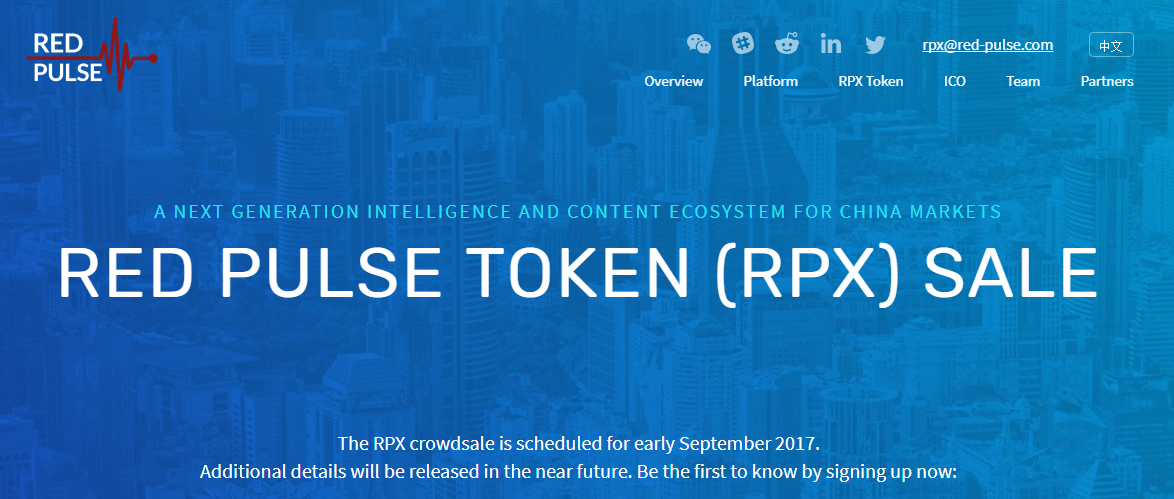 In the recent INC report, NEO (Previously ANTSHARES) is now a TOP 10 Cryptocurrency and is creating smart contracts. The first ICO to run on NEOContract system is Red Pulse.
From the Whitepaper:
Red Pulse is a market intelligence platform covering China's economy and capital markets. By
creating a global community around a common interest, incentivizing participants to produce
truly relevant research, and providing technology-enabled analysis tools, Red Pulse seeks to solve
the problem that all of us face today: Information Overload.
The Red Pulse Team appears very strong with Hongfei Da (FOUNDER of NEO) and Tony Tao (NEO Secretary General) as Company Advisor.



Partners supporting Red Pulse Token includes NEO, Accenture, OnChain, Binance.

Red Pulse has made a lot much progress for the past 2 years and have already released the iOS mobile app (bilingual - Chinese and English).
It made Partnership and integration with Bloomberg, Thompson Reuters, S&P Capital IQ, and FactSet financial terminals.
Overall, with my research and understanding, I can say that the RPX ICO is going to be huge success with great support from NEO and Binance.
Links for more information about RED PULSE Crowdsale:
Crowdsale Page: https://coin.red-pulse.com
Whitepaper: https://coin.red-pulse.com/wp-content/uploads/redpulse-whitepaper-en.pdf
Twitter: https://twitter.com/red_pulse_china