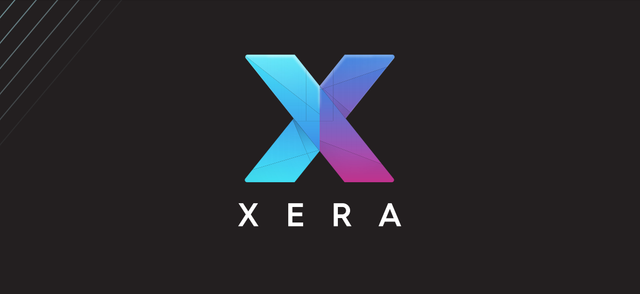 With the growing interest in cryptocurrency appears more and more cryptocurrency exchanges, some of them manage to gain popularity, some do not. Many of the exchanges presented today have a number of problems, such as low speed, low liquidity, vulnerability to hackers, insufficient number of tools for trading.
Xera wants to solve all these problems by creating a professional trading platform and providing all possible tools for efficient trading. For example, now almost no crypto exchange makes it possible to establish One-Cancel-The-Other orders (OCO), which is not convenient and often leads to losses or lost profits, traders have to resort to the help of third-party services (API bots), which carries certain risks and additional costs. Xera exchange will provide such an opportunity.
As we know, liquidity is very important for comfortable trading on exchanges and many especially young exchanges lack it. To solve this problem, xera exchange will allocate 10% of its profit received from the trading commission and send it to the reserve pool to create liquidity at any time.
Also Xera exchange solves the issue associated with long verification on other exchanges, here verification will take only 90 seconds, powered by the automatic identity verification platform Authenteq. The company also has partnerships with companies such as IBM and Pecunia (cryptocurrency and ICO fund).
The exchange pays special attention to the problem of security. Experienced cybersecurity specialists promise not only to fully protect users ' funds, but also their personal data from unauthorized access. The ultimate goal of the project is to launch a fully decentralized exchange.
XERA token will be used on the platform to reduce trading commissions. As well as tokens will have additional value due to the policy of redemption of tokens by the company. Commissions on the exchange will be the lowest. The team managed to achieve maximum throughput in the platform tests. Other benefits can be found in the table below.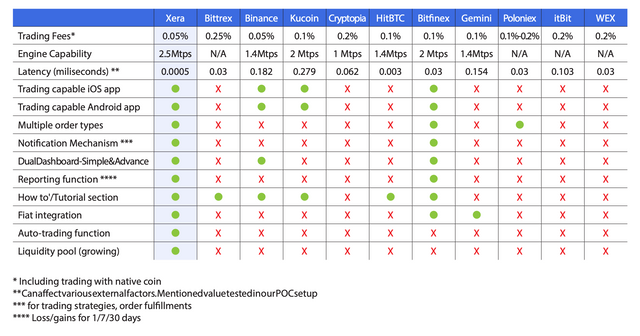 The project has a large team which consists of professional traders, experts in the financial sector, IT and blockchain developers. You can find them and advisors on the official website.
Xera ICO received a high rating from ICO trackers:

Roadmap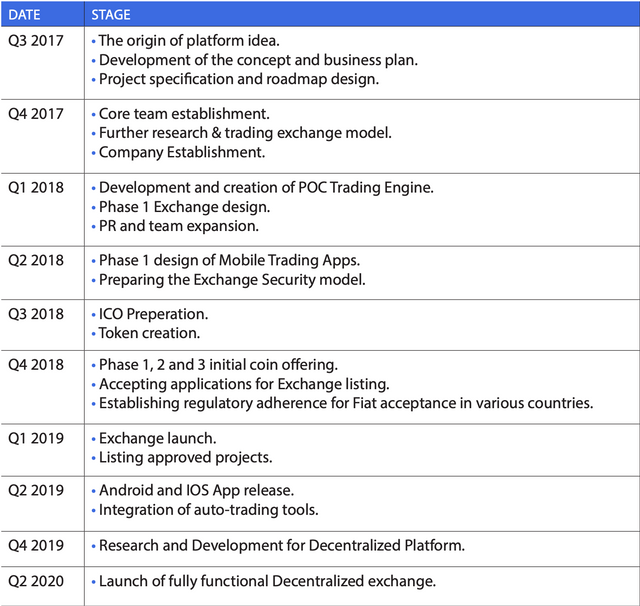 ICO details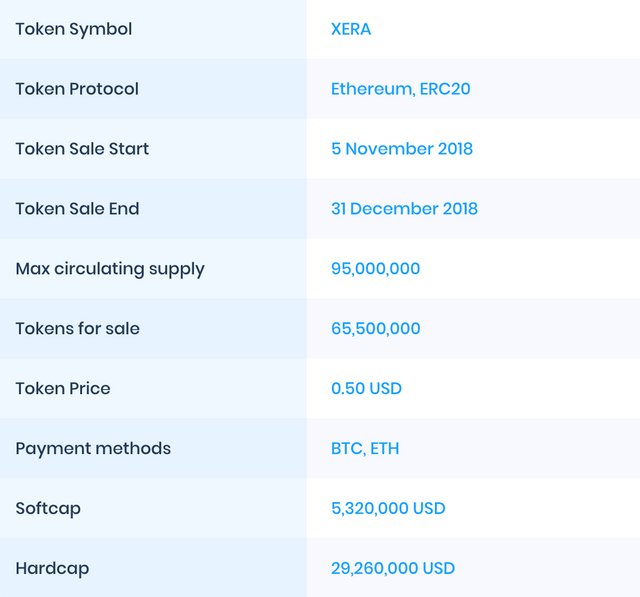 The jurisdiction of the company is in the UK, which inspires some confidence. At the same time, the company will also comply with the laws of the countries in which its customers live. Given the above, and if the team implements all plans, this exchange may become the most popular among traders. Therefore, investment in this project at the start can bring a good profit.
Official resources:
WEBSITE: https://xera.tech
TELEGRAM: https://t.me/xeraexchange
WHITEPAPER: https://www.xera.tech/wp-content/uploads/2018/08/Xera_Whitepaper_v1.0.pdf
ANN THREAD: https://bitcointalk.org/index.php?topic=4812706
FACEBOOK: https://www.facebook.com/xerablockchain/
TWITTER: https://twitter.com/xeratech
MEDIUM: https://medium.com/@team_90186
LINKEDIN: https://www.linkedin.com/company/xera-blockchain/
INSTAGRAM: https://www.instagram.com/xeraexchange/
YOUTUBE: https://www.youtube.com/channel/UCEs6IAjw2-Z7dynqbziA35w
GITHUB: https://github.com/xeratech/TokenInformation
MY BITCOINTALK USERNAME: trip2sochi
MY BITCOINTALK PROFILE LINK: https://bitcointalk.org/index.php?action=profile;u=2281826
UNIQUENESS 100%: https://text.ru/antiplagiat/5bfbe4f4f0571