ETHEREUM GOLD FINANCE : An Impressive Innovation With Quality Incentive Model For Users

DeFi also known as Decentralized Finance represents financial tools and platforms that runs on decentralized networks. These tools and platforms mainly use smart contracts and enables users to easily hedge, store, borrow, lend, transfer, collaterize and even insure money without complications.
The DeFi movement started gaining popularity in 2019, since then it has been experiencing significant rise in adoption by the masses. DeFi increased momentum is achieved because it strengthens the idea behind introduction of cryptocurrency, which is to decentralize power and enhance financial systems to be fully transparent and lacking in fraudulent activities.
DeFi also bring about several benefits which includes ;
Greater Transparency : DeFi based products built on public blockchain is more transparent and auditable by anyone on the network.

Programmable : DeFi structures possess plug and play feature, which makes it inherently simple and affordable to merge more tools, services and concept.

Unrestricted Access : DeFi is inherently permissionless in terms of access to financial services.

Minimized Counterparty Risk: There is no essential need for third party validation of truth because DeFi is trustless, hence supports less counterparty risk.
With all these impressive features, the DeFi movement is becoming stronger and growing further in the crypto sphere. This has inspired new projects to surface and introduce better solutions to boost the crypto market.
Ethereum Gold Finance is an new innovation that adopts DeFi concept to enable people generate tokens from farming, swap, staking and so on. The platform comprises of capable products and services to help users maximize their profits in the crypto market.
Ethereum Gold Finance offers innovative solutions which can connect with qualified external companies, payment providers and exchanges through ETG and ETGP, thus creates conducive and secure environment for funding, transfers, staking and farming of tokens by participants.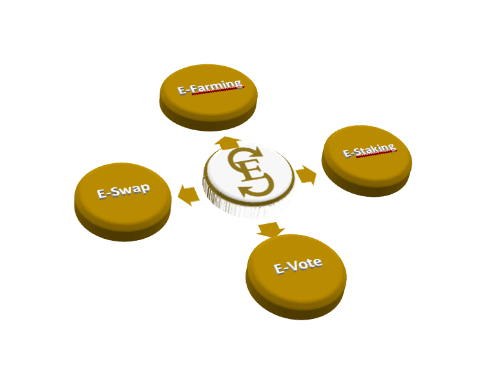 Furthermore, the platform is integrated with some unique features which serve to be highly beneficial to users and promotes sustainable growth of Ethereum Gold Finance community. These includes :
E- Farming : Holders of crypto DeFi based assets can easily provide liquidity on Uniswap and receive ETGF tokens.

E- Staking : Ownership of ETGF tokens enable users to receive incentives in form of ETG and ETGF.

E- Vote : Clients are entitled to Ethereum Gold Finance on chain discussions and vote fairly within the platform.

E- Swap : Integrated feature on Ethereum Gold Finance that will become a decentralized protocol for giving automatic liquidity on Ethereum.

DeFi payments and funding is possible without third parties involvement for every user.
The platform runs efficiently with ETGF tokens, it is built on Ethereum blockchain and complies to ERC20 protocol. This token enables users to benefit from fair and transparent reward economy existing in Ethereum Gold Finance.
Thanks for reading, kindly use the official links below for more information ;
ROADMAP
1 — ETGF PRE-SALE 10 OCT 2020
2 — LISTING OUR TOKENS IN UNISWAP & BALANCER 19 OCT 2020
3 — START OF FARMING & STAKING — END OF OCT 2020
4 — ETGF LISTING — 2020
5 — START E-VOTE — NOV 2020 — ETG Finance will be live on Pre Sale on 10 Oct 2020
PRE-SALE
• We will provide 30,000 ETGF tokens ( 20 % of total supply ) for Pre Sale
Total supply is : 150,000 ETGF
Price of ETGF : 3 $
Maximum contribution : 1,000 ETGF
• Start : 10 / 10 / 2020
• Duration : 7 Days
75 % of hardcap will be included and LOCKED as a liquidity pool in the Uniswap & Balancer after the end of presale
25 % of hardcap will be used for ecosystem developement ( E-Farm , E-Stake , E-Swap )
For more information ;
Website : https://etgproject.org/
Whitepaper : https://etgproject.org/ETGF.pdf
Twitter :
https://twitter.com/ethereumgoldetg
Telegram : https://t.me/etg_official
WRITER DETAILS,
BTT Username : Johnson Knight
BTT Profile URL : https://bitcointalk.org/index.php?action=profile;u=2326370;sa=summary
Wallet Address : 0x56D391aD6C5Fe4b4faee3FCF9C7D32D9BD2feeCA