As I was writing my piece on cryptocurrency pricing, I realized that ICOs have a surprising and peculiar effect on the market capitalization of cryptocurrencies. Let's say Alice has 1 Ether, and Bob has a magical idea and needs to raise money to develop it. Bob decides to run an ICO to raise the money. This means he'll do some work, create a smart contract in Ethereum (or some other platform), and voilà, he's running an ICO.
Alice, savvy investor that she is, likes Bob's idea and decides to contribute to the ICO. This means she'll send her 1 Ether to Bob's ICO contract, and Bob's contract will send 1 token over to Alice. Let's call Bob's token MAGIC. So here's the picture: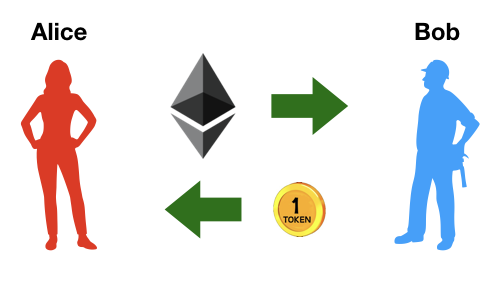 Alice participates in Bob's ICO by sending him 1 ETH. Bob sends back 1 MAGIC as thanks for the contribution.
So what just happened? Bob issued a brand-spanking-new token to Alice. What's that shiny new MAGIC token worth? Well, Alice paid 1 ETH for it, so we know it's worth.... yep, 1 ETH. That is, Alice's economic situation hasn't changed; as far as her accounting is concerned, she still has 1 ETH worth of value in her wallet. But Bob's situation is far better! Now he has 1 ETH, where before he had none! Here's the picture: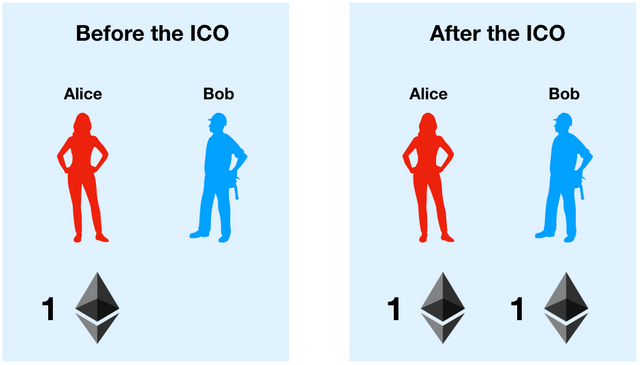 By engaging in an ICO (as contributor and creator), Alice and Bob magically doubled the value of Alice's original ETH token.
Bam! Value magically created!
How should we think about this?
At first thought, it feels nefarious when you go from having less value to having more value. But in a good world, the doubling of value above is totally legitimate. Here's one way to think of it: Before the ICO transaction, Bob's idea was valuable. The doubling of the value of Alice's ETH token is the result of Alice putting her capital to work, which takes Bob's actual valuable idea and starts to put some cash behind it. That is, the value was there all along -- it was just in Bob's mind and needed Alice's cash to unlock it.
But the world isn't always as rosy as you'd hope. In reality, Alice's estimate of the value of Bob's idea will never be perfect. Sometimes she'll overestimate, sometimes underestimate -- and she'll take losses and profits accordingly.
Worse, Alice could be contributing because she's taken up in ICO mania. In that case, she doesn't really think Bob's idea is all that great, but she knows that in today's world, ICOs return ludicrous profits instantly. If that's the case, then we can't really take Alice's contribution as a vote of confidence about Bob's idea; her contribution is merely a statement of the wild ride that the crypto markets have taken us on lately.
Worst, Bob could deliberately mislead Alice about the value of his idea. This is called a scam. He knows that there is ICO mania, and that it won't take much convincing to get Alice to contribute -- so he runs a fancy ICO and then absconds with the proceeds once it's done. When he eventually sells his ETH, that pushes down the price of ETH -- and since he's gone, Alice's MAGIC tokens lose all their value. When scammers run ICOs, they reduce the value in cryptocurrencies rather than increasing it -- they hurt all of us.
But I digress somewhat. The point is, every single ICO, whether good, stupid, or fraudulent, instantly increases the total market capitalization of cryptocurrencies. This is a powerful economic tool, but I suspect it can also mislead us into thinking that the crypto-economy is more healthy than it really is.