Asura Coin Whitelist Registrations Open on April 22nd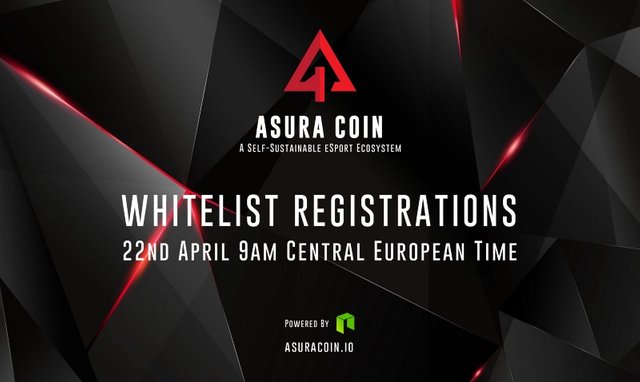 Asura Coin Whitelist opens on April 22nd
It's happening! Asura Coin whitelist registrations will open on Sunday April 22nd at 9AM Central European Time.
Starting at 9AM on Sunday, you will be able to sign up for the Whitelist by visiting the Asura Coin website.
Whitelist registration process will be explained more in detail in the following week!
How Can I Whitelist myself (KYC process) for the crowdsale?
Crowdsale whitelisting will start on 9AM Central European Time (CET) on Sunday, April 22nd.
KYC/AML Whitelisting form will be made available on the Asura Coin Official Website (https://asuracoin.io) at the KYC application start time.
NOTE:
Please beware of scammers. Asura Coin will never request any form of contribution from you via email or private message. Do not send funds to any address without first verifying it. If you are unsure, please ask an administrator in our Telegram group to verify the message for you.
Keep an eye out for further details on the Asura World platform and the ICO, happening in Q2 2018.
For more information on the Asura Coin ICO
Website: https://asuracoin.io
Twitter: https://twitter.com/asuracoin
Facebook: https://facebook.com/asuracoin
Reddit: https://www.reddit.com/r/AsuraCoin
Telegram: https://t.me/asuracoin