Resto - the innovative food platform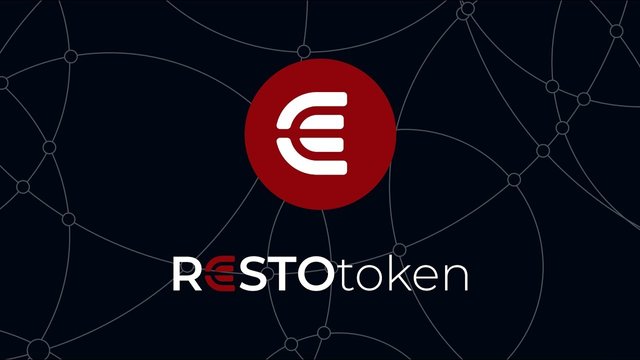 Nutrition is an important stage of our life. We need food to keep us active. Most of their time people spend on cooking different dishes. But some people go to a cafe or restaurant to eat a portion of your favorite dish and enjoy every piece of it, or drink a refreshing drink on a hot day. The food industry is expanding its boundaries in the preparation of various dishes of different nationalities.
Today we will consider a unique project in its segment called Resto.
Resto is a project for small and medium-sized businesses, which will offer powerful marketing tools to promote and advertise companies, as well as its own loyalty system for customers.
Advantages of the Resto platform:
Increasing the level of business efficiency through the introduction of CRM-system and other useful tools.
Marketing system that will help to economically distribute the company's budget.
A large database of customer reviews and suggestions, created with the help of blockchain technology, so that owners of companies will be able to know their preferences as accurately as possible.
Consider, what are the advantages offered to the users of this system and how it is so appealing to us:
There is no need to carry discount cards of a certain institution or bring promotional coupons, as all cards are collected in the wallet.
After analyzing the taste preferences of each user, will be sent notifications about promotions or discounts in the institutions of interest.
The ability to see reviews and ratings of different institutions.
Guaranteed cashback when paying, as all data is recorded on the blockchain technology, and no check will be lost.
How will potential customers of institutions and their owners interact? The owner of this institution and users download the Resto application, in which the first will receive all the necessary tools to promote their business, and the second will have access to the location of the institution, view its rating and reviews, as well as a wallet in which they will store and accumulate coins of the project.
RestoToken project coin
With this coin, the user platform Resto, will be able to pay for your order in any corner of the globe, as this project plans to cover the whole world, bringing together a huge number of different restaurants, cafes and bars. In view of this possibility, users will be able to pay the RestoToken account without worrying about the fact that they do not have the funds of the country. For each paid order, all users of the system will receive cashback in the form of RestoToken.
RestoToken you can buy on the exchanges as well as to obtain it by exchanging different currency and Fiat money that allows to avoid any inconvenience from the purchase and sale of coins. Price 1 RestoToken = 0.0001 ETH.
Conclusion
In my opinion, the project is good, promising, it is worth considering it in more detail. I think it is suitable not only for travelers, but also for ordinary people. The Resto platform is the only and unique in this segment. Many entrepreneurs are interested in the development of this project. The project shows high ratings, which means that it will be profitable. Do not miss the moment to become a member of the Resto project.

Official resources of the RestoToken project:
WEBSITE: https://restotoken.org
TELEGRAM: https://t.me/restotoken
WHITEPAPER: https://restotoken.org/docs/WhitepaperRestoEN.pdf
ANN THREAD: https://bitcointalk.org/index.php?topic=5047108.0
FACEBOOK: https://www.facebook.com/RestoToken
YOUTUBE: https://www.youtube.com/channel/UCPElstEJoFbY1mBuFYx99cA
GITHUB: https://github.com/Restotoken
MY BITCOINTALK USERNAME: alexxxdada
MY BITCOINTALK PROFILE LINK: https://bitcointalk.org/index.php?action=profile;u=990629
MY ETH ADDRESS: 0x417315cEed17C035d82E06942974b6965Eb80091
UNIQUENESS 100%: https://text.ru/antiplagiat/5c0fe6b1485ba