Hey everyone!
In my experience as an early crypto enthusiast I've noticed that the next best thing to trade into a new coin early and hodl for long term is to get in on the initial coin offering which often offers bonuses to early participants and makes it worth it even more in the long run. Having said that it is of course often also more risky to do so.
The bigger the risk the higher the potential reward.
The risks are often that your coins are locked away during the ICO and you have to wait for the project to enlist their tokens on more exchanges before you are able to change your mind and once enlisted there is no guarantee that they may hold up to their initial value. This is of course not a problem for those looking to hold them for the long term.
Other risks may be that the project and team behind it are not trustworthy and may just take your initial "investment" and run off with them. This also happens some times but it usually comes along with a lot of red flags beforehand.
In one of my latest posts I shortly talked about ParagonCoin and how it was hard to identify its legitimacy since most of the discussion was running on centralized social media platforms where it was being gamed by users with ulterior motives. I am glad the smoke.network team have their own Steemit account and have been posting here actively where any discussion, concern or questions are immutable and trying to censor/silence them is noticed by everyone on the platform. I hope others will also join Steemit for that reason alone in the future.
---
I noticed this new project called the Smoke.Network and wanted to do a short review for my readers who have shown interest in my trading recommendations on the Alt-News posts and would like to know how they can get in even earlier on promising ICO's like I believe this one is.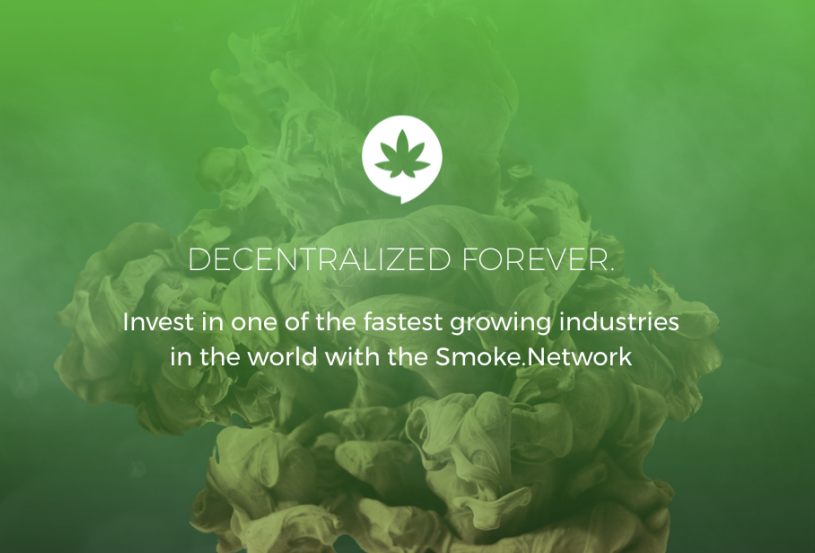 The Smoke.Network aims to become a social media platform on the EOS blockchain. Similar to sites like Leafly where users can review, discuss and upload images of their favorite strains - here they get rewarded with Smoke tokens for their activity. The cannabis industry is growing constantly and legalization of it happening in more states and countries over time.
If you are a reader of the subreddit r/trees you'd understand that there is a lot of activity involved and having that attention incentivized with tokens on the network is a great idea. This also includes censorship resistance and immunity of your contributions to the network.
Users will be able to upvote and downvote content and its reputation based much like the Steemit platform.
I personally believe this could become really popular due to the growing cannabis community and companies getting involved in it lately. Not to mention the number of different strains is growing constantly so there will always be room for discussion, reviews and interaction between its users.
Its already seeing some popularity and activity among famous people tweeting and talking about it!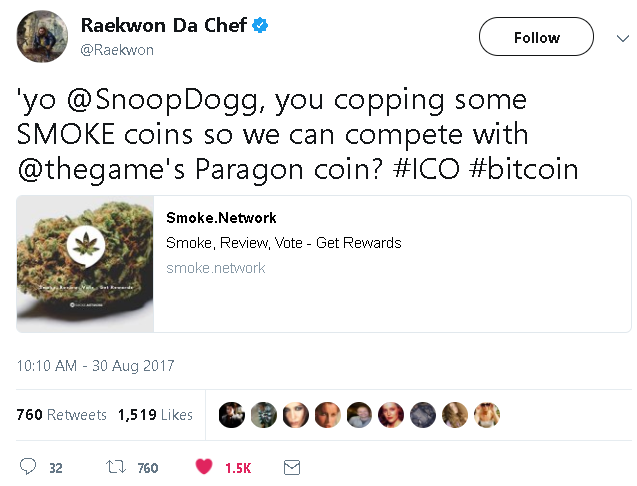 This tweet was later also retweeted by the rapper "The Game" who is participating in the ParagonCoin. For those who don't know, Raekwon is a rapper and a member of the Wu-Tang Clan.
Maybe this will also awake some interest in Martin Shkreli who bought the famous one-copy album of Wu-Tang Clan. ;)
The CEO of ParagonCoin Jessica VerSteeg recently also retweeted a post by our very own Steemian @eirik who made an incomparable comparison between the two projects!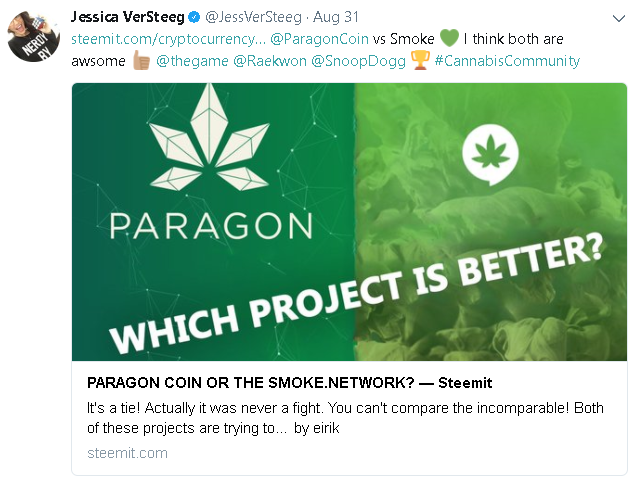 ---
I highly suggest everyone who is interested in this project to read the whitepaper before making a decision to be a part of the ICO which can be found on open.ledger or on Tokenlot which allows you to invest with Ethereum.
On their website you can find more information about the Roadmap, News regarding the project and who the team behind it are. So far I learned that they have part-time devs working on it and are currently hiring!
I personally believe this might be a really great project and am looking forward to see how it will develop.
For disclosure I have invested in Smoke tokens myself and am going to buy some more before the ICO ends on the 15th of this month. Currently there are 57 million tokens left out of 84 and if they all don't sell the rest of this first coin offering will be burnt.
Feel free to discuss this ICO in the comment section, make sure to read about it as well though in the links provided!
---