Hello everyone, in my blog I constantly touch on some exchanges, payment systems, games. But sometimes you need to talk about other things that are more useful to society. Therefore, today we will talk about health care.
The current health care system is experiencing many difficulties. For example, everyone knows how difficult it is to get to doctors. You come to the clinic, and there is a long line. Now they are trying to solve this problem through electronic recording. This saves the time of ordinary people. But then there is the problem of electronic recording, it is often very difficult to get a doctor. There are many people and few doctors.
This is not the only problem in medicine. Now many insurance companies are engaged in fraud, which is to raise funds for insurance, but at the same time deviate from their direct obligations under any pretext.
The third serious problem is the lack of professionalism of doctors. Many doctors prescribe expensive medications despite the fact that there are cheaper counterparts. And all because of the material benefits proposed by one or another pharmaceutical company.
The English cryptoman team offered their solution that will overcome the problems of medicine. To do this, they are developing a unified medical platform on Blockchain iAM (https://www.instantaccessmedical.com).
What is iAM and what will it give?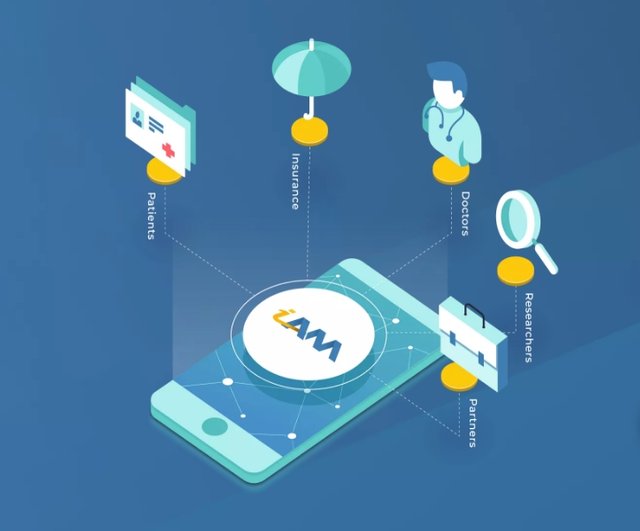 The unified iAM platform is being developed to solve major serious problems in medicine. This insurance fraud, the lack of professionalism of doctors, the abuse of certain drugs, as well as introduce methods of remote treatment.
The iAM platform developers have entered into a partnership agreement with Guardtime, Healthcare Gateway and DXS enterprises, which will help find a solution to the problems of medicine available to more than 70% of the UK population. Patients, doctors, pharmacists, researchers and other medical specialists will be brought together at this site. Users will be able to share their recipes, records with others via Blockchain.
Remote reception at the doctor is possible on the platform. How will this happen? Each iAM user will have their own medical record, which contains data on their health, medical history and other medical information. Users can share their medical records with a doctor and receive recommendations from him. Users will be able to manage their records, anonymously share with doctors, hospitals and other health care participants.
Insurers will also be able to connect to the platform. They will be able to offer their services, conduct risk assessments, optimize efficiency and reduce the cost of processing claims.
The iAM platform will have its own mobile application through which the following options will be available: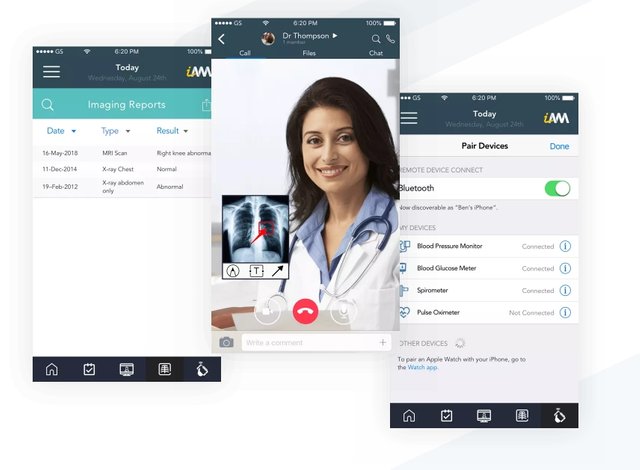 1 - GPS healthcare. You can import your entire medical history directly from the hospital, from a doctor, and also purchase medical services from iAM's partners.
2 - Prescribed medication and immunization right at hand. As well as a reminder of the need to take drugs and undergo procedures.
3 - Health monitoring. Pressure, heart rate and other parameters downloaded from remote monitoring devices.
4 - A diary with notification of meetings, doctor's records, and so on.
5 - Video chat and document exchanger. With it, you can get a doctor's advice, exchange documents, communicate with other users.
6 - Directory and search for local health services throughout the European Union.
IAM Token
To make payments on the platform, iAM tokens are launched that serve as an internal cryptocurrency platform. With the help of them, users will be able to pay for medical services. Any financial transactions are conducted through smart contracts.
The token itself was created on the ERC20 protocol from Ethereum - the most common and simple protocol. A total of 500 million tokens will be released.
The company is now conducting an ICO company to raise funds for the implementation of its project. You can invest in the company by purchasing IAM tokens for $ 0.40 per coin.
To summarize. I believe that the developers of the iAM Platform (https://www.instantaccessmedical.com) have taken up the solution of a significant problem. After all, the field of health is one of the most important. The implementation of the idea will give the first opportunity to remotely consult with doctors, share data, as well as eliminate fraud on the part of insurance companies. It will also make life easier for people who are busy for days and do not have time to look after their health.
Web-site: https://www.instantaccessmedical.com
Author: danilfromtorzok
BitcoinTalk profile:
https://bitcointalk.org/index.php?action=profile;u=1711378
Telegramm: @daniilbakin (https://t.me/daniilbakin)
ETH: 0x4a294Aca976511eF85b2b2fBF1D600c22c5c06a4