Is a mini hyperwave a thing?
A hyperwave shows a parabolic bubble type rise. It is something I have learned from Tyler and I am sure you have heard of it before.
Normally this is used for macro trend and really long term stuff. And Tyler is using this to come up with his $1000 bitcoin target.
Interestingly bitcoin has been running up in a very crazy parabolic move, ever since we broke away from 4200.
It has taken me by surprise as well as many traders, which was obvious from the large amounts of shorts that were open when bitcoin went up and the very crazy rate of margin calls over the last few days.
To me, the short term move of bitcoin from its bottom to now looks very much like a hyperwave. It is a parabolic unsustainable increase in price, sorta like a mini bubble.
So I am wondering if bitcoin is going through a very short term mini hyperwave.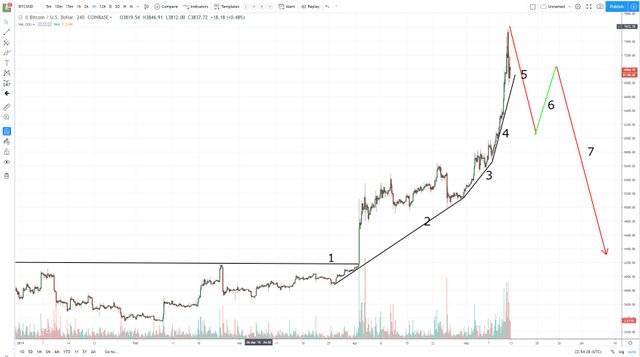 If so we are still in the uptrend of the latest phase and the bubble has not yet burst. But if the price does not form a new high it could look a bit like the chart outlined.
I have no idea if this is a valid thing to draw on a 4h candle chart so wanted to get your input?
If this is the case then a short can be placed as soon as the 4th trend line is broken thru or after the phase 6.
The target would $4200.
I look forward to your input.
Update:
If you are wondering why nobody is getting bounty upvotes, it is because most answers do not answer the question wether a hyper wave can be drawn in the short term.