Good investment deal, Daily direct payouts. Too good to be true? ?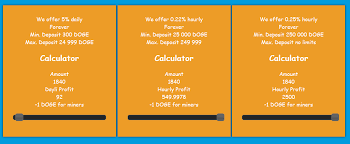 Started 10 days ago with 999 DOGE initial deposit, made two more, 341 DOGE and today I thought I'd risk 55,141 DOGE as so far each of the other deposits have been paying out. Until now it's not showing in my deposits. So...I will wait and see the results of my Deposit as anything over 25,000 becomes hourly payouts @0.22% which is a bit better than 5% daily. 24 x 0.22 = 5.28% in 24 payments daily + hourly payouts. That was at 1pm GMT today5 hours later. nothing has appeared in the deposit list of the site. Also no payouts. I'm hoping that it will begin at 1pm tomorrow. Til now, I've deposited 999, 341 and 595 DOGE and all have paid out daily. Could be what I assume or I ate the bait. will update and edit if all is well. Credit where credit is due. But Always Stay on the caution side. I don't mind losing the DOGE, But I hate People trying to get ahead with what little they have to be scammed. I'm happy to lose them to save yours. Has anyone else Deposited more than 25,000+ DOGE And been PAID out the 0.2%?
UPDATE: FANTASTIC NEWS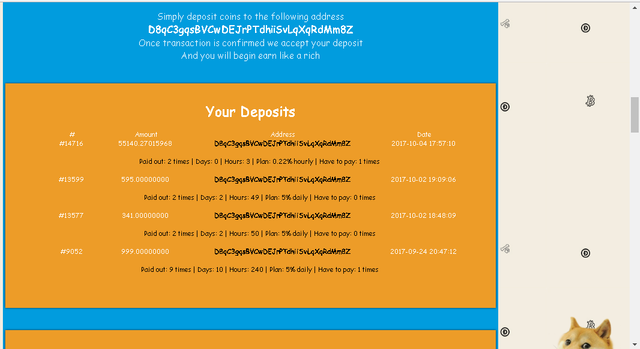 Deposit is in the Deposit list. Better late then never and paid out twice since and is AS PROMISED when SOLD. Now all I need to do is Relax, sit back and Compound until the end of Cryptos. Basically, till I die. Will update IF all goes pear shaped and didn't get all initial investments back. Looking good so far. Thanks BITDOGGY for the opportunity And, of course, here is the referral link to get started. Start low, If not sure. Only info and my experience I've written. Please do not take this as advice or as a promo. This is from my own current experience. So you can wait to see if I get my initial deposits back or if it goes weird/off-line and get scammed. however, If what I've written makes you interested please click this link and read what they offer. Remember, you don't need to withdraw, it's on automatic payout.
https://bitdoggy.top/index.php?boss=16993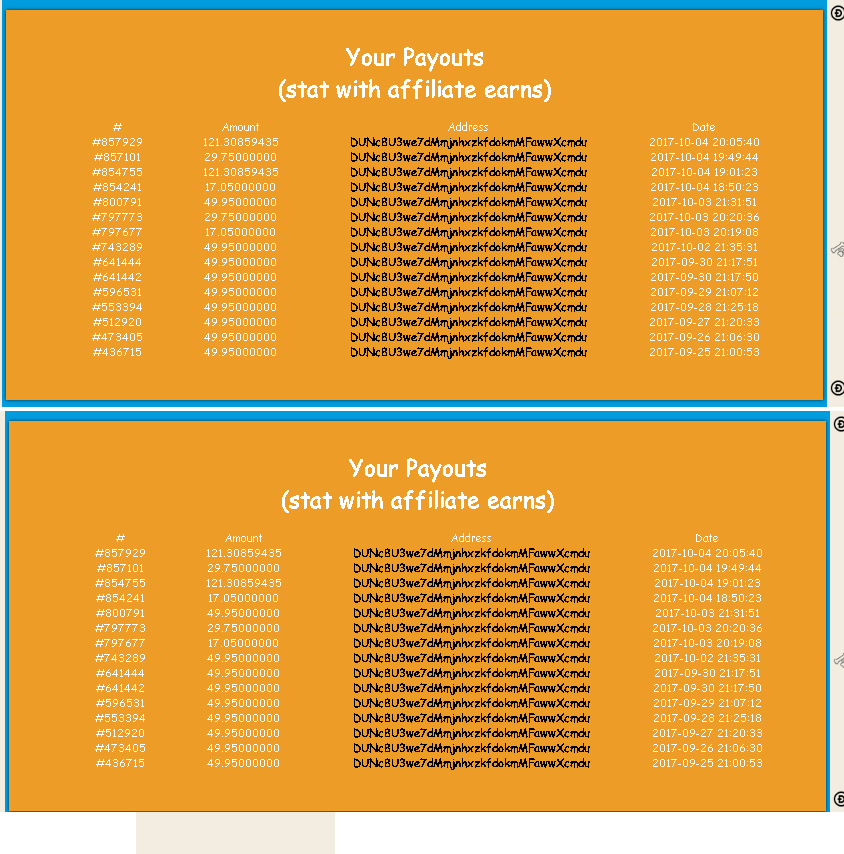 NOTE. use the wallet you want the payouts to arrive in. So you need to send the Deposits from the same address to a unique DOGE address they will provide for your account, that will not change.