Studies Support  Doctors' Revolt Against Suppression of Hydroxychloroquine in US, Yale Doctor-Professor Says Could Save "75,000 to 100,000 Lives"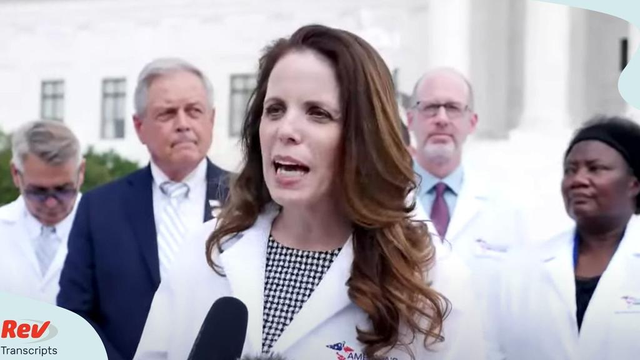 AMERICA'S FRONTLINE DOCTORS JULY 27, 2020 PRESS CONFERENCE VIDEO, AT BITCHUTE
NEWS CONFERENCE VIDEO DOWNLOAD (200 MG)
Under a withering barrage of accusations of giving out "misinformation" and having their press conference censored by Twitter, Youtube, and their website taken down, a group of doctors who say countless lives could have been, and still could be, saved by a hydroxychloroquine protocol prescribed in the early stages of COVID have published a list of 65 studies which informs their practice. Doctors in agreement include a Yale epidemiology professor and a growing number of doctors not associated with the group.
The doctors this week stormed Washington DC to deliver the message that suppression of valid COVID treatment options must stop. The offensive takes place as rises in new cases has become the watchword for continuing or re-institutiing "lockdown" measures, rather than "flattening the curve" to prevent overwhelm of health infrastructure, as was the original request to the public.
The latest estimated survival rate for COVID-19 is 99.8% for the general population. For common flu it is 99.9%.
In other countries, hydroxychloroquine (HCQ) protocols are prescribed according to doctor evaluations, free of the prohibitions on the medicine in the US, which has locked down stockpiles. '
[LATE-BREAKING NEWS: OHIO BECOMES FIRST STATE TO ALLOW HCQ THERAPIES, AFTER DOCTORS' PRESS CONFERENCE]
In the largest statistically significant, multi-country study of HCQ interventions, it was found that countries which allowed HCQ use according to the judgement of doctors had fractions of the fatality rates of countries, such as the US, where HCQ has become a political football.
The implications of the study are explosive: that tens of thousands of US patients may have been saved over the last months, had the "Cuban" course been adopted, and COVID deaths might have been a fraction of what they are now. Cuba, an HQC country, has one of the lowest death rates in the world, despite having a technologically primitive health care system, hampered by US sanctions.
The study, published by Sermo, a scientific website, is entitled "Largest Statistically Significant Study by 6,200 Multi-Country Physicians on COVID-19 Uncovers Treatment Patterns and Puts Pandemic in Context."
Sermo published the finding that:
Hydroxychloroquine [HCQ] was overall chosen as the most effective therapy amongst COVID-19 treaters from a list of 15 options.
Although other scientific studies conclude the contrary, that HCQ protocols are not effective, the evidence on both sides is such that neither can simply be dismissed as "fake science," as a relentless drive by mainstream media has attempted to do.
The doctors released a chart showing that countries using HCQ in early stages had death rates in the 10 to 150 deaths per million in population, while the non-HCQ countries had death rates in the 500 to 800 deaths per million range.
Yet another doctor who has treated hundreds of COVID patients, and whose protocol was used by Brazilian President Bolsonaro who recovered, says the effectiveness of the HCQ treatment is such that thousands of people may have been saved and that freedom to prescribe the treatment would mean "the pandemic is over." Doctor Zev Zelenko has published his findings at the Palmer Foundation website, "COVID-19 Outpatients – Early Risk-Stratified Treatment with Zinc Plus Low Dose Hydroxychloroquine and Azithromycin; A Retrospective Case Series Study."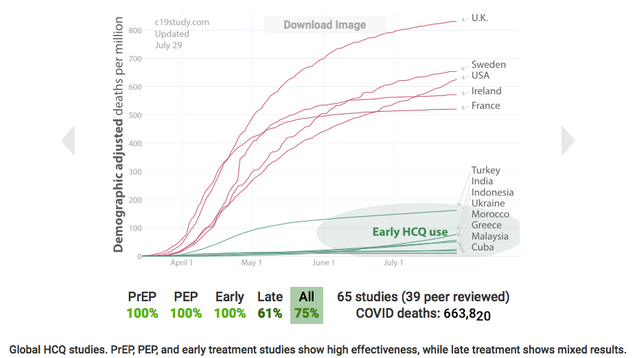 Source: America's Frontline Doctors
America's Frontline Doctors' Dr. Lisa Koche Responds to Censorship, Says FDA HCQ Warning Based on Study Made at "Four Times the Dose"

Dr. Zev Zelenko Interview

A Political Football
Ever since Donald Trump and Dr. Anthony Fauci differed publicly on the efficacy of HCQ, mere mention of the drug has taken on political overtones. HCQ is a well-known malaria medicine, the safe use of which, when used as prescribed, goes back nearly 70 years. Travelers to Third World countries are well-acquainted with it. The CDC page on the drug states that it can be safely taken by "adults and children of all ages."
The unprecedented assault on the medical doctors' findings and practice revolves around the drug's association with comments by President Trump. Even in the previously counter-culture Rolling Stone, a piece characterizes the doctors as "COVID-19 Truthers" who are little but purveyors of "Trump's favorite drug." A "fact-check" on the Internet which rates high in search rankings, by a site calling itself MediaBiasFactCheck.com concludes:
"we rate America's Frontline Doctors a quackery level pseudoscience website based on the promotion of false or misleading information regarding Coronavirus that does not align with the consensus of science. We also rate them Low for factual reporting due to a lack of transparency as well as using known pseudoscience sources to draw their conclusions."
However, none of the many "fact-check" attacks on the doctors address any of the studies posted by the doctors, including the 6,200 doctor worldwide survey published by the medical journal Sermo.
Recent top search results for "hydroxychloroquine doctors"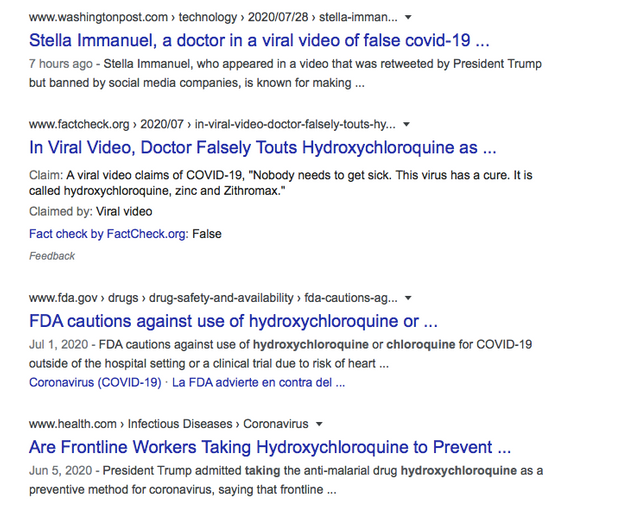 Headline from CNN Business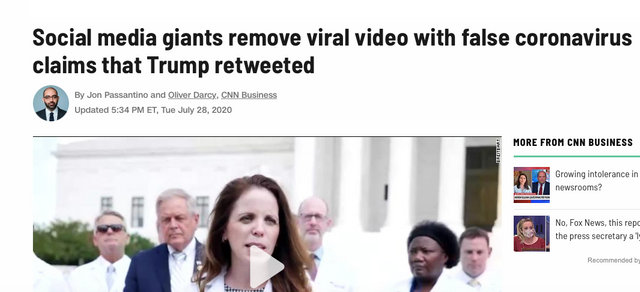 Some among the medical doctors in "America's Frontline Doctors," as they have dubbed themselves, have also spoken out against human damage they say has been caused by the lockdowns, saying it is just as real as that caused by COVID-19.
Last week Yale epidemiology professor Dr. Harvey Risch said in an interview that if stockpiles were released, and doctors allowed a free hand in treating their patients, that "75,000 to 100,000 lives will be saved."
This implies that many thousands of patients might have been saved in the past, had doctors not been constrained from prescribing the HCQ treatments for patients who had no other risk factors which would prevent them from being good candidates for the treatments.
In Florida, only 103 miles away from Cuba, the death rate is orders of magnitude higher than in the poor socialist nation.
Dr. Harvey Risch, Yale School of Public Health
However, in the turbocharged political climate, even an eminent Yale epidemiologist such as Dr. Risch, with a lifetime of distinctions, will be dismissed off-hand by many for even appearing on Fox's conservative Ingraham Angle.
Some of the "Frontline Doctors" have also questioned the circumstances in which masks were effective, saying that in certain settings they are, but in others only minimally, and likened using a bandana to stop a virus to "throwing sand at a chain link fence." None of the doctors ever said that masks were never effective at all, though this was the caption in many articles criticizing them.
The video of the press conference given by "America's Frontline Doctors" (AFD) continues to get scrubbed from the Internet, only to be reposted again by supporters and free speech advocates, as in a game of whack-a-mole.
One of the doctors, Houston Dr. Stella Emmanuel, is in particular being seized upon for her religious beliefs, in a bid to discredit her scientific conclusions. But the same articles never address Yale Dr. Risch's similar conclusions, nor those of the increasing number of doctors who agree. Dr. Emmanuel, an African-American pediatrician, is a religious minister in Texas.
Following is the list released by the "America's Frontline Doctors" (AFD) group, who say they are the tip of an iceberg of frustrated American doctors who want to be free of politics in treating their patients. Following this are the physicians' and organization members' credentials, which they have made public.
STUDIES LIST:
https://c19study.com
Inconc.

PEPàet al., medRxiv, doi:10.1101/2020.07.20.20157651 (Preprint)A Cluster-Randomized Trial of Hydroxychloroquine as Prevention of Covid-19 Transmission and DiseaseDeath rate reduced from 0.6% to 0.4%, RR 0.71, not statistically significant due to low incidence (8 control cases, 5 treatment cases). For positive symptomatic cases, a greater effect is seen for nursing home residents, RR=0.49, vs. ove..

Positive

PrEPKhurana et al., medRxiv, doi:10.1101/2020.07.21.20159301 (Preprint)Prevalence and clinical correlates of COVID-19 outbreak among healthcare workers in a tertiary level hospitalStudy of hospital health care workers showing HCQ prophylaxis reduces COVID-19 significantly, OR 0.30, p=0.02. 94 positive health care workers with a matched sample of 87 testing negative. Full course prophylaxis wa..

Negative

Late Cavalcanti et al., NEJM, July 23, 2020, doi:10.1056/NEJMoa201901 (Peer Reviewed)Hydroxychloroquine with or without Azithromycin in Mild-to-Moderate Covid-19Late stage RCT of 667 hospitalized patients with up to 14 days of symptoms at enrollment and receiving up to 4 liters per minute supplemental oxy
FULL LIST OF 65 STUDIES POSTED BY AMERICA'S FRONTLINE DOCTORS ON EFFICACY OF HCQ IN TREATMENT OF COVID-19 (39 PEER-REVIEWED)
Speakers at July 27, 2020 Press Conference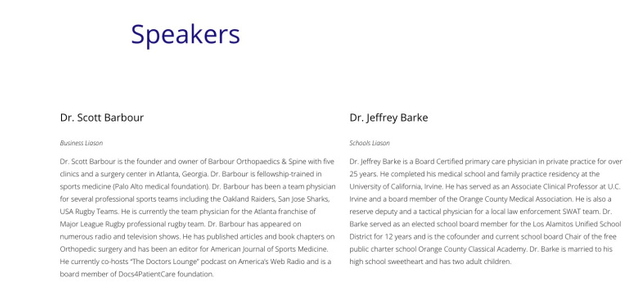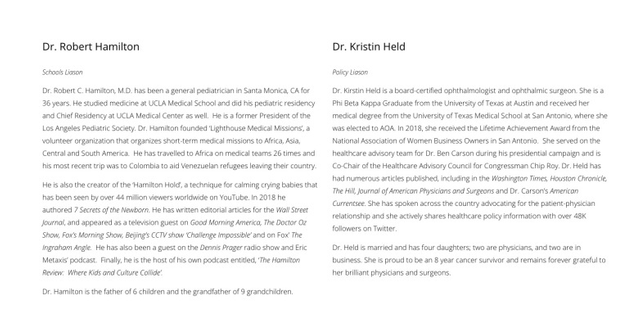 America's Frontline Doctors organization members, at Heavy.com report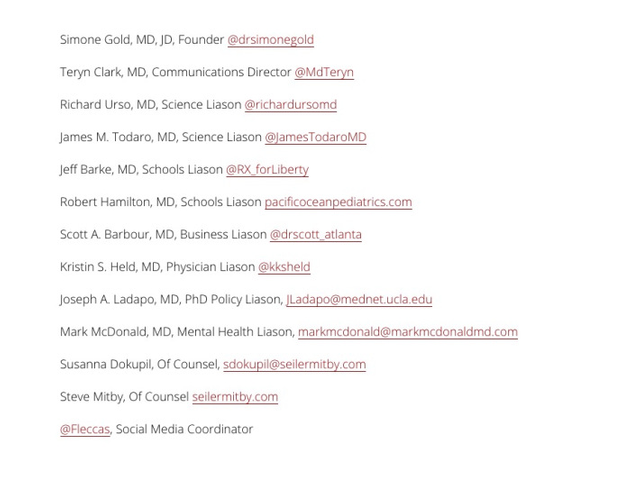 AMERICA'S FRONTLINE DOCTORS JULY 27, 2020 PRESS CONFERENCE VIDEO, AT BITCHUTE
NEWS CONFERENCE VIDEO DOWNLOAD (200 MG) #HCQ
ALSO AT STEEMIT:
Nephew of President JFK, Safe Vaccine Activist Calls Out Bill Gates Plan for 5G Control of Masses
End Game: Physician Warns of Plan to Use DARPA Technology in Vaccine as Control Platform for Humans