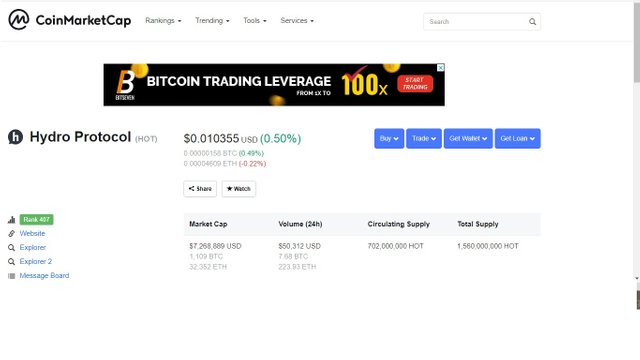 Hydro (HOT)
Hydro is a next-generation network transport layer protocol for hybrid decentralized exchanges that utilizes Federated Liquidity Pools' (FLP) to address the issue of liquidity. The team behind Hydro also found DDEX, the first decentralized exchange built on the Hydro Protocol and offers instant, real-time order matching with secure on-chain settlement. Hydro Protocol is expanding further: launch of developer trading widgets and Delta Relay a new Dapp of Hydro. Hydro Protocol is listed on CoinMarketCap.
Hydro is airdropping daily a pool of HOT tokens, which will be rewarded to all airdrop participants. Current price: 1 HOT = 0.01 USD
How to join?
Sign up on Hydro airdrop page.(http://bit.ly/2ONvP0F )
Verify your mail, login and complete simple tasks to earn point.
Your earned points will be used to calculate the total number of Tokens rewarded to your account at the end of each 24 hours.
You can withdraw your tokens after 30 days.
Refer friends to earn more tokens.
Join OFFICIAL Twitter (https://twitter.com/vikrantnigam81 ) for daily updates on crypto airdrops!
Estimated value
Daily reward pool