Hybrid: Giving you Freedom of Transactions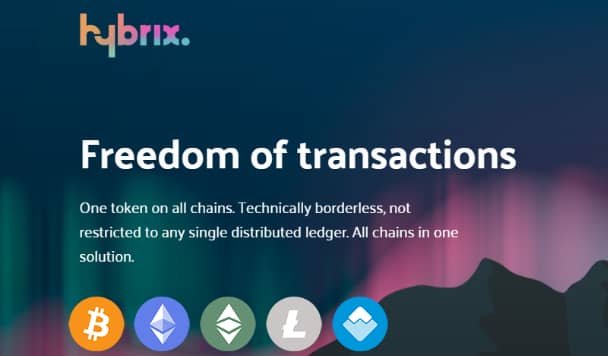 What that makes the hybrix platform stand out is the fact that it is a decentralized platform, with working product, enabled and functional to a large degree. The Hybrix platform has integrated more than 389 tokens across various blockchains, and also particular 32 blockchain platform all on the hybrix platform to enable the multi chain transaction easily. Examples of the blockchain integrated are, The Bitcoin blockchain, The Etherum, Wave, Ripple Blockchain, Ethereum Classic, NEM, Ark, NXT, Litecoin, Lisk, Waves, and ZCash and others
HYBRIX WALLET
This is the initial step to utilizing the hybrix platform, and to finish it off, creating the hybrix wallet is one of the easiest wallet around, there is the software for Mac OS and Linux systems, but the one I prefer to use is the hybrix web wallet and the steps are:
Visit http://wallet.hybrix.io

Click create account, save your sign in keys

Search for hy, and select the ETH:HY, them recover your store wallet address. That is all, so easy
HYBRIX TOKEN
The hybrix token is based on the etherum blockhain with a total supply of 21, 000, 000 hy tokens to enable an adoption that is massive. Also the token is listed on a reputable Singaporean exchange platform, in Biki Exchange Platform. Recollect that you can just store the HY Token on the hybrix wallet platform until further notice.
ADVANTAGES
The hybrix platform is decentralized, it doesn't drive alternatives on the users, instead you get the opportunity to select the ledger you want to work with, easily with little fee charged with hy tokens.
You also should know that with hybrix, you get the opportunity to encounter a technically border less transactions, and you face zero limitations to any single distributed ledger.
The hybrix platform guarantees to use the qualities of all ledgers on the platform, and you should know that then diverse distributed ledger and blockchain integrated into the hybrix platform has its own qualities. The hybrix token allows each platform user to take advantage of this as it is top of all distributed ledger systems .
The hybrix platform gives total opportunity to users, that is you get the opportunity to switch ledger or blockchain at whatever point you want; the platform then through the open hybrix protocol allow free transfer of value amongst all distributed ledgers.
For more information, please, visit:
Website: https://hybrix.io/
Whitepaper: https://hybrix.io/docs/papers
Telegram: https://t.me/hybrix_io
Discord: https://discord.gg/WbDfAWb
Twitter: https://twitter.com/hybrix_io
Github: https://github.com/hybrix-io
Wallet: http://wallet.hybrix.io/
ANN Thread: https://bitcointalk.org/index.php?topic=5230324.0
Written By: chacha1000
Bitcointalk Profile URL: https://bitcointalk.org/index.php?action=profile;u=2015045