Covering 500 miles, Hurricane Florence which will make landfall on Thursday night across the Carolinas and Virginia, was initially predicted to be a Category 5 but it has now weakened to a Category 3. State Governors have declared states of emergency with mandatory evacuation of at least 1.4 million people. Emergency management services and the National Guard are on standby to cope with the aftermath.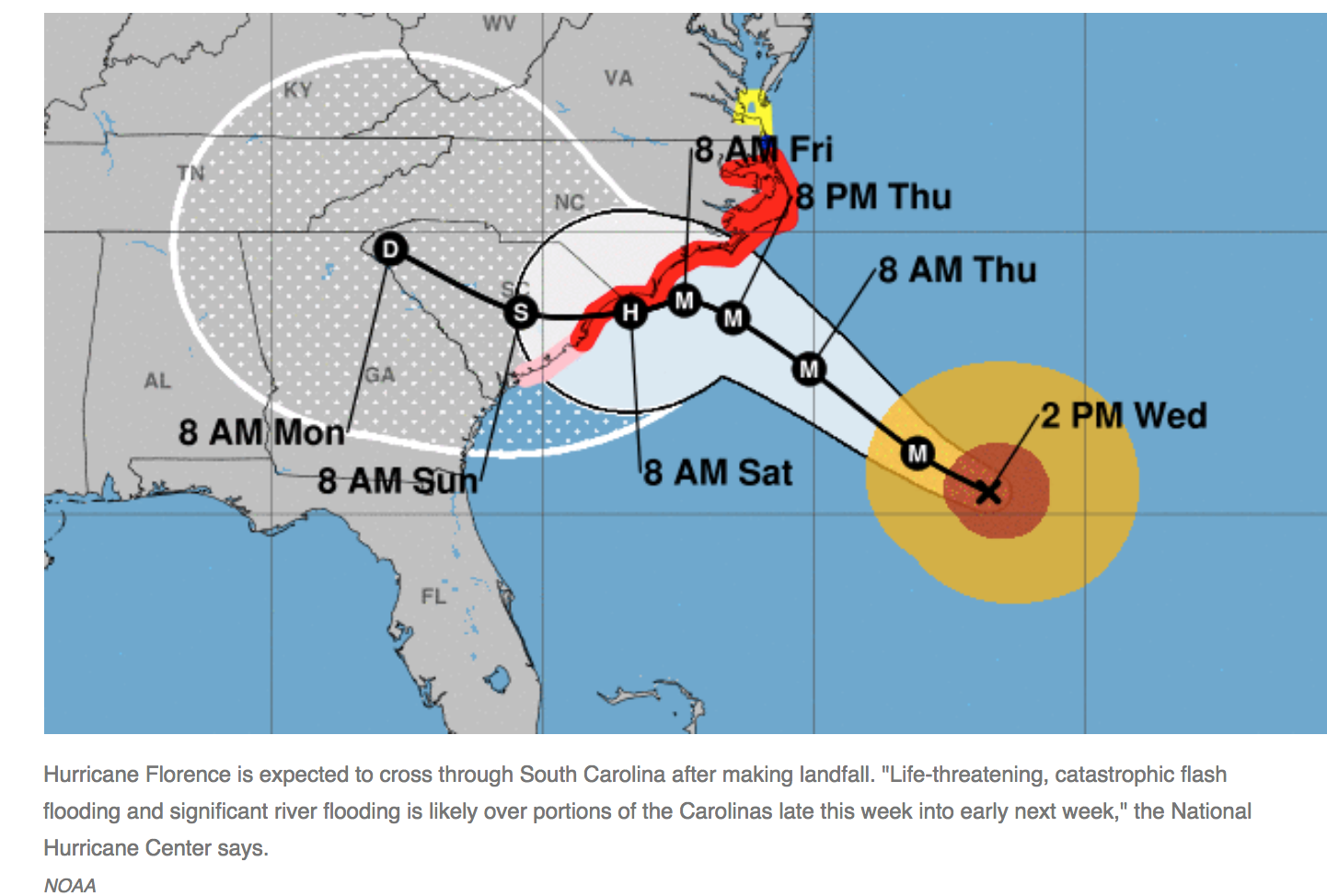 What is a Cat 5?
Basically, its a hurricane with sustained winds exceeding 156 miles per hour (or 251 km/h).
The hurricane measurement system or the Saffir-Simpson hurricane wind scale (SSHWS) defines hurricanes into five categories with Category 5 being the most severe. Some analysts criticise the simplicity of the SSHWS system for not considering rain, storm surge and other factors into the measurement.
A Category 5 hurricane will cause complete roof failure on residences and industrial buildings, irreparable damage to wooden framed structures and total destruction to mobile homes (caravans). Structures likely to survive a Category 5 include "office, condominium and apartment buildings and hotels that are of solid concrete or steel frame construction, multi-story concrete parking garages, and residences that are made of either reinforced brick or concrete/cement block and have hipped roofs with slopes of no less than 35 degrees from horizontal and no overhangs of any kind, and if the windows are either made of hurricane-resistant safety glass or covered with shutters. Unless all of these requirements are met, the absolute destruction of a structure is certain."
(Source: https://en.wikipedia.org/wiki/Saffir%E2%80%93Simpson_scale)
There will be extensive flooding and major damage to all lower floors of structures near shorelines, trees will be uprooted or snapped. There will be lengthy power and water outages during and following the storm.
1.4 million people are currently being evacuated and government authorities are anticipating a 6 metre storm surge.
Workers boarding up shops in Wrightsville Beach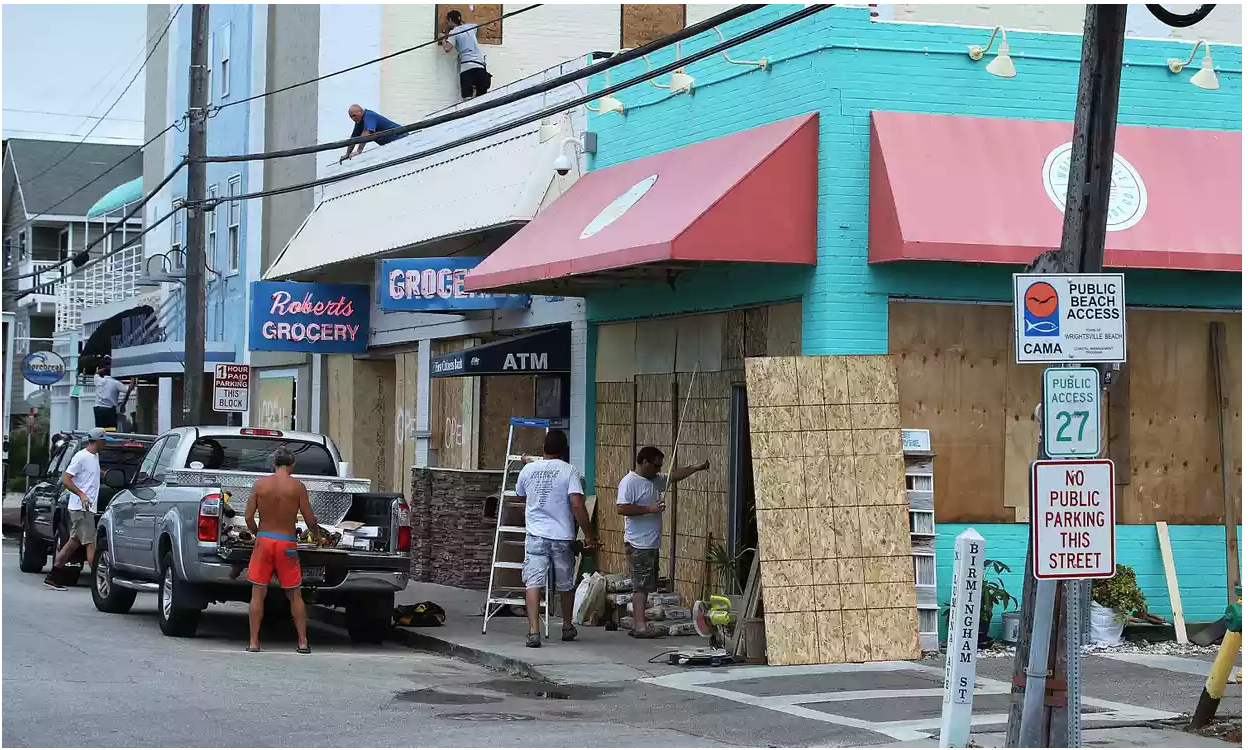 [Photo credits: Photograph: Mark Wilson/Getty Images]
Nuclear Power Plants in path of the storm
There are 16 nuclear reactors in the path of the storm. Duke Energy, the operator of 6 reactor sites, has announced that the plants will be shut down at least two hours before the storm hits.
A nuclear power plant at Brunswick, located south of Wilmington near the mouth of the Cape Fear river is one of the facilities most likely to be affected by rising sea levels and the storm surge. Of concern is that two of Brunswick's reactors are of the same design as those in Fukushima, Japan. The Brunswick plant has two General Electric boiling water reactors which are cooled by water collected from the Cape Fear River and discharged into the Atlantic Ocean. Each unit produces nearly 1,000 MWe of electricity, and they are both built on the General Electric "Type 4" power plant design, which is almost identical to the GE nuclear power plant design used in the Fukushima-Daiichi reactors in Japan.
The United States Nuclear Regulatory Commission (NRC) has advised that the two Brunswick plans are vulnerable to heavy rainfall and a potential storm surge of up to 20 feet of ocean water flowing into these coastal areas.
A 2004 US NRC Study provided some assurances about Brunswick:
"Brunswick 1 and 2 are boiling-water reactors (BWRs) with Mark 1 containments, located 2 miles north of Southport, North Carolina, on the Atlantic seacoast. From the Brunswick updated final safety analysis report (UFSAR), the once every 100 years extreme wind for the site is 135 mph. In addition, Class I buildings are designed to withstand 300-mph tornado winds… and all of the safety-related structures are waterproofed to an elevation of 22 feet MSL…" [NRC: "Impact of the 2004 Atlantic Hurricane Season on U.S. Nuclear Power Plants"]
However, Hurricane Florence will have winds exceeding 135 miles per hour.
Plant operators (such as Duke Energy) have defended the robustness of their ageing plants' designs to withstand hurricanes:
"The reactor and steam generators are housed inside a containment structure designed to withstand the impact of hurricanes, tornadoes, floods and airborne objects. Its walls are 4 1/2 feet thick and made up of nine layers of steel-reinforced concrete. In addition to multiple safety and plant shutdown systems, in-depth defence and emergency response plans are coordinated and practiced regularly with local, state and federal officials." [Source: https://heavy.com/news/2018/09/hurricane-florence-nuclear-plants/]
A 2004 NRC study titled "Impact of the 2004 Atlantic Hurricane Season on U.S. Nuclear Power Plants" examined the Brunswick Steam Electric Plant, St. Lucie Plant, and Crystal River Nuclear Generating Plant - all three plants which were significantly affected by the 2004 hurricanes. The study concluded that: "In general, this study revealed that hurricane preparations by the NRC and its licensees were effective. Although the hurricanes disrupted operation of the impacted NPPs, they did not have a significant impact on nuclear safety."
Latest weather updates are saying that Hurricane Florence has weakened to a Category 3 storm over the Atlantic with maximum sustained winds of 125 mph -- but the size of its wind field has increased, the National Hurricane Center says.
Storm surge and rising flood waters pose the most danger to those remaining in its path.
Let's hope that the worst effects are a few days of power and water outages and minimal loss of life and property.
One of the safest vantage points to watch the storm