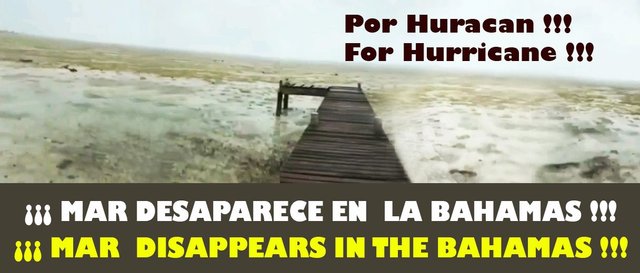 Las Ultimas noticias sucedio este ayer Sabado 09 de Setiembre del 2017 , por la zonas paradisiacas Islas del caribe, en donde sus pobladores quedaron mas que asombrados, ante tal suceso que ante la pasada del poderoso Huracan IRMA, dejo estos muy asombroso espectaculo; el mismo hecho tambien semanas atras y sin huracanes, porque por esa zona no es zona de huranes, se registro en las costas de Uruguay y el Brasil lo mismo, un lugar sin mar, tambien les informamos que en Chile la semana pasada estuvo con enorme y amenazantes Olas que golpeaban sus playas, ante la preocupacion de su gente; ahora tendriamos que hacernos la pregunta seria ¿porque sucede estos ya muy terribles fenomenos naturales? Pues la respuesta hasta ahora no a sido Primero relaciondo con la acvtividad Solar, pues el Sol esta siendo influido en su nucleo para que ciclicamente expulse enorme llamaradas e ingresen estas particulas magneticas a la lupa capa ionosfera de la tierra en primer lugar y asi por fin hacerse compatible y muy influyente con el magma de la tierra y posterior rebote agregado con el magma niña de la tierra y por el cual suceda estas distorciones de TEMPERATURA y por ende todo lo que vemos y sentimos , es un gusto compartirles someramente aqui en steemit , este conocimiento y que apartir del 2017 empieza todo, estaremos informando cualquier NOTICIA con respecto a lo que no se comenta comunmente en los medios de comunicacion de la tierra, hasta pronto y compartan y den su like...
Aqui le adjunto el video :
No hay Mar en las Bahamas DEL CANAL DE Cherada FC (YOU TUBE)
FUENTE
´´´´´´´´´´´´´´´´´´´´´´´´´´´´´´´´´´´´´´´´´´´´´´´´´´´´´´´´´´´´´´´´´´´´´´´´´´´´´´´´´´´´´´´´´´´´´
The latest news happened this Saturday, September 09, 2017, in the paradisiacal Caribbean Islands, where its inhabitants were more than astonished, before such event that before the past of the powerful Hurricane IRMA, I leave these very amazing spectacle; the same fact also weeks ago and without hurricanes, because in that area is not zone of huranes, registered in the coasts of Uruguay and Brazil the same thing, a place without sea, also we inform that in Chile last week was with enormous and menacing waves that beat their beaches, to the concern of their people; now we would have to ask ourselves the serious question: why do these already very terrible natural phenomena happen? For the answer so far has not been first related to solar activity, since the Sun is being influenced in its nucleus so that it cyclically expulse enormous flares and enter these magnetic particles to the magnifying glass ionosphere of the earth in the first place and thus at last to become compatible and very influential with the magma of the earth and later rebound added with the magma girl of the earth and by which these distortions of TEMPERATURE happen and therefore all that we see and feel, it is a pleasure to share them briefly here in steemit, this knowledge and that starting from 2017 begins everything, we will be informing any NOTICE regarding what is not commonly commented on in the land media, see you soon and share and give your like ...
Here is the video: There is no Sea in the Bahamas

Mismos sucesos de no hay mar se registraron en Uruguay y Brasil mientras que en Chile marejadas de Olas que golpean sus Playas
Same occurrences of no sea were recorded in Uruguay and Brazil, while in Chile, waves of waves hit their beaches
con el Apoyo Informativo del Canal de Seres Nibiru (You tube)

FUENTE
Por Favor a hagamos eco hasta que las Autoridades mundiales crean que no es un juego esto del cambio climatico , como asi el Presidente de los EE.UU Donald Trump no cree en ello, y se retiro del grupo en defensa y cuidado del medio ambiente planetario con nuevas alternativas energeticas ecologicas. GRACIAS...
Please let us echo it until the World Authorities believe that this is not a game of climate change, as well as US President Donald Trump does not believe in it, and he retired from the group in defense and care of the planetary environment with new ecological energy alternatives. THANK YOU...